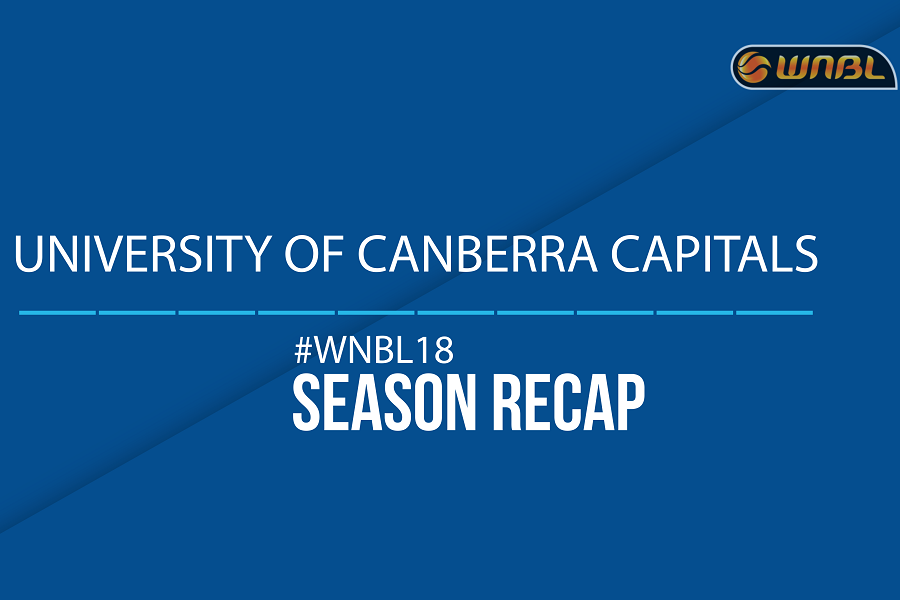 February 2, 2018 | WNBL news
UNIVERSITY OF CANBERRA CAPITALS
Wins – 7
Losses – 14
Standing – 6th
2016/17 result – 13 wins, 11 losses- 5th
THE GOOD
The season started promisingly for the Caps with a sweep of Round 1 which placed them on top of the ladder and they then finished strongly with five wins from their last six games to move them above Bendigo and Dandenong on the ladder. Ezi Magbegor burst on to the WNBL scene as the Rookie of the Year, averaging 6.6 points on 52% shooting including a season-high of 16 points against Bendigo in Round 8. She finished third for the Caps with a total of 26 offensive rebounds while a team-high 1.2 blocks per contest placed her eighth in the competition. Returning to the court just three months after giving birth, Mistie Bass led the Caps for scoring with 11.8 points per game, finished third for rebounds at 4.8 and second for total steals and blocks while Jordan Hooper remained a threat from inside and outside, averaging 11.7 points on 34% shooting from beyond the arc and a team-high 4.9 rebounds. Abbey Wehrung continues to go from strength-to-strength, recording a career-best 9.5 points per game this season and Kate Gaze shot a personal-high 35% from the three-point line for 7.4 points per game.
THE BAD
After winning 13 games last season, 2017/18 was meant to be the year for the Caps to return to the playoffs but after finishing sixth on the ladder, they have now missed finals seven seasons in a row. Following their successful opening weekend, Canberra went on to drop their next 13 games for their second-worst losing streak in club history while they finished with the second-worst defence (giving up 82 points per game) and third-least productive offence (73.9 points) overall. Their lack of size and athleticism in the front court hurt them as they pulled down the least amount of rebounds in the competition and they also struggled to hurt oppositions in transition with the lowest amount of steals as well. Concussion concerns for Rachel Jarry put a dampener on the campaign with the Opals star able to only play 11 games before her season was cut short.
STANDOUT PERFORMER
Featuring in the WNBL for the first time since 2013/14, Nat Hurst was the Caps' leader this season as she controlled the tempo on the court and led the competition for assists with a career-high 6.8 per game. She started with five points, eight rebounds, 14 assists, two steals and two blocks against Bendigo in Round 1 and remained a consistent performer for the club even during their torrid mid-season losing streak. A calming influence on the floor, Hurst's leadership cannot be underestimated and the club will be keen for her to return next season where she will be aiming for an eighth WNBL Championship.
Next Year
TEAM NEEDS
The Caps could have a different looking roster next season with Jarry's future up in the air and only Lauren Scherf currently signed on for 2017/18. They will be looking for an athletic big to complement their front court as well as retaining the services of the likes of Wehrung and Gaze to boost their offensive capabilities. While Magbegor took most of the rookie limelight, Maddison Rocci stepped up in the second half of the season and showed no fears during her first WNBL season which will also hopefully help bulk up their back court next season while Hurst's return will aid them from a leadership point of view.
LIKELY IMPROVEMENT
Having now been back in the WNBL for two seasons, Keely Froling increased her numbers across the board to average 5.6 points, 2.9 rebounds and 1.2 assists per game in 2017/18. She reached double-figures in scoring three times and was a major reason for their strong finish to the season as she bumped her numbers up to 7.2 points, 3.5 rebounds and 1.8 assists while shooting 6-11 from the three-point line as the Caps won five of their last six. If she can carry that form into 2018/19, Froling will become a key piece of their offensive attack.