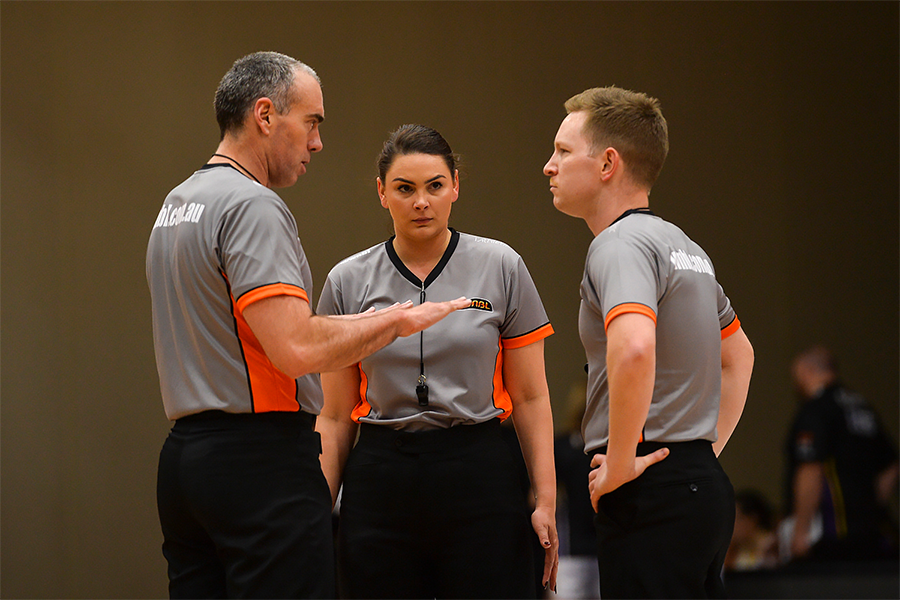 September 18, 2018 | WNBL news
Basketball Australia has partnered with the state and territory Referee Managers to select the 2018/2019 Chemist Warehouse WNBL Referee's Panel.
This collaboration considered a large number of talented officials nominated from state and territory representative programs.
A total of 43 officials were appointed to the panel with an additional 15 added to the National Referee Development Program (NRDP).
Those NRDP referees are Aydin Baker (VIC), Jacqui Dover (QLD), Kyle Easther (WA), Chloe Erskine (NSW), Byron Geddes (NSW), Calia Hanks (QLD), Mitchell Hudson (ACT), Danika Jolley (SA), Luke Joseph (NSW), Joran Napper (QLD), Katie Roberts (WA), Alex Robinson (ACT), Ben Shepherd (SA), Daniel Troy (SA), Ruben Woolcock (VIC).
"The panel is a great reflection of not only our most senior and experienced officials and but also our developing talent coming through the Referee Development Program." Said Basketball Australia Officials Manager, Peter Carey.
"It's an opportunity for all officials to take part in Australia's longest running elite women's sporting league where the expectations are at the absolute highest. With games being broadcast live on both FOX SPORTS Australia and SBS, all referees will be "
As one of the league's most experienced referees, Jason Kelly said he was looking forward to another successful season.
"Having just completed our pre-season camp and preparations with the instructors, I'm excited for the approaching season." Kelly said.
"Every official is ready to go and it's a privilege to be involved in such an exciting time with the overall growth of the sport."
The 2018/19 Chemist Warehouse WNBL season is set to be one of the most exciting in the leagues' 38-year history, with SBS partnering with FOX SPORTS to return the league to free-to-air television.
The season tips off on Friday, October 12 when the Brydens Sydney Uni Flames host the University of Canberra Capitals from 7.00pm.
The Chemist Warehouse WNBL Referee Panel for 2018/19:
LAST NAME
FIRST NAME
STATE
BADDOCK
David
VIC
BATTYE
Daniel
VIC
BROWN
Riley
VIC
BROWN
Scott
QLD
CALDWELL
Toni
QLD
CAREY
Sarah
VIC
COLE
Haylee
NSW
COPES
Craig
WA
COSIER
Michelle
ACT
COSIER
Simon
ACT
CROWLEY-LONG
Madi
QLD
DEVLIN
Vanessa
SA
DI CONZA
Adrian
WA
DI CONZA
Nicolle
WA
DI CONZA
Steve
WA
DURANT
Nathan
SA
EARLE
Troy
VIC
FERNANDES
Nico
NSW
FLINT
Tayla
VIC
GILBOY
Aaron
QLD
GREEN
Elliot
VIC
GRIGUOL
James
SA
GRIST
Mark
WA
HAMILTON
Justin
VIC
HARE
Mitch
VIC
HOLLOWOOD
Andrew
VIC
KELLEY
Joe
NSW
KELLY
Jason
VIC
KNIGHT
Joshua
NSW
McEWAN
Alex
QLD
McLACHLAN
Brodie
VIC
PAFF
Nathan
NSW
RICE
Robert
VIC
RICHARDS
Guy
NSW
SHAFAGHI
Shahrad
NSW
SPAIN
Todd
VIC
STARKEY
Hugh
SA
STEWART
Travis
WA
TAYLOR
Jack
ACT
VOEVODIN
Kylie
QLD
VOGELSINGER
Chris
NSW
WIELAND
Nathan
SA
 

NRDP PANEL

 
 
LAST NAME
FIRST NAME
STATE
BAKER
Aydin
VIC
DOVER
Jacqui
QLD
EASTHER
Kyle
WA
ERSKINE
Chloe
NSW
GEDDES
Byron
NSW
HANKS
Calia
QLD
HUDSON
Mitchell
ACT
JOLLEY
Danika
SA
JOSEPH
Luke
NSW
NAPPER
Jordan
QLD
ROBERTS
Katie
WA
ROBINSON
Alex
ACT
SHEPHERD
Ben
SA
TROY
Daniel
SA
WOOLCOCK
Ruben
VIC
 

INSTRUCTORS

 
 
LAST NAME
FIRST NAME
STATE
CAREY
Peter
VIC
BAKER
Trevor
SA
BRADBURY
Sarah
VIC
CAMPBELL
Bret
WA
GARRAWAY
Alan
VIC
GIBSON
Mike
SA
HART
Preston
ACT
HOUGHTON
Peter
WA
MAGGS
Jacky
QLD
MANHIRE
Allan
VIC
REARDEN
John
NSW
YOUNG
Gordon
ACT
MARTIN
John
NSW
MILLS
Tim
VIC
RYAN
Matthew
SA
WHEALING
Tim
NSW