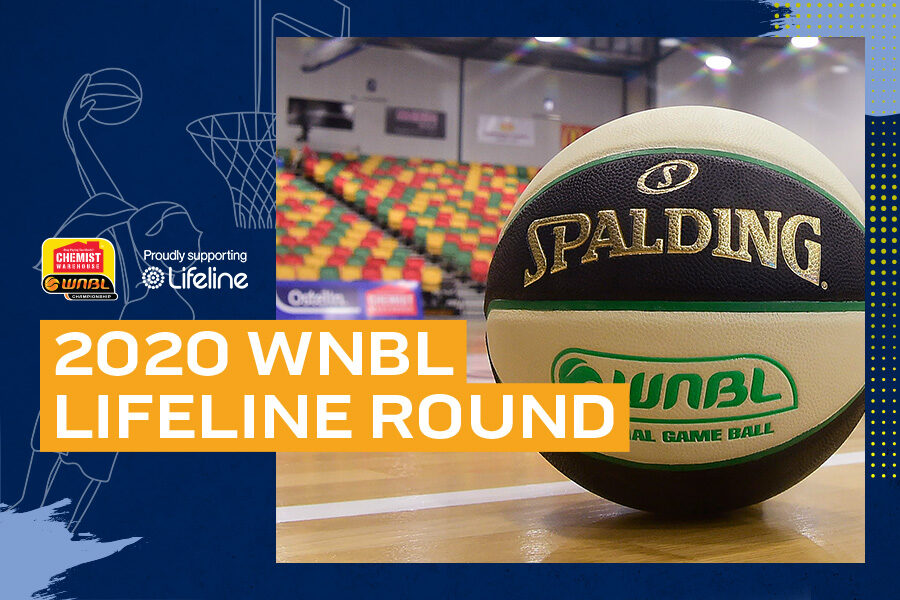 December 1, 2020 | WNBL news
The Chemist Warehouse WNBL will shine a spotlight on mental health and suicide prevention during this week's WNBL action, renaming the entire round to be "Lifeline Round".
Through a partnership with Lifeline Australia, the league will create awareness of the life-changing work of Lifeline and drive support of their fundraising efforts, during what is a challenging time for society.
Lifeline provides all Australians experiencing emotional distress with access to a 24-hour crisis support and suicide prevention service.
The WNBL's partnership with Lifeline Australia first commenced during the 2019/20 season and was an initiative driven by current Jayco Southside Flyers and Australian Opals captain Jenna O'Hea, following the tragic loss of a family member.
Basketball Australia Head of Women in Basketball Lauren Jackson AO expressed how vital it was for the Chemist Warehouse WNBL to support such an important organisation.
"This current COVID-19 pandemic has further heightened the importance of looking after the health and wellbeing of oneself and the community at large.
"The Chemist Warehouse WNBL is committed to doing as much as we can to create awareness of the life-changing work of Lifeline Australia, encourage people to seek their assistance, and drive donations to support their year-round work.
"On behalf of the league and the eight clubs, we are asking our stakeholders and fans to start a conversation with their family and friends plus donate via the Lifeline website or by texting 'wnbl' to 0428 519 716. Every conversation and every dollar will make a significant difference."
During Lifeline Round, the league will provide advertising space to Lifeline Australia on the venue LEDs, carry the Lifeline logo on the courts in both Cairns and Townsville, use the league's digital and social media channels plus broadcast to drive awareness and donations, the athletes will wear Lifeline shirts during the warm-up of select games this Round, plus encourage fans attending games to start a conversation and donate.
Lisa Cheng, Executive Director of Marketing and Fundraising at Lifeline Australia expresses her gratitude.
"We're very grateful for the partnership with and support from the Chemist Warehouse WNBL for the Lifeline Round. These essential funds raised will enable Lifeline to be there for more Australians in their darkest moments on our 24-hour phone crisis support and suicide prevention service and help them stay connected," Cheng says.
Since the bushfires and when the first wave of the pandemic hit Australia, Lifeline has been under significant pressure. Lisa highlights, "especially in uncertain times like these, Australians are turning to Lifeline in greater numbers than ever before in our 56-year history. Since March 2020, Lifeline has received almost 90,000 calls for help from Australians in crisis every month consistently. Every 30 seconds, Lifeline is now receiving a call for help from someone in need. We want to remind anyone who is feeling overwhelmed across Australia, that Lifeline is here to offer support to you, and we are ready to listen."
Lifeline encourages anyone who is struggling or who is caring for someone who is in emotional distress, to please reach out for support and remember that Lifeline is available 24 hours a day for a confidential chat, just call 13 11 14; or chat to a crisis supporter online at lifeline.org.au from 7pm to midnight every night (AEDT).
Find out how these services can help you, a friend or loved one here.
If you can give, please donate to Lifeline by texting "wnbl" to 0428 519 716 and help Lifeline answer more lifesaving calls from Australians in their darkest moments.