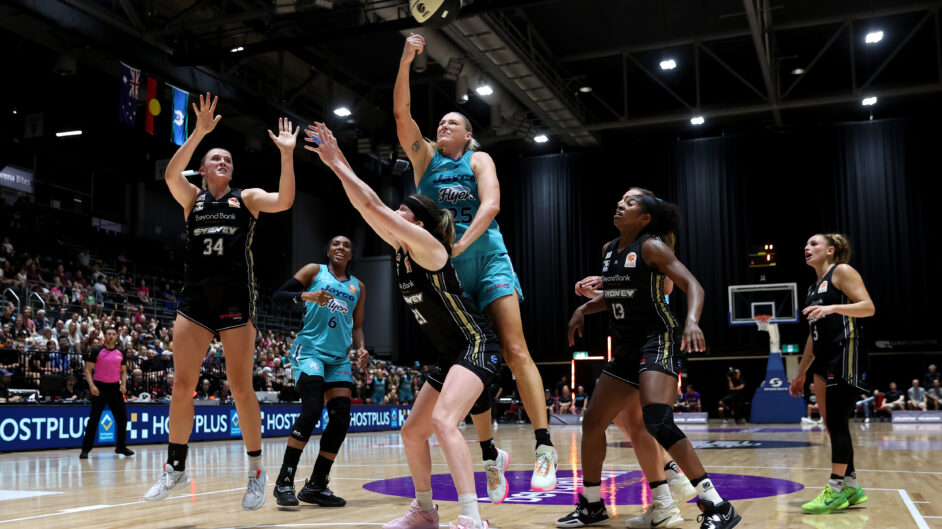 October 7, 2023 | WNBL news
With just 4 weeks until #WNBL24 season tips off, here are 4 things we're looking forward to this Cygnett WNBL season.
RETURN OF THE GOAT
Will the sequel be better than the original? Australia's greatest ever basketballer Lauren Jackson had her incredible return to the court cut cruelly short back in February in the opening seconds of her tribute game at John Cain Arena.
Jackson's comeback 1.0 began in NBL1 last year with the title-winning Albury Wodonga Bandits and reached the podium at the 2022 FIBA World Cup where the superstar wound back the court with a 30-point performance in the bronze medal match.
From Southside's home at the State Basketball Centre to Perth, Canberra, Townsville and everywhere in between, fans turned out to watch, and lined up post-game to meet, the GOAT last WNBL season.
The 42-year-old has recovered from surgery on a ruptured Achillies and this week made it official, she will soar in teal with the Flyers once again. Comeback 2.0 is a go.
Jackson, who averaged 13.5 points and 5.1 rebounds in 14 games in 2022-23, will combine with Seattle Storm champion Mercedes Russell to form a daunting presence inside.
WILL TOWNSVILLE FIRE UP AGAIN?
Will the reigning premier champion be bigger and better? Townsville Fire will show us the answer in the upcoming season.
A 16-game winning streak propelled the Fire to the 2022-23 title and like all teams who reach the sporting pinnacle won't have the same line up this season.
Lauren Nicholson and Lara McSpadden have returned to Sydney, Karlie Samuelson is playing elsewhere overseas and Kate Gaze is expecting her first child. But the Fire made some serious off-season moves, luring Opal Alice Kunek home after a long stint in Europe, wooing fellow Opal Sami Whitcomb from Perth then securing the biggest re-signing of them all with championship player and Rachael Sporn Medallist Tianna Hawkins agreeing to return.
Add in Steph Reid's continued rise, the huge contributions of Mikaela Ruef and Courtney Woods and the Fire loom as an ever-hotter prospect in #WNBL24.
ALL THE WAY FROM WNBA
Mitchell, Sykes, Nurse, Allen, Mabrey, Young.
The American import talent over the past few years has been sublime and there's both new games and some familiar faces headed Down Under this season.
2019-20 Suzy Batkovic Medal runner-up Brianna Turner (Phoenix Mercury) returns to the Lighting while Seattle's Mercedes Russell, who was named Robyn Maher Defensive Player of the Year in the same season, is back Southside.
New York Liberty's Jocelyn Willoughby made an immediate impact with Sydney last season and returns to the WNBL but with the Lightning.
Townsville's Tianna Hawkins is the only WNBA-listed import who in 2023-24 will play for the team she suited up for last season.
There's a serious buzz around Jordin Canada (Los Angeles Lakers) who will bring the boom to Melbourne while Sydney has high hopes for 2021 No.17 WNBA draft pick Didi Richards.
Also new to the league are Aari McDonald (Atlanta Dream) at Perth Lynx and Jasmine Dickey (Dallas Wings) at the Flyers.
YOUNG GUNS
The bright and exciting future of Australian basketball will be on show at all eight clubs around the nation each and every round.
Basketball enthusiasts will eagerly track the continued rise of Adelaide's Izzy Borlase, Sydney recruit Shaneice Swain and Perth's Chloe Forster this season while excitement surrounds Canberra gun and fan favourite Jade Melbourne following her rookie WNBA season with Seattle Storm.
Nyadiew Puoch soared in her debut campaign and joining her in #WNBL24 is fellow Australian junior representative Dallas Loughridge who is back on court after rupturing her ACL on the eve of last season. Another great comeback story will unfold in the nation's capital with Gemma Potter also making a triumphant return from the same injury.
Highly-touted teenager Saffron Shiels has toured with the Opals before she's even made her WNBL debut (with Townsville). Also making their WNBL debuts will be a wave of college exports and Australian under-age representatives including Alex Fowler and Jayda Clark (UC Capitals) and Izzy Bourne and Taylor Mole (Adelaide Lightning).