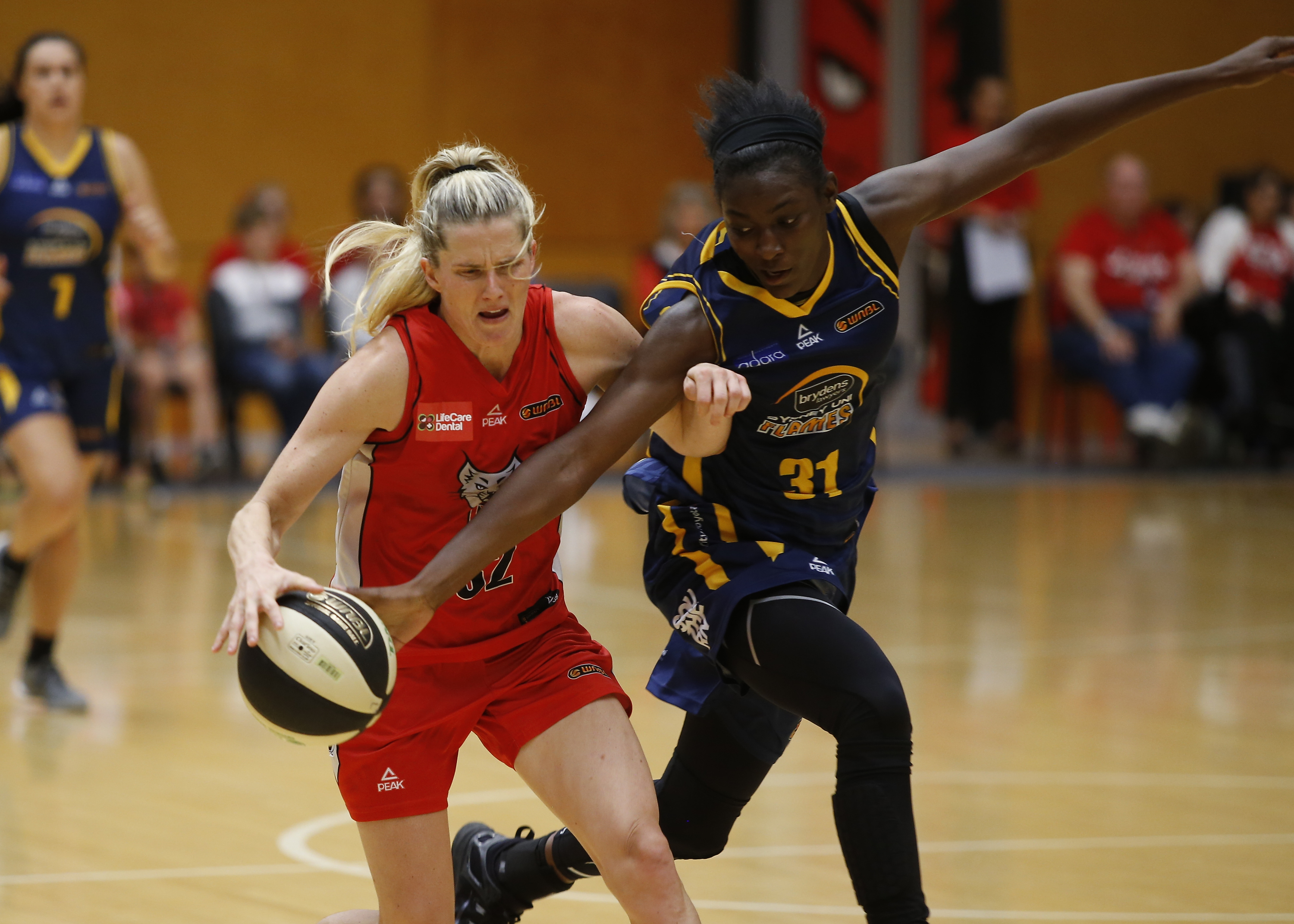 January 1, 2017 | WNBL news
Victories in
MAC Adelaide Lightning 72 defeated by Brydens Sydney University Flames 89
In front of a mammoth 1,200 strong crowd, the Flames were successful on their first game of a road double to kick off Round 12. They shot 48% from long range behind Alex Wilson (18 points, five rebounds, seven assists) and Leilani Mitchell (11 points, four assists) who hit seven of those triples. Asia Taylor (26 points, 14 rebounds, four assists and two steals) proved too dominant inside as well, combining with Jennifer Hamson (12 points, 14 rebounds) to give the visitors a 55-35 rebounding edge and counter 29 combined points from AdelaideÕs Colleen Planeta and Tayla Roberts. In more positive news for Sydney Uni, Tahlia Tupaea recorded her first minutes on court following a foot injury and Shanae Greaves collected seven offensive boards in just 17 minutes off the bench.
Boxscore:Êhttp://www.fibalivestats.com/u/wnbl/311867/
Perth Lynx 69 defeated by Brydens Sydney University Flames 93
The Flames then backed up their win over Adelaide with an even more impressive display against the Lynx to move into third spot on the ladder. Their scorching hot three-point shooting (10-21) kept the home team at bay all night and Asia Taylor put in an incredible performance with 21 points, 13 rebounds and eight assists. Leilani Mitchell was equally brilliant, leading the team with 27 points on 58% shooting and four steals while Sarah Graham added 11 points off the bench. For the Lynx, Sami Whitcomb (22 points, five rebounds, five assists) led the way as usual and Tessa Lavey fell just short of a double-double with 11 points and nine boards but the loss at home was their third from their past five outings.
Boxscore:Êhttp://www.fibalivestats.com/u/wnbl/311868/
Andy Stewart, Lynx coach:ÊÒIÕm incredibly disappointed. We fell apart in almost every area you could possibly think we could. WeÕve got to do a fair bit of soul searching and review.Ó
Cheryl Chambers, Flames coach:ÊÒIÕm really rapt to come over and get a win, theyÕre a quality team. We might have been a bit lucky having played last night and getting a few cobwebs out so in hindsight it was a pretty good thing. We were disciplined in making sure we got a good mix between getting it in the rack and outside. I was pleased with our ability to do that.Ó
JCU Townsville Fire 88 defeated Deakin Melbourne Boomers 75
A 32-22 second term helped the Fire to continue their winning streak and carry their form into 2017 as they aim to get back into the top four. Like she did in their previous meeting, Suzy Batkovic dominated the paint with 18 points, 15 rebounds, four assists and a block while Mia Murray and Micaela Cocks combined for 32 points. The Boomers won the rebound count overall but 19 points off turnovers proved costly despite impressive performances from Maddie Garrick (19 points) as well as Brittany Smart (16 points, two blocks) and Olivia Thompson (14 points, eight boards) off the bench.
Boxscore:Êhttp://www.fibalivestats.com/webcast/wnbl/311869/
Suzy Batkovic, Fire:ÊÒIt was a tough match. For a number of reasons, but itÕs been a bit of a disruptive preparation with Christmas and a few other things going on so it was good to get the win. WeÕve strung four together now so we need to keep going with it.Ó
Media Links
Claudia Brassard laid out TownsvilleÕs plans to return to the top four, reports Michael Thompson of the Townsville Bulletin: http://www.townsvillebulletin.com.au/sport/townsville-fire-hopeful-of-success-in-new-year/news-story/f3dcd14a8e85bf552e09f8c882f6f295
Kieran Iles of the Bendigo Advertiser looks ahead to an important three weeks for the Spirit in the New Year: http://www.bendigoadvertiser.com.au/story/4379069/three-telling-weeks-for-bendigo-spirit/?cs=81
Justin Nelson, General Manager of the Boomers, has called for more marquee games each season: http://wnbl.basketball/melbourne_news/boomers-like-nye-concept/
Boti Nagy reported on Sydney UniÕs victory over the Lightning on Thursday night for the Adelaide Advertiser: http://www.adelaidenow.com.au/sport/basketball/import-asia-taylor-rules-as-flames-torch-adelaide-lightning/news-story/8449ee1bfb496ae440cc4bb28f5c2034
Suzy Batkovic says TownsvilleÕs time at the top is far from over: http://www.townsvillebulletin.com.au/sport/were-not-a-spent-force-yet/news-story/cc1e64a8dae7dee51bee8a9413add2c7
Jon Tuxworth reported on the FireÕs NYE win over the Boomers: http://www.townsvillebulletin.com.au/sport/fire-overcome-batkovic-scare-to-close-gap-on-top-four/news-story/132610e3cfbb7cfd41973fb5023d5d4a