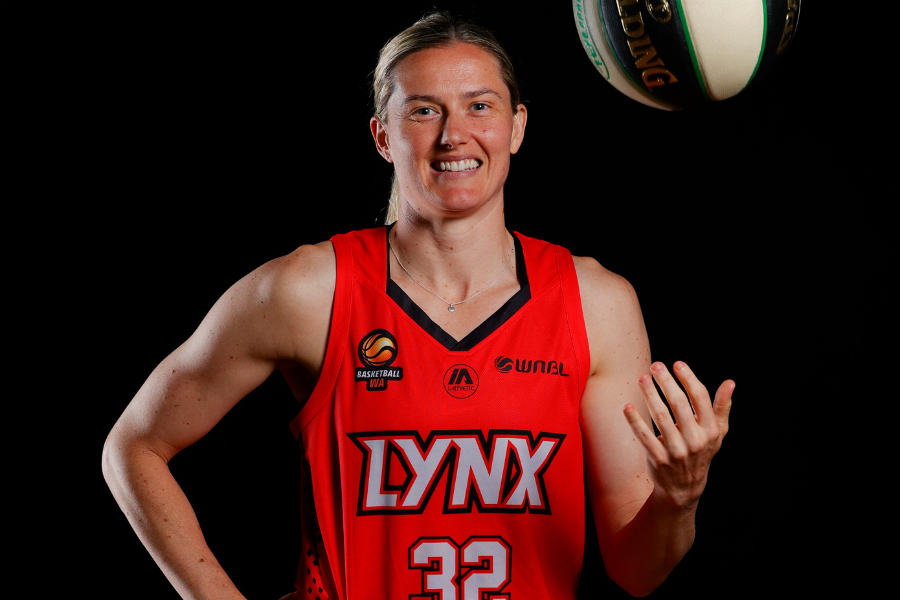 March 24, 2022 | WNBL news
By Jessica Robinson.
From playing alongside friend and teammate, Darcee Garbin once again to her son joining her on the Australian court for the first time, Sami Whitcomb's homecoming season has been one to remember.
As a new addition to the Lynx roster for the 2021/22 season, reuniting with captain Darcee Garbin came like a blast from the past, as the ex SEABL teammates got to continue their run at success. A natural leader herself, Whitcomb's proud to see her friend develop and thrive in her captaincy, leading the Lynx to a finals campaign.
"Darc (Garbin) and I go way back, my first team and playing experience in Australia was with Darcee in Rockingham with the SEABL, we won a couple of championships together and she's still young, but she was a baby back then!" Whitcomb told WNBL Media.
"To see the evolution of her as a leader and a player as well in this league and on the national team as well has been really special. I know how hard she's worked, I know what it means to her. She's a natural leader, to see her step up and get into it at this level when there's a lot of personalities and other leaders, isn't always easy and I think she's really thrived in that."
Delayed starts and hubs became a feature of the whirlwind Summer of '22 however, it's the sentimental memories that Whitcomb will take away from the season.
"As much as it wasn't ideal to be away from home for all of us for different reasons, it was nice to come together as a group. There's a lot of new faces and different people and personalities so it was great to get thrown together and we were very lucky."
The people were lovely, the cafes were great and the coffees were great, so getting to have our own little local, it was something we could all do together."
Upon returning home to WA and after a seven-day stint in home quarantine, welcoming her son Nash onto the court post-game felt that much sweeter, a first for Whitcomb on Australian soil.
"It was really great to come back and have him (Nash) experience a home game being a bit older now. He loves basketball, he loves watching and he loves dunking at home on his little hoop. It was past his bedtime but after one of the games I got to bring him on the court with me and he got to high-five the girls and he ran with it.
"It was really a beautiful and a fun thing to get to experience with him."
View this post on Instagram

With not much splitting the top four, Whitcomb acknowledges the closeness of the Lynx cohort after a long stint on the road, a bond that could potentially provide an extra edge heading into an unpredictable finals series.
"We were up against a lot, particularly early, having to pack and move to the east and every team has faced some sort of adversity.
"I'm proud of this group's resilience, we haven't been our best the whole time but ultimately we've persevered and been able to grow a bond and get really close because of it.
"The top four is really really tough, it's fluctuated, there was a time where every team was sitting at one or sitting at four and there are only a few games to separate the group.
"Everyone wants it. We have to bring our A-game."
DON'T MISS FINALS ACTION. TICKETS ARE AVAILABLE NOW.
View this post on Instagram

Perth Lynx will host the first of three semi-finals against the UC Capitals, at Bendat Basketball Centre, Thursday night at 6:30pm local (9:30pm AEDT) broadcast live across Fox Sports, Kayo and ABC TV.