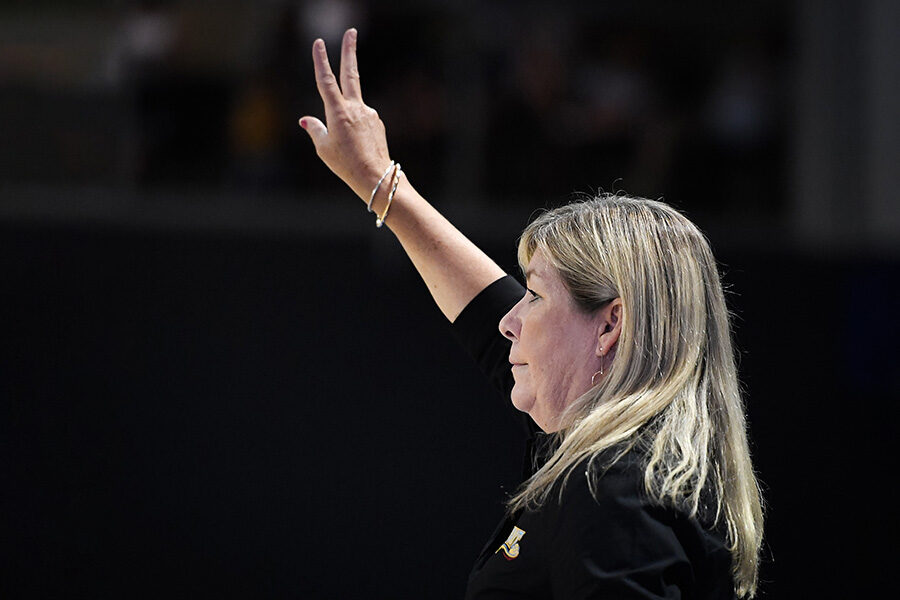 September 3, 2020 | WNBL news
In her second season as Head Coach for the Bendigo Spirit, Tracy York has locked in a versatile and talented squad for the 2020-21 Chemist Warehouse WNBL season.
With three returnees from WNBL20: Tessa Lavey, Demi Skinner and Carly Ernst, the Spirit will see seven new talents and welcome back Alicia Froling. Froling originally signed with the Spirit last year but sustained an injury prior to season tip off and was forced to sit on the sidelines.
Beyond their returnees, York explained how the impact of the current COVID-19 pandemic meant that the club had to re-evaluate how they were going to fill their 2020-21 roster.
"The lead-up to this season has been very different. As we waited for free agency to open in March, COVID-19 hit. The season start date was pushed back for good reasons, and then the decision was made not to have imports for the 2020-21 season, so the goal posts changed a bit when compared to last off season," explains York.
"In terms of roster management, it's been about adapting and working out who we thought would be a good fit for our existing group in Bendigo.
"We had to do a little bit of thinking about what was best suited for us, and we're really happy with how the team has come together."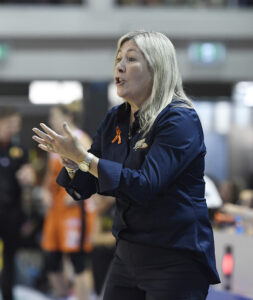 Whilst building their roster, the Spirit scored the signature of highly regarded WNBL veteran Amelia Todhunter. York expressed great contentment at welcoming Todhunter to her side for the 2020-21 season, knowing the skilled defender brings a breadth of knowledge, experience and talent.
"She's a wonderful person and player, and I knew as soon as I started talking to her that she is a great fit for the group," states York about Todhunter.
"Amelia's been in the League for 12 years. She'll take on a leadership role, whether it's a formal or an informal one. She's keen to help the young ones and to help the program. I think all of that on and off the floor will just be fantastic."
Boasting about the talent in her team, York was thrilled with the debut of Shelby Britten and Piper Dunlop. Both Britten and Dunlop were part of Bendigo's extended Spirit training squad last season and with Shelby earning a core roster position and Piper promoted to a Development Player role.
York, who has a wealth of coaching experience from the WNBL, the NBL and even coaching Junior Australian National teams, highlighted that pathway programs, such as the Spirit's training squad, are essential and a great way to develop the athletes into players who fill the contracted team positions.
"Last year, Shelby returned from college and came in late to the picture. However, we said, 'yep come in as a training player and see how you go'. She was totally committed; she's a great person and a great player. She never missed a beat, and for her, it shows that there is a pathway."
"Young Piper Dunlop was also a training player and she's now bumped up to a 'DP,' development player position.
"Again, that's a pathway, she's a Bendigo Brave and started out at eight years old. I think it's really good in terms of the region. We have some of those really exciting country players that have put in the effort and been able to come on that pathway with us," explains York.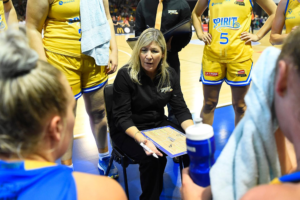 With their roster locked in, Bendigo haven't hesitated to commence their season preparations. The players have been training together on Tuesdays and Thursdays through the video conferencing application Zoom for nearly five months.
"We've got Mark Alabakov my Assistant at Bendigo and we talk three to four times a week to plan our sessions.
"We've seen all of our players really commit to the Zoom training sessions: from Mary Goulding in New Zealand, Alicia [Froling] in Townsville, to Demi [Skinner] who was in Port Lincoln and now she's back in Adelaide. We've also got some of our other athletes in Country Victoria, Bendigo and Melbourne.
"It feels as though we haven't really had an off season, but it's been fantastic, and this has given me the link with Bendigo as we're running the Zoom sessions through Bendigo Stadium," explains York who is currently connecting with her athletes remotely from her home in Adelaide.
"It's worked really well and allowed the Victorian athletes, even the ones in Country Metro are back in lockdown with the chance to see teammates and have structured sessions. We're also pairing them up, so they get to know each other through the Zoom, it's all kind of unique."
Overall, York is enthusiastic about the upcoming season, especially with the roster combination of returnees, new talent and a collective team 'spirit' of desire and determination.
"It's fantastic to have fresh faces and I think we'll be a really good fit with our returnees. Looking at development, they're a young group, but a talented group. They all want to work and put in the effort so it's also about the longevity of the program and developing those players."
"We're excited in terms of the type of people we got, they're all good people and good basketballers who want to learn and develop," concludes York.
Check out the Bendigo Spirits' 2020-21 WNBL Roster at the Free Agency Tracker.