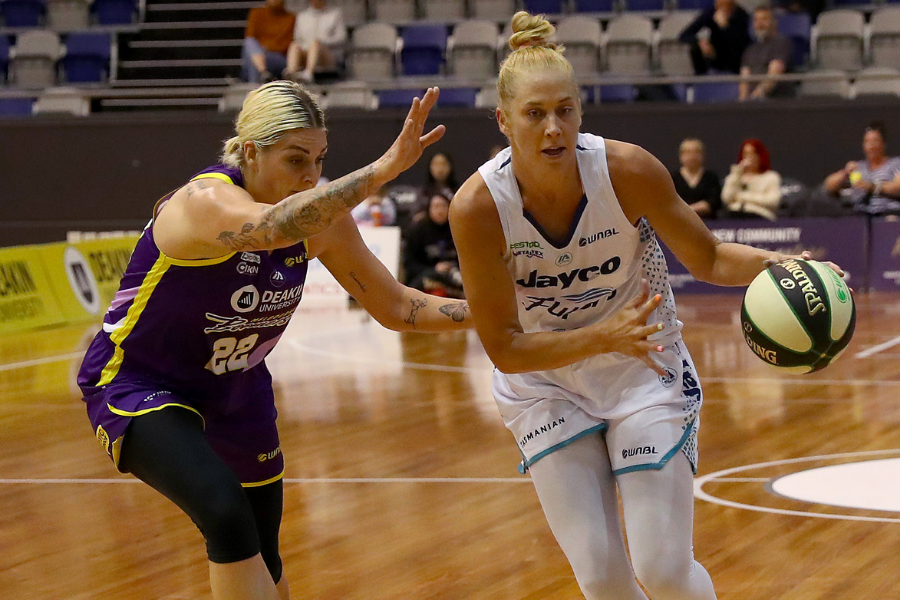 December 15, 2021 | WNBL news
By Megan Hustwaite
Multiple championships, league MVP honours and All-Star five selections but it's the connections and friendships from across her career, which tipped off in 2005, that mean the most.
"They are huge, huge. The majority of my friends are old teammates not only just in the WNBL, imports who have played in Australia and also from playing overseas. That's one of my favourite things about playing basketball, the friendships you make along the way,'' Bishop, who played her milestone game in Round 2, said.
"You won't always remember the wins and the losses and the good games and the bad games but you'll always have your mates there. So, for me, I'm super, super grateful that I have so many wonderful old teammates who are now some of my closest friends who reach out and support me through the good and the bad."
Bishop has returned to the league this season, joining reigning champs Southside Flyers, and is in early hot-form recording double-doubles in the first two games.
The 33-year-old debuted with the AIS in 2005/06 and would remain in the nation's capital to play for Carrie Graf and the Caps where she would go on to be part of three championships.
Her WNBL career has taken her to Dandenong Stadium, Adelaide twice, back to the Capitals, up to Townsville and now back to Melbourne.
Life membership the latest accolade on a dazzling basketball CV which includes Olympic (bronze, 2012) and FIBA Asia Cup (bronze, 2019) medals and a WNBA title (Seattle Storm, 2010) as well as successful stints throughout Europe.
"I honestly can't believe it because I've been around for so long but also last time I played in the WNBL I knew I was a few games away from my 250th. To actually be able to achieve it is amazing and I'm super, super grateful,'' she said.
"I've seen the good, the bad and everything in between and I've seen the league grow. I was a young kid out of the AIS playing for Canberra who was a super successful club and still are, but I've seen the WNBL grow and evolve and now the quality of the league, in my opinion, is stronger than ever.
"I'm lucky to have experienced different coaches, clubs and professionalism and I think It's all part of the story and it all makes you the person you are today because of the experiences you've had."
Bishop credits the Caps for helping shape her into the experienced international player she's flourished into.
"I don't think I'd be the player I am today if I hadn't have gone to Canberra. Especially having Carrie Graf as the head coach for all those years, she developed me a lot and taught me so much – not only about basketball but also off the court.
"I was almost a little bit lost as a young kid coming out of the AIS and not knowing what to do but it all fell into place. In terms of the players around me, the coaches and whole organisation, it was perfect."
Bishop landed at the Flyers for #WNBL22 after playing in Italy last season.
"I wanted to come to Southside to enjoy basketball again, it's been a while playing in Australia, and I am – I'm smiling, I'm having fun, I'm surrounded by great people, I've got an awesome coach (Cheryl Chambers) and I'm on a great team,'' she explained.
"One of the reasons I wanted to come to Southside was because I slot straight into this team who are already a great team. There's no pressure, I can just come and be myself and whatever happens, happens.
"I've had a lot of people comment on how happy I look and that's my goal, I just want to enjoy it and so far, so good."
Bishop will be formally acknowledged before the Flyers' Round 3 home game against the Melbourne Boomers this Saturday.