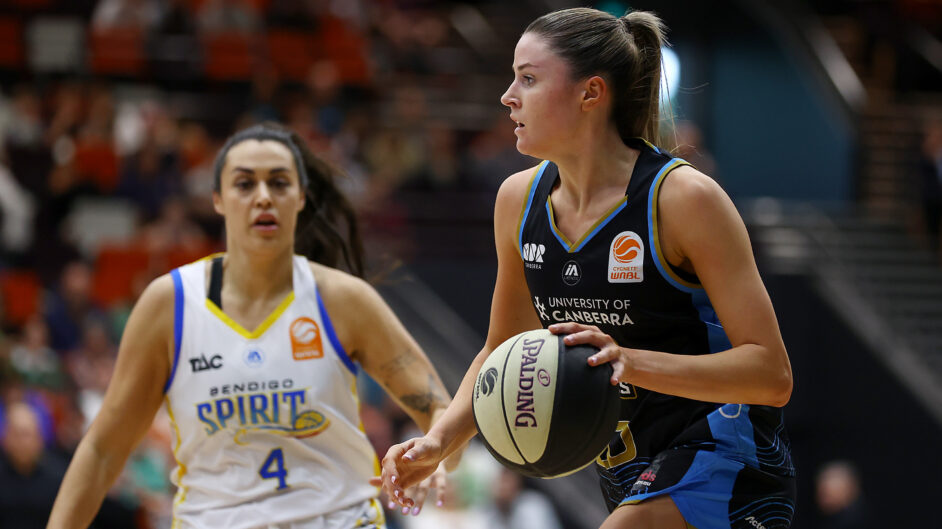 August 18, 2023 | WNBL news
With the WNBL's eight clubs preparing to embark on their pre-seasons, four players are immersed in campaigns of their own.
Dallas Loughridge, Gemma Potter, Steph Talbot and Abby Cubillo are all at different stages of their rehabilitation from ACL injuries, here's where the quartet are placed in their respective returns to the court.
DALLAS LOUGHRIDGE
The 19-year-old rising star was just weeks away from making her WNBL debut when she succumbed to injury in the Southside Flyers final pre-season game.
"I've been back doing controlled contract and I've just started 1-on-1 which is super exciting. I've been in the gym getting strong so I can lower that risk and be ready for contact," she says.
"I think I'm now on the home stretch and hopefully this will all now start to speed up.
"I just can't wait to be back playing so this is another step that brings me closer to that."
The Flyers host Melbourne Boomers in Round 1 and Loughridge is eyeing her long-awaited debut. And it doesn't get any bigger than doing it in the Melbourne derby.
Watch Dallas recovery here in She Hoops documentary Back From the Brink.
GEMMA POTTER
ACL injuries are cruel and they often happen in the cruellest of circumstances.
UC Capitals young gun Gemma Potter was playing her first WNBL game since recovering from an ACL injury to her left knee in 2021 when in the opening quarter of the #WNBL23 season she hit the floor and instantly knew she'd suffered the same injury, albeit to her right knee.
She is now 9 months post-surgery.
"I'm currently just getting consistency with training and picking up the load of what I'm doing on court. I'm able to do 1v1, 3v3 in the half court. Gym also being a massive part in training from the very start and even more so now. I've just seen the surgeon for my return to sport clearance that will let me then do the physical RTS (return to sport) test and will have the all clear to start 5v5."
And Potter has a date on the calendar she is striving towards.
"Aiming to be back for Round 1. With the timing of me doing my knee/surgery, the timeline works perfect with it being 12 months exactly on return. I'll ease into pre-season with the girls but towards the back end of the 8 weeks I will be full training and available to play."
STEPH TALBOT
The dual Olympian and FIBA World Cup All-Star Five member suffered her knee injury in Adelaide Lightning's Round 14 clash in Canberra, the third last round of the #WNBL23 season.
She is now just over 5 and a half months post-op and deep into her recovery.
"I'm currently in gym and continuing to build overall strength, power, plyometric. On court, I've been doing lots of running – straight line/speed, change of direction and agility including reaction agility.
"Currently trying to make those drills more basketball specific and have started some mild contact stuff.
"The next step would be to build on all of the above and continue to get stronger and faster. Building up contact work to eventually play 1 on 1. Hopefully within the next month."
And while Talbot has no firm return to court date, she has a third Olympics, in Paris next year, firmly in her sights.
ABBY CUBILLO
Timing is everything when it comes to an ACL injury and the recovery that follows.
The Adelaide Lightning guard suffered her injury while playing NBL1 for the Brisbane Capitals in her home town of Darwin in front of family and friends in May. The timeline means she will miss the upcoming #WNB24 season.
Cubillo has just hit the three-month post-surgery mark.
"I've had a slow start with my ROM (rotation of movement). I've just had an MUA (manipulation under anaesthetic) to get it fixed and I'm feeling great. Hopefully this was just a little hurdle and I can just straight back into getting my strength back," she said.
The 24-year-old will turn focus to building up muscle in the gym as she works towards running.
"I'm aiming to be back mid-June next year but letting my body tell me when it's ready to go."