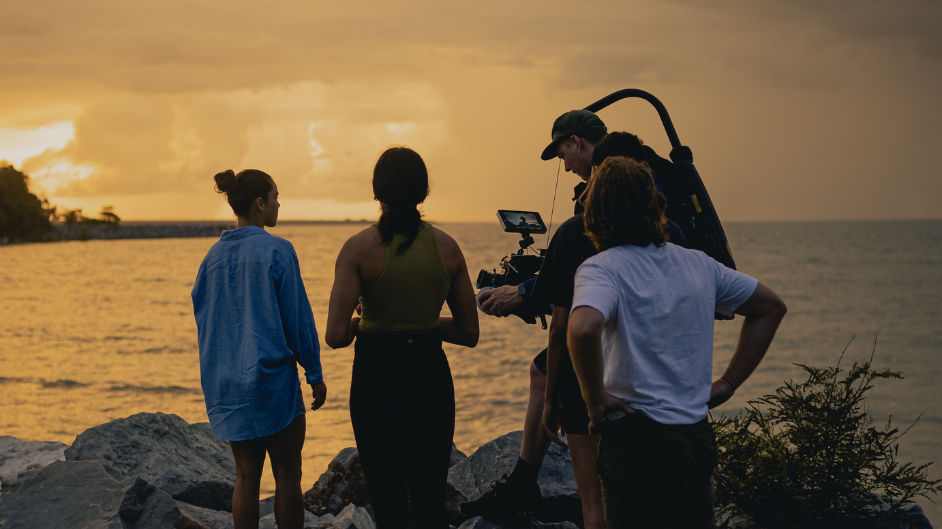 February 22, 2023 | WNBL news
The Cygnett WNBL's second Indigenous Round saw all eight teams sporting stunning, themed uniforms and participating in activities that embraced Aboriginal and Torres Strait Islander cultures.  
Thanks to the support of computer software company, Adobe, the WNBL rolled out a creative campaign highlighting the stories of First Nations WNBL players, paving the way for the next generation of talent.  
Off the back of an incredible visit to Darwin's basketball community, Adobe's Indigenous-led production team produced player features of Abby Cubillo from Adelaide Lightning, Shaneice Swain from the UC Capitals and Nes'eya Parker-Williams of Townsville Fire, perfectly capturing each their Indigenous pride and connection to community.  
Additionally, Adobe content creator and proud Indigenous artist, Desirai Saunders produced graphic illustrations of the trio for printed and digital mediums, reflecting their heritage and how the youth look up to them as trailblazers.  
View this post on Instagram
ABBY CUBILLO 
After welcoming the WNBL and Adobe crew into her hometown in Darwin, Cubillo's creative content was the first to be published. Within her interview, she shared insights about finding inspiration from her family's resilience and using sport as a platform to inspire more Indigenous players to follow their dreams.  
View this post on Instagram
To create Cubillo's artwork, Saunders focused on her achievements as an athlete and being a strong Larrakia woman.  
View this post on Instagram
The blue, oceanic background art represents her cultural heritage, Larrakia mob (saltwater people). Above this is a representation of her family bloodlines. Particularly the three women who had the most impact on her and gave her the strength needed to pursue her dreams.   
As for the character itself, Abby's expression says to the opponent, "let's go, I can overcome anything". 
NES'AYA PARKER-WILLIAMS 
With the Townsville Fire scheduled for two big games during Indigenous Round, Parker-Williams' feature was published next. She shared her admiration of WNBL Champion, Rohanee Cox growing up, and her immense pride in now becoming a role model for her community through the game that she loves.  
View this post on Instagram
Saunders' artwork depicts Parker-Williams' four siblings surrounding the basketball. The white line that spirals around her is to represent the invisible thread of culture that guides and grounds her. Silently there, weaving around her journey. 
The background is various shades of blue (Nes'eya's favourite colour). 
View this post on Instagram
SHANEICE SWAIN
Amidst a breakout season for the talented UC Caps young-gun, Swain spoke of her devotion to her family and her wanting to create change and inspire young mob to follow their dreams. 
View this post on Instagram
Swain's artwork represents the impact that her successful career can have on young players.  
View this post on Instagram
The white thread again represents that cultural thread that surrounds and binds us. The dots that run along this thread increase in number as they get higher up. This represents the chain reaction that happens when role models like Shaneice inspire just one person, who will then go on to inspire another, and another and so on. The large circles surrounding Shaneice are her family and community.  
 The background, yellow to represent one of Shaneice's favourite colours, also has the tails of crocodiles (kemble) to show her yurdi (totem). 
By highlighting these stories, the WNBL hopes young Indigenous basketball players can see themselves represented in the League and feel inspired to dream big.  
Adobe will further amplify the creative campaign via its global channels during women's history month in March.