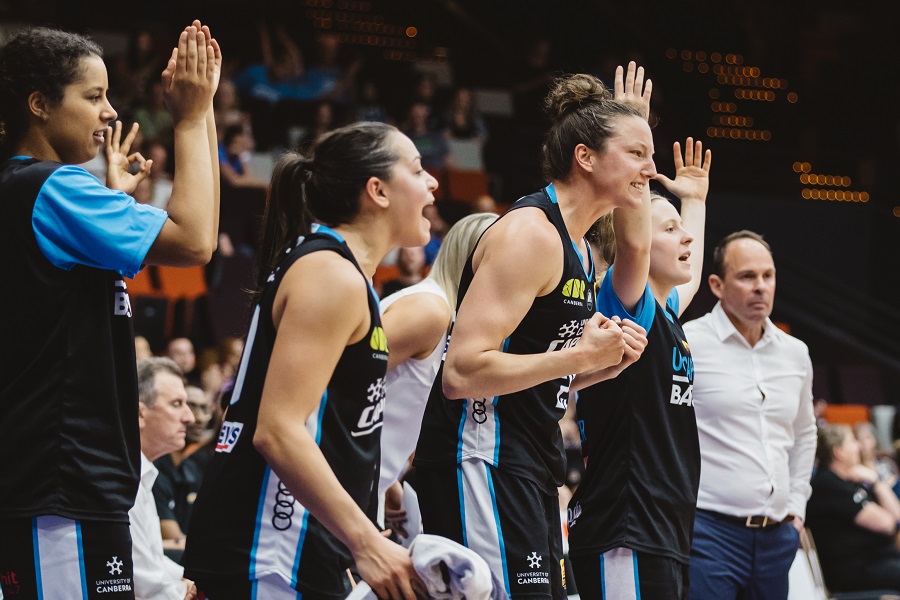 November 29, 2018 | WNBL news
Written by Megan Hustwaite.
The UC Capitals had a busy off-season locking in the signatures of some of Australian basketball's biggest names – Griffin, Mitchell, Tolo and Wilson.
And the Caps recruits for the 2019 Chemist Warehouse WNBL championship didn't just end on the court- their coaching ranks too received a boost with the addition of the first AFLW premiership coach, Bec Goddard.
A Canberra local, Goddard coached the Adelaide Crows in the first two seasons of the AFL Women's competition and on return home to the nation's capital has code hopped to the WNBL.
Goddard telling The WNBL Show she spoke at a Women in Sport event for the ACT Government this year, organised by legendary Lauren Jackson.
"In that crowd that night was a few basketball people, including the coach Paul Gorris, and the next day he rang me and said 'let's catch up for a coffee, I want you to come and work for us','' she said.
"What I've been doing is really bringing some of those things we do in footy that are a bit different to basketball. Looking at those professional standards, those one-percenters and that team environment, which I suppose some people like to call culture.
"Introducing individual reviews and presenting that to the group each week and looking at our big standards because we're "going big" this year, so each week I present to the girls our big standards – which aren't necessarily how many points we've scored, how many assists, how many rebounds – they're those one percenters which make a team great."
Her role also encompasses the measurement of boxing out, deflections and elements like positive body language.
"And making your house a home, how we welcome someone into our team environment each week.
"Those things give us a score each week and we know what the score is when we win games, and what that benchmark is, and when we don't win games.
"It's often a real eye opener to see when we don't meet that score and performance wise we've lost the game as well."
Goddard, who coached Opals and WNBL champion Erin Phillips at the Crows, took a Sherrin down to Caps practice recently and was impressed by some of what she saw.
"It won't be a surprise to you guys to tell you that Kelsey Griffin can kick a football pretty well. I think that's because she spent a fair of time around the Bendigo Thunder (women's team) so she's got some inside information there but Kelly Wilson can also kick a footy pretty well,'' she said.
"The rest, they've got some work to do. They can catch it but they can't kick it!"
Listen to Bec Goddard on The WNBL Show here.
The WNBL Show airs every Tuesday during the Chemist Warehouse WNBL season.