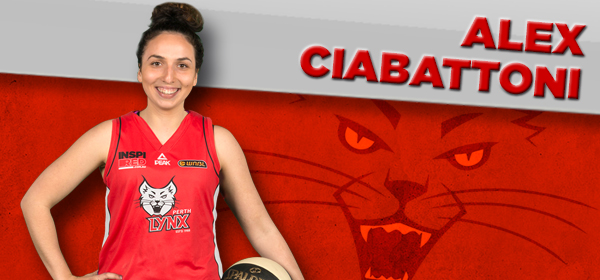 August 1, 2017 | WNBL news
The Perth Lynx have added another key piece to their wing rotation, securing the services of Alex Ciabattoni for the upcoming WNBL season.
Originally from Adelaide, Ciabattoni spent the first two seasons of her professional career with her hometown Lightning, where she was named WNBL Rookie of the Year in 2015/16.
The 23 year-old stands at 183cm, and adds even more versatility to a roster already boasting several options at each position.
ÒSigning with a club such as the Lynx, which over the past two seasons has undergone such a professional transformation, is extremely exciting,Ó said Ciabattoni.
Ciabattoni started her career at Newman University, where she led the team in scoring, rebounding, steals and blocks.
After being named Player of the Year in 2013/14, Ciabattoni transferred to Stetson University, before linking up with the Adelaide Lightning and beginning her career in the WNBL.
ÒI think my versatility is my biggest asset.Ó
ÒI've played point guard, off guard, small forward, and had to defend opposition fours, so I believe that ability to adapt to what the team might need from me is my biggest single asset.Ó
ÒLynx fans can expect, I hope, to see me come out of nowhere and block a shot – I love that!Ó
She currently plays for the Hobart Chargers in the SEABL, and holds averages of 18.9 points, 7.3 rebounds and 3.4 assists.
ÒAlex is a versatile combo guard,Ó said Lynx head coach Andy Stewart.
ÒShe has very good vision, sheÕs strong, and sheÕll be able to play the one, two or three for us.Ó
Ciabattoni joins a new look Lynx roster alongside Sami Whitcomb, Toni Farnworth, Alice Kunek, Kayla Standish and Olivia Thompson.
Further team updates will be made shortly
Perth Lynx memberships areÊon sale now, starting from just $6.90 per game!