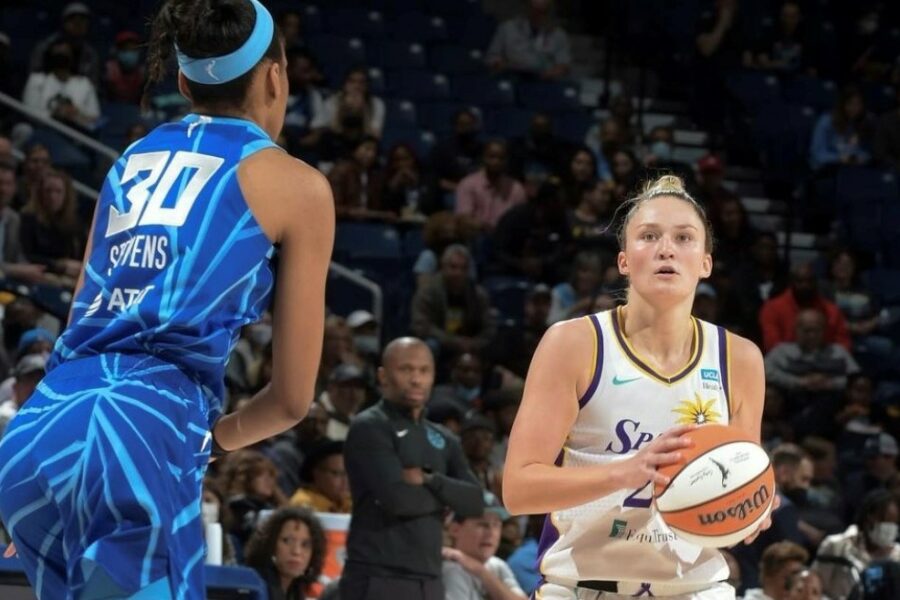 July 4, 2022 | WNBL news
By Brooke Fankhauser
WNBA Rookie and newly signed Perth Lynx young gun, Amy Atwell, is excited to return home to Perth after six years and make an impact in the 2022/23 WNBL season.  
Atwell hails from South Perth where she played her junior basketball, before moving to the USA to play college basketball for the University of Hawaii.
"I've been in Hawaii six years playing college basketball so I kind of worked my way through the ranks. I'll always cherish my time in Hawaii, I think I've learnt so much from my time here and grown so much as a person on and off the court," Atwell said.
From there, Atwell was drafted to the Los Angeles Sparks as a third-round pick (pick #27) for the 2022 WNBA season where she made her debut, suiting up for her first career start against the Chicago Sky on May 6th, 2022. Atwell played another 3 games for the Sparks before being waived.
"It was pretty unreal; it was a childhood dream come true. I wish it could have been longer, and I'm going to work my backside off as hard as I can to get back there because it was definitely an eye opener and showed me what it takes to get to that level and what it takes to stay at that level."
Atwell averaged 17.8 points and 6.9 rebounds as well as being awarded the 2021/22 Big West Conference Player of the Year while playing for the University of Hawaii.
She also holds the all-time scoring record for career three-pointers. Atwell has had a lot of knee injuries in her career, which meant spot shooting was her main practice, honing her sharp shooting skills she now has as part of her game.
The 24-year-old's skills will no doubt be an asset for the Perth Lynx side in the upcoming season, as Atwell explained, she can bring a lot to the team.
"My shooting ability, and hopefully my energy on and off the court, and personality. I like to keep things loose and light and fun. But I'm a competitor when I get on the court."
Atwell said she's looking forward to seeing her friends and family again back in Perth.
"I'd come home for about one month every year, and I wasn't able to come home for two years because of Covid. Just being able to come home for a significant amount of time and spend time with my friends and family.
"Next best would be the food, just meat pies and all that kind of stuff, definitely missed that over here."
Atwell joins Lauren Scherf, Sami Whitcomb, Alex Sharp, Jessie Edwards and Tayah Burrows on the 2022/23 Lynx roster; with more announcements still to come.