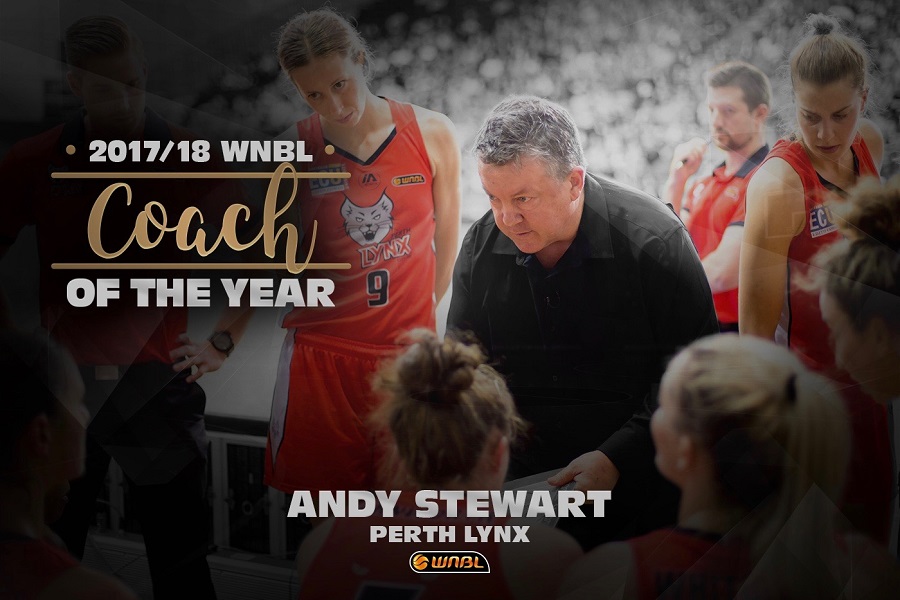 January 11, 2018 | WNBL news
For the second time in three seasons, Andy Stewart has been named the WNBL Coach of the Year after leading the Perth Lynx to the top of the ladder at the end of the regular season and into the playoffs for a third straight year.
The Lynx had missed the post-season for 15 consecutive years when Stewart took over the helm in 2015/16 but since then, he has brought them into Championship contention in each campaign with an overall record of 46-23 (67%).
This season, Stewart earned 34 votes out of a possible 42 with last year's winner, Cheryl Chambers, finishing second in the voting.
"It's always an honour to be acknowledged by your peers, but really great players make coaches look good, and this has been an excellent group to coach," said Stewart.
The Lynx had an innocuous start to 2017/18, dropping three straight games to open the season which culminated in a 35-point loss to Bendigo.
In a condensed season, Perth's hopes of another finals run looked dashed but Stewart rallied his troops and the Lynx went on to break a club record with 14 consecutive wins in response.
They raced to the top of the ladder and cemented first place before the last round of the regular season, ultimately finishing a game clear of second placed Sydney Uni and third placed Townsville.
"We had a solid recruiting plan that committed us to a style," said Stewart.
"After a 0-3 start and sitting on the bottom of the ladder there were obviously some concerns. The fact that these young ladies stayed committed to our plan reveals the character of the group."
Perth's scintillating offence, led by their impressive back court of Sami Whitcomb and Courtney Williams, paced the club to the highest scoring offence in the league at 82.6 points per game.
Whitcomb and Williams were also integral to the Lynx leading the league in steals as the two guards finished in the top five for the competition while Kayla Standish and Alice Kunek also averaged around one steal per contest.
Despite those impressive numbers, Perth were unable to carry their form into the post-season with their quest for the 2017/18 Championship ending in the Semi-Finals.
"It's hard to bring a season's activity down to one major takeaway," said Stewart.
"Our culture was solid, we are convinced of our game style and, although it's incredibly frustrating that we faltered in the finals, we are convinced we are on the right path."
2017/18 Coach of the Year:
Andy Stewart (34 votes) Perth Lynx
Cheryl Chambers (20 votes) Sydney Uni Flames
Chris Lucas (12 votes) Adelaide Lightning
Media Contact:
Shannon Knaus
Media Manager- WNBL/SEABL
0438 487 216
shannon.knaus@basketball.net.au