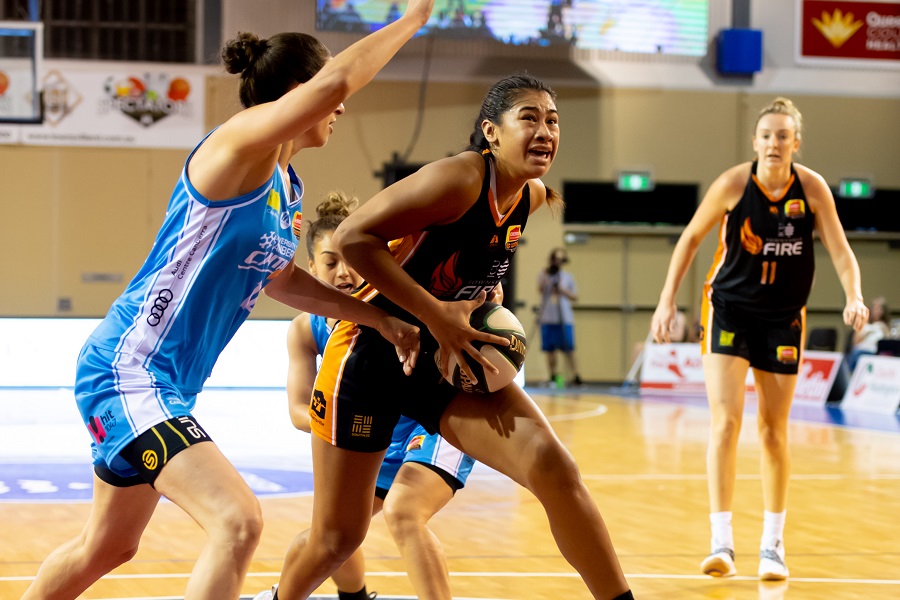 January 17, 2019 | WNBL news
By Megan Hustwaite.
With the announcement of her retirement pre-season, the JCU Townsville Fire were preparing for life after Suzy Batkovic but little did they know it would start pre-Christmas.
As the five-time champion and six-time league MVP was injured on the sidelines in her final campaign, her prodigy, 20-year-old Zitina Aokuso, has been thrown in the deep end in just her second WNBL season.
The exciting forward is averaging 9.6 points and 5.7 rebounds off the bench and has shouldered increased responsibility while achieving double-doubles as recently as last round in the Fire's 81-68 victory over the Jayco Rangers.
"Trying to fill Suzy's big shoes has been hard but I've been working really hard and getting tips from her too. She's taught me to be more strong in the post, to be poised and to have more confidence – confidence is a big one,'' Aokuso told The WNBL Show.
"It's given me more confidence knowing I can get those numbers up and I'm just looking to get bigger and better.
"I definitely think it's going to help me going forward, being thrown in the deep end has taught me a lot. At 20, my confidence has grown heaps and I think that will help in the seasons to come."
Aokuso has herself played through injury. Unable to train, the Logan export been restricted to walk-through's and playing on match day, displaying both resilience and maturity.
"I've got a stress fracture in my left foot, it's minor but it's pretty sore and I'm just working through the pain. It's been a lot of rehab, playing games to maintain fitness off the court and I think I've been coping pretty well,'' she said.
Batkovic this week told The Townsville Bulletin her apprentice can be "the future of basketball."
"I'm excited for next year to see her grow, I think she's the future," Batkovic said.
"The leaps and bounds she's made in 12 months has been something phenomenal, she's been a different player from her first year to her second year.
"How athletic she is, the size of her body and the strength she has, it's rare to have all those abilities. It's always great to see her sprint the floor and catch some crazy pass, that athleticism is incredible.
"I strongly believe that she can be [the future], the ball's in her court if she wants to do it.
"She's 20 years of age and already doing some incredible stuff. I have seen a lot of athletes but I think she's something special and if she wants it, she can go get it for sure."
Listen to Zitina Aokuso on The WNBL Show here.
The WNBL Show airs every Tuesday during the Chemist Warehouse WNBL season.