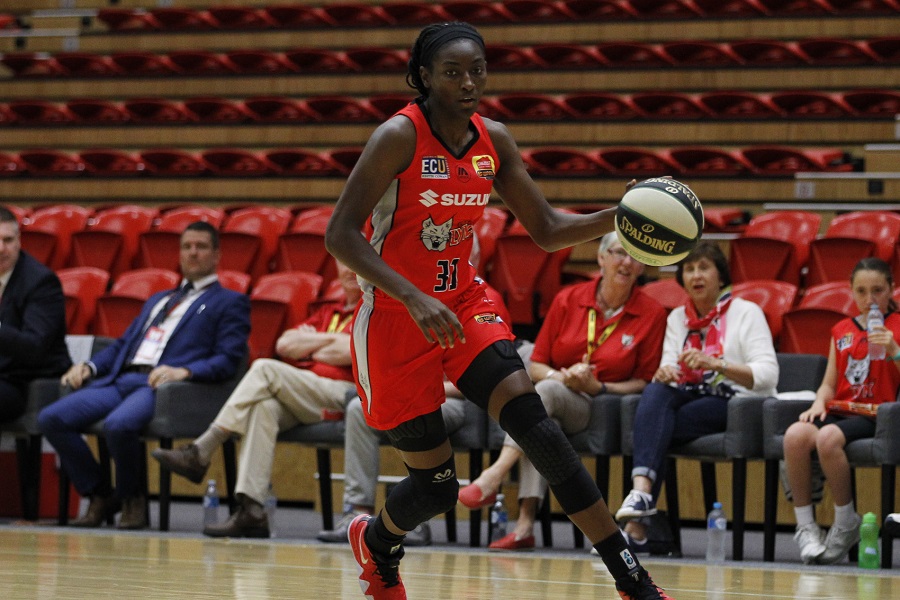 November 22, 2018 | WNBL news
Written by Megan Hustwaite.
The buzz heading into the 2019 Chemist Warehouse WNBL Championship was huge with a flurry of player movement and an influx of exciting imports.
And one of the biggest coups of the pre-season was way out west with perennial finalists Perth Lynx winning the prized signature of live-wire forward Asia Taylor.
The 27-year-old made a profound impact in her first two years in Australia, namely the Brydens Sydney Uni Flames, winning a championship under coach Cheryl Chambers, in her debut season.
Taylor this week explained on The WNBL Show the reason behind her move.
"For me, in my career I just feel like every year as athletes we train so hard and we work on so many things that in order to get better you're progressing.
"Whether that be one year you're winning a championship, one year you're moving up, so for me it's constantly challenging myself in different situations and pursuing to move up.
"That's pretty much what I wanted to do.
"I'm enjoying it here. It's a new situation for me so luckily, I got here early to be able to adjust. The girls are great, they treat us really well here and everything is about the athletes. They treat us good and I'm enjoying it so far."
Taylor believes a first-up defeat to the Adelaide Lightning in Round 1 was a blessing in disguise for the women in red.
"In your pre-season, you're pretty much just practising against each other and we had a few exhibition games in there but it wasn't the real deal, it wasn't the real game, the real feel,'' she said.
"We just needed that. I really don't feel we'd be top of the ladder right now if we didn't have that first game so in a way I kind of thank them (Adelaide) because it just forced us to be like 'hey what kind of season do we want to have here' and it can't be like we played in that first game.
"So, it wasn't a million things that we had to change after that first game, it was really one or two tweaks we had to make and once everyone bought into that we went on that streak."
That six-game winning run came to an end at the hands of the Deakin Melbourne Boomers in Perth last round.
"Honestly, we just kind of felt like we got away from what we like to do defensively and the way we kind of adjusted to their offence instead of making their offence adjust to our defence,'' Taylor said.
"We really just got away from what we do and what Lynx basketball is for us and that allowed them to get comfortable and to get a lead and feel good about themselves.
"At the end of the day us as a team made the decision if we're going to lose we want to lose playing Lynx style basketball not because we're adjusting to other teams.
"It's another learning thing you go through. I'm just looking forward to getting back on track and doing what we do best."
The Lynx will look to return to the winners list this round when they take on the bottom-of-the-table Sydney Uni Flames.
Listen to Asia Taylor on The WNBL Show here.
The WNBL Show airs every Tuesday during the Chemist Warehouse WNBL season.