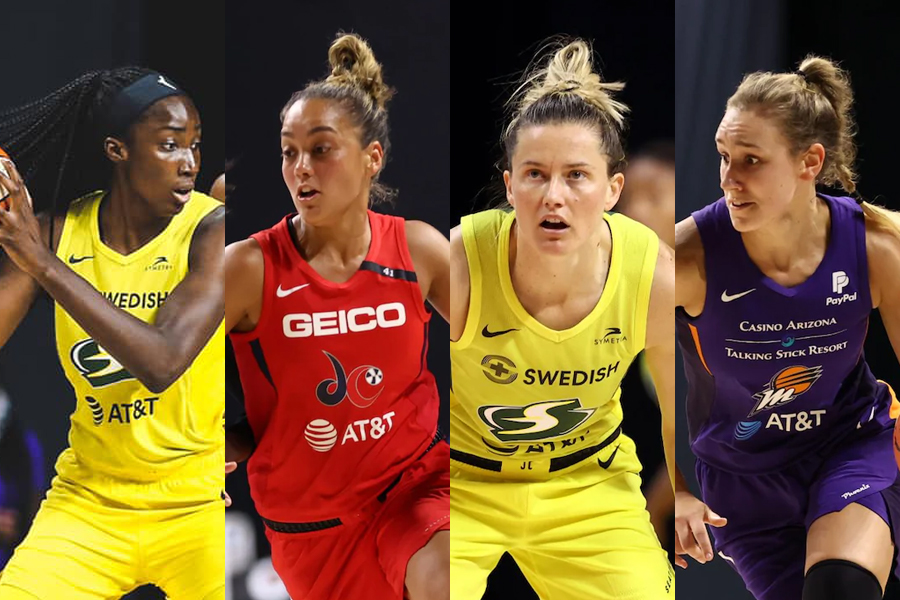 August 12, 2020 | WNBL news
Whilst Australian basketball fans sit in eager anticipation for the 2020-21 Chemist Warehouse WNBL season to tip-off, four Australian WNBL stars are currently competing in the 2020 WNBA season being contested in a bio-security bubble in Orlando, Florida.
WNBA debut rookie, Deakin Melbourne Boomers young gun, Ezi Magbegor, has hit the ground running with the Seattle Storm. Playing alongside one of the greatest point-guards the WNBA has ever seen, Sue Bird, Magbegor has slotted in comfortably alongside her new teammates and into the Storm's team dynamic.
In her debut game against New York Liberty on July 25, Magbegor clocked just under 12 minutes of court time where she scored seven points and took three boards. Magbegor has accumulated 54 points over Seattle's eight games to date, averaging at 6.8 points per game (PPG).
Seattle's win against the Los Angeles Sparks on August 1 saw Magbegor play 18 minutes, scoring 12 points and five rebounds showing her athletic prowess and solidifying her position on the Storm's roster.
During game eight for Seattle against Chicago Sky on August 10 Magbegor put on a powerful performance, scoring 13 points, three rebounds and one steal. Joining Magbegor on the Storm's Roster is Sami Whitcomb, returning to the WNBA for her fourth consecutive season.
Whitcomb was also unstoppable against Chicago, making three from three beyond the arc and rounding up 17 points, three rebounds, six assists and two blocked shots.
The 5'10 guard has been dynamic in the opening eight games for the Storm, averaging 8.8 PPG, 2.4 rebounds per game (RPG) and 2.1 assists per game (APG).
Throughout game five against the Connecticut Suns, Whitcomb scored the second highest for the Storm with 15 points which she backed up with four boards, three assists and one steal, packing the stats column and helping lead her team to a 13-point victory. Seattle are competing in the Western Conference and are currently sitting atop the WNBA ladder with six wins and only one loss.
The Perth Lynx will welcome Whitcomb as she makes her return to the WNBL for the 2020-21 season.
Also returning to the WNBA for her second season is Chemist Warehouse Opals' forward Alanna Smith, who recently inked a contract with the Adelaide Lightning for the 2020-21 WNBL season.
Phoenix have won five of the eight games played thus far in the WNBA season and Smith has been giving nothing less than a stellar performance on every outing.
Smith had a career high performance during game two for the Phoenix against Indiana, finishing with 14 points, seven rebounds, two assists and one block. Smith has been averaging 6.0 PPG and 3.6 RPG so far this WNBA season, a step up from her rookie season in 2019 where she averaged 1.1 points and 1.9 RPG.
Southside Flyers' Leilani Mitchell, who has returned to the Washington Mystics for 2020 after four seasons with Phoenix Mercury, is currently contesting her 12th WNBA season.
Whilst the Mystics may have only one three of eight games to date, the veteran has been a shining light and a true leader for the team following her second WNBA Most Improved Player Award in 2019.
The Mystics August 9 match up against Indiana, showcased a standout performance from Mitchell, where the powerhouse guard played 31 minutes in which she scored 14 points, five assists and two rebounds.
Mitchell is averaging 8.3 PPG and 4.1 APG, which is higher than her current career average which sits at 6.4 points and 2.9 assists.
With just under five weeks remaining until the conclusion of the 2020 WNBA regular season on September 12, and playoffs dates still to be confirmed, there is plenty of on court action to keep fans going until the 2020-21 Chemist Warehouse WNBL season tips-off later this year.
You can watch the 2020 WNBA season on Kayo Sports and select games for free on SBS.
All statistics within this article sourced from WNBA.com
All photos courtesy of WNBA.com