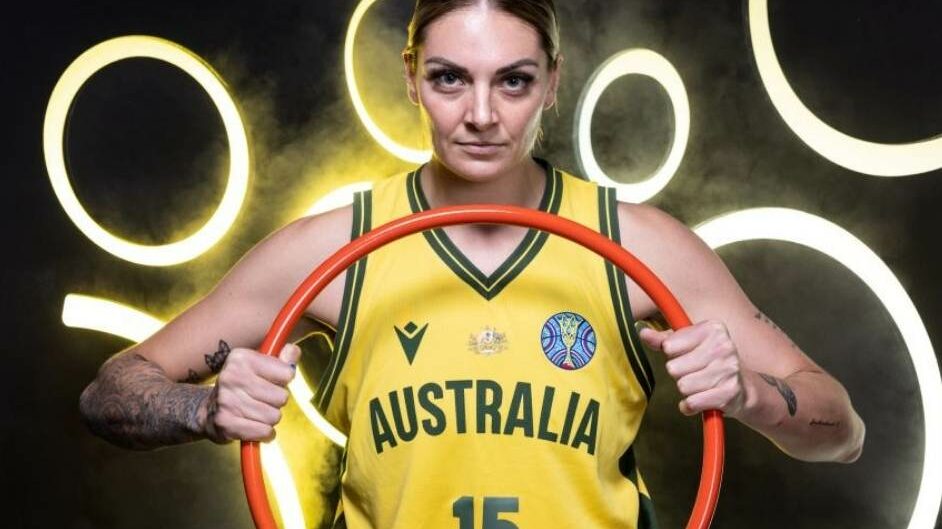 September 21, 2022 | WNBL news
An absolute rip-snorter.
By Tony Cocking | The Pick and Roll
Throughout her career, Cayla George has been defined by her high energy personality and playing style. Never one to rest on her laurels, the Opals stalwart always has a wide variety of goals and activities on the horizon, as well as the rearview mirror.
In April, she captained the Melbourne Boomers to their first WNBL championship win since 2011, capping off a season in which she also claimed All-Star second team honours. In May, the Opals headed to Canberra for practice matches against Japan, and then followed this up with a trip to New York in July to take on Canada.
Now, she's professionally locked in on the upcoming FIBA Women's World Cup in Sydney this month, while her personal focus is on something even more wonderful: becoming a mother for the first time.
An ideal situation
"The last month or so has been pretty wild," George told The Pick and Roll when we spoke in early September. "Coming back from New York, that was a really solid trip for us, and knowing that the team was going to be announced not long after that. So excited to be in another team to compete for a medal and a podium position again with the Opals.
"It's a really special team to be a part of, and obviously there's a huge legacy piece that comes with the Opals. That'll never get old, no matter how many teams I've been successful in making.
"And then obviously, my personal news, with my husband's sister gifting us with a baby, that's also an amazing thing. A lot of people think she's my surrogate, but she's not; she's just gifting us with her baby, and it'll be our baby."
The process is known as island adoption, and has been a part of Torres Strait culture for generations. George and her husband, Kailou, are excited to raise Pearl as their own.
"I've wanted to be a mum for a long time, and it comes back to being an athlete and how hard it is to choose when to stop your work to have a family," she said. "Kailou and I will have our own kids in time, but this allows us to experience parenthood earlier and I can keep playing.
"It's an ideal situation because the next Olympics isn't far away, obviously the World Cup's this month, so it actually suits what I'm trying to do in my career really well. Plus, wanting to be a mother for the very longest time and I'm able to do that now."
A full circle moment
Not only will the Opals enjoy a hero's welcome as the home team in Sydney, but it's also one of the most compelling lineups they've assembled in years; headlined by the return of the fabled Lauren Jackson.
Their 12-woman roster features an intriguing combination of youth and experience, making them one of the favourites to lock in a place on the podium when it's all said and done.
"I think the squad is really hard to make, and then the team is even harder," George explained. "The team that's been picked is amazing, and I'm really looking forward to introducing the new girls who haven't probably had a taste of international basketball yet, or for a while, back into the fold.
"So it's really exciting for the likes of Anneli Maley and Kristy Wallace. And bringing the WNBA girls back in, we've already got everyone coming in except obviously [Steph] Talbot and Ezi [Magbegor] who are still in the playoffs at the minute."
At the time, Talbot and Magbegor were playing with the Seattle Storm and locked in a thrilling semifinals battle against the Las Vegas Aces. The Aces would go on to proceed to the Finals, taking the series 3-1.
"It'll be good to get everyone together," George continued. "We're on a pretty good thing at the minute, and culturally we've probably never been so sound in the last chunk of years. I'm really looking forward to seeing how we go about our business, getting around Sydney and making sure that we put on a show."
Since first being added to the Opals squad back in 2008, George has seen her fair share of iterations over the years. She has been selected for two Olympic tournaments, two World Cups, the 2018 Commonwealth Games and the 2019 FIBA Asia Cup, collecting four medals across the latter three events.
It isn't just the fans who feel like there may be something special in this edition, however. George senses it, too.
"Leadership is a massive strength, bringing the likes of Lauren back in," George detailed. "I've said it before, but we wanted to be feared as Opals again — feared defensively, particularly.
"Lauren's the most feared Opal of all time, if you look back at the legacy piece that is the Opals. To have her a part of the fold again as a teammate is beyond words. She's been phenomenal to have around, and I even said to her multiple times, it's so good to get to know you as a teammate."
Early on in her Opals tenure, George was only able to briefly share the court with Jackson prior to her retirement. This time, she'll take every opportunity to soak in the moment.
"She was in a very different headspace," George said. "I was a baby Opal, I was petrified, so it was a very different scenario to now.
"I think the expectation is, she'll come in, play a role and get buckets because she's still very capable, and just be a huge presence in the leadership.
"It's going to be fun to be on-court with her. Full circle moment."
For the Opals, the chance to enjoy a degree of stability will be a welcome change. Between uncertainties surrounding COVID-19 and other setbacks, the team may not have been firing on all cylinders in last year's Olympic campaign.
Though they were able to offset a slow start by conquering their last group match against Puerto Rico by 27 points (they needed at least a 25-point margin of victory to proceed to the next stage), they would fall to the USA in the quarterfinals, 55-79.
"It's already been better having more training camps and more tours," George said of the Opals' lead-up to the World Cup. "Our preparation's already a thousand-million times better than what it was for Tokyo.
"And to have fans again. We've played Canada while we were in New York, we had a few people watching that. It was closed session, but some staff [were] watching that, so it was kind of cool to just have people around.
"And obviously we've been playing in our local comps, or the WNBA, so it's been exciting to have the crowds back. I'm hoping that we get pretty chockablock crowds [in Sydney] because it is our country, and surely people will want to come out and support us, and also to support the entire competition.
"The best of the best in the world are going to be here in Sydney, so why not get around it and watch the best of the best women basketballers in the world?"
The Boomers make history
Speaking of being the best of the best, George is still riding high off her recent WNBL triumph. The championship was the Boomers' second since coming into the league in 1984, and the fourth of George's career, having won as a member of the Townsville Fire in 2015, 2016 and 2018.
Needless to say though, this one was pretty special.
"There was a lot of pressure, especially towards the backend of the season," George explained. "Tess Madgen and I really helped ourselves get through that, because we probably felt it more than anyone — as well as [head coach] Guy [Molloy] — to really make sure we pulled through and produced the goods knowing full well that we could.
"We would really help out each other, just making sure we stayed on top of the nerves and the anxiety, while trying to lead and show that we were fine. That's part of leadership, I guess? [laughs]
"I'm really happy that we managed to pull it off, because it was a fairytale finish for Guy, who's just such a good lad and he's one of my closest mentors. I love him, and I love what he's been able to bring to the Boomers, to my game, and just my life in terms of the friendship that I've made.
"Reflecting on it, it's certainly better that we won it. It would have been a real sh*t show if we didn't."
It's worth pausing for a moment to revel in that statement.
"It wasn't easy, mentally," George continued. "Obviously the season was interrupted a bit, and there's injuries, and there's COVID, but everyone went through the same stuff, right? So I guess whoever comes out on top was the most resilient, and could get through it.
"I'm excited to add another championship to my résumé. I ain't close to slowin' down, and now I don't have to stop and be pregnant for a minute, so I've got that all sorted too. I'm just going to keep on playing."
George led wonderfully throughout the Finals series against the Perth Lynx, averaging 15 points and 10 rebounds across the three matches. That being said, the Boomers kept fans on the edge of their seats in the early stages, levelling the series with a single point victory in game 2 after suffering a blowout in game 1 that saw them lose by 27 points.
The top three scorers in that game were all Lynx players, whereas Melbourne shot a combined 39.7% from the floor, collecting nearly three times as many personal fouls (16) as three pointers made (6).
"Oh, we did that on purpose because we wanted to win at home," George remarked wryly. "We just wanted to create history left, right and centre, no team's ever lost game 1 by that much and then come back and won it. There was all these little things that had never happened, and we just wanted to make history three or four times over, so that's what our plan was."
It was anyone's series as the decider returned to a raucous Melbourne crowd for game 3, but the Boomers would remove any doubt by halftime, jumping out to a commanding 16 point lead after two quarters that they would never relinquish.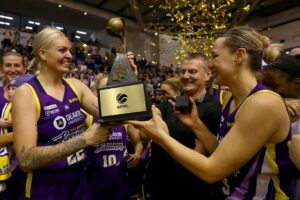 Credit: Getty Images
The final result, an 84-66 triumph, and a season for the ages. American import Lindsay Allen claimed Finals MVP, while the ever-rising star of Ezi Magbegor took another step upwards. Both of them will be absent for the Boomers in the upcoming season, electing to play in Europe instead.
Izzy Wright rode off into the sunset to retire a champion, and Carley Ernst signed with the rival Southside Flyers shortly thereafter. At the helm of it all, of course, Guy Molloy ended his Boomers tenure on top. Molloy had been with Melbourne since 2013, and coaching on and off in the WNBL from 1989.
Stepping in will be Chris Lucas, fresh off a stint with the Adelaide Lightning. Lucas brings an enviable CV of his own, capturing two of Townsville's titles alongside George in the 2015 and 2016 seasons.
"He's very routine-like in how he scouts for games and how he prepares for games, and we'll be very defensive focused," George said of Lucas. "Chris has known me since I was twelve, back in Adelaide. I've got a long friendship with Chris and I'm excited to work with him again.
"I'm sure he'll love Melbourne, he'll love the coffee, and he'll love having us as a crew because we're a bunch of funny ones, so I think we'll keep him nice and relaxed."
Despite the significant departures, George feels as though the new-look Boomers have brought in enough new talent to make some more noise in 2022.
"I think we've got a pretty dynamic team again," she said. "It's always going to be hard to replace someone like Ezi, but I'm sure the staff and Chris knows what he's looking for, knows what he's doing. There's some amazing players available, so hopefully we get a good fit.
"We've obviously brought Tiff [Mitchell] back, we've got Kristy Wallace, who's about to play in her first World Cup, played her first WNBA season, started like 70% of the games. And Mia Murray, one of my close friends from Adelaide, I'm so excited to have her!
"Izzy Wright's retired, but she'll probably come to some of our team stuff, because she might have a bit of FOMO so she might just come hang out at dinner sometimes, because she's a bloody legend, too.
"Just to have good people around, I think, is where it's at, and I feel like the more you can have that type of culture of great people, accountable people, hardworking people, not finger pointing people, then I think that that's when culturally, it's really smooth and easy.
"It doesn't take a lot for everyone to buy in, because we're all there, we all want to be there, we all want to work hard for each other and we want to win championships, and a few jokes on the side, because if you've got Wally [Wallace] and Mia on the team, and myself, there's going to be a few giggles."
Out here grinding
Basketball fans can get an unprecedented look behind the veil of the Boomers' championship season during the World Cup, courtesy of Adam McKay's docuseries Sidelined, which premiered on SBS Viceland on 18 September.
The four-part series deals with the ongoing battle women face in the professional sports landscape, ranging from payment disparity to balancing their on-court careers with outside requirements.
"We're out here grinding, and we're not paid what we're worth," George explained in anticipation of the series' premiere. "The pay gap is needing to be better. There's a narrative at times in the media that it's getting better, but it's not even close.
"We shouldn't have to work so hard just to be seen, and to be taken seriously. That's disappointing. I think the media need to continue to push, we should be able to focus on our craft, like the men can, but we have to push to be seen.
"Can we have this article? Can we have this news story? Can we have this? Can we have that? Can you see this? Hello, have you come to a game? Have you ever been to one? It's constant and it's been around for my entire career. Any female athlete would probably say the same.
"The minimum of the WNBL is 27% of what the minimum is for the NBL, so there's still an issue there. We're just trying to shine light on it, and shine light on the stresses of being a female athlete, with people having to work full-time jobs on top.
"[The] stress running from training to working past work hours just to make sure the work job gets done, because they've trained in the morning. When do we have a family as female athletes? When can we stop and put a pause in our work, when we're underpaid, to have a baby?
"So there's a lot of stories that we touch on in the documentary, it's a rip-snorter."
The best place to start will be in Sydney, to support the Opals in their bid for another World Cup medal. They've got the talent, they've got the hunger, and they've got a certain someone in the lineup who has climbed to the top of that mountain once before.
Long story short, it's gonna be a whole lot of fun.