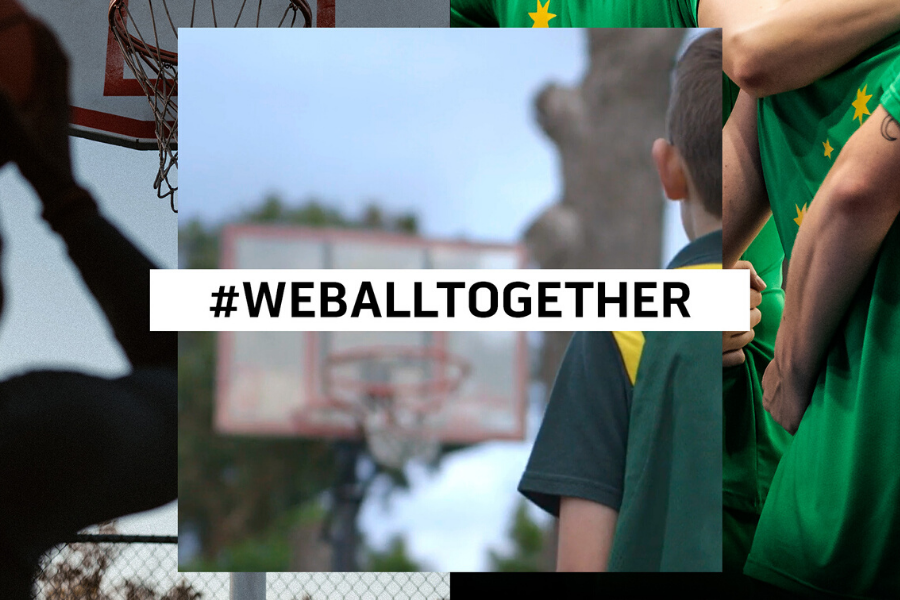 July 8, 2020 | WNBL news
As part of its continued efforts to support the nation's basketball community during the COVID-19 pandemic, Basketball Australia (BA) has announced a range of new initiatives under its "We Ball Together" program aimed at keeping over 1.1 million participants active, engaged and informed until the sport can safely resume normalcy.
"The Australian basketball community has an important role to play in helping contain COVID-19 to ensure basketball is fully back up and running across communities and the elite level as quickly and safely as possible," says Jerril Rechter AM, CEO of Basketball Australia.
"With COVID-19 keeping Australians from being able to enjoy the physical, mental and social benefits basketball can provide for so many months, Basketball Australia developed the 'We Ball Together' program to help safeguard the health and wellbeing of our players, coaches, administrators and volunteers in the lead up to and during the gradual return of the sport."
BA has launched a new emotive spot to excite and inspire Australians about the resumption of basketball on courts across the country and to ensure participants feel connected and confident in returning to the game.
To help bring its Return to Basketball Guidelines to life, BA has also created a series of educational videos featuring Australian Opals stars Liz Cambage, Maddie Garrick and Ezi Magbegor around safety protocols and procedures for equipment and facilities use, hygiene practices and physical distancing to minimise the risk of community transmission.
BA's Basketball Network team, in conjunction with official digital partner, Stack Sports, has launched a series of dedicated support articles on The Basketball Network Help pages to provide States & Territory Associations with step-by-step assistance with restarting and monitoring the safe return of community basketball as COVID-19 restrictions start to ease.
Providing administrators with the necessary resources to guide and implement informed decisions around the abandonment, rescheduling or restarting of their competitions will ensure adherence to government and Basketball Australia's Return to Basketball Guidelines and that players' stats, finals eligibility and competition structures are unaffected for the season.
The initiative expands on BA's centralised COVID-19 Info Hub on the BA website, which provides Australians with health and government updates on coronavirus, updates regarding the status of BA programs and mental health and support resources.
Since the beginning of the COVID-19 pandemic in Australia, BA has implemented a range of initiatives to keep the community healthy, happy and connected while they waited to get back on the court.
To keep basketball spirits up, BA launched the HomeCourtChallenge competition, which saw thousands of basketball fans from across the world, including media personalities and athletes from basketball, the AFL, the AFLW and A-League, submit their best trick shot at home.
Total engagement with the HomeCourtChallenge initiative from the BA channel alone was 243,000 and the total organic reach of the competition was nearly 500,000, with above average Instagram engagement over the eight-week period. The compilation video of the best shots from the competition is the second most viewed BA video for 2020.
BA, in collaboration with Basketball Tasmania, produced a series of videos with fun drills and games that allowed the 30,000 plus 5 to 10-year-olds who belong to the Aussie Hoops program to keep practising their skills at home.
For older players of all abilities, BA shared an array of home training drills, tips and educational content and partnered with fitness products company PTP to provide free online exercise classes and fitness resources to ensure the community remained physically active.
"With restrictions easing, we believe these initiatives under the 'We Ball Together' program will allow our game to accelerate its recovery and ensure basketball continues to grow and forge new pathways and opportunities in this country post COVID-19," says Rechter.
BA's new spot is available HERE.
BA's educational videos around the safe resumption of play are available HERE.
The Basketball Network's Return to Basketball resources are available HERE.