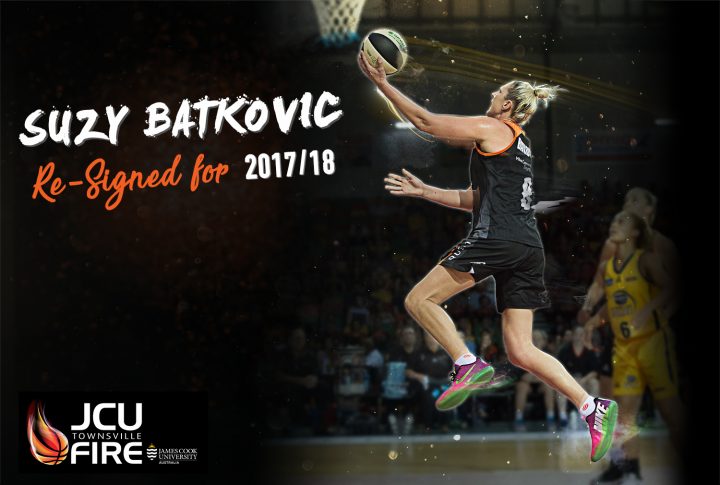 April 12, 2017 | WNBL news
Five-time WNBL MVP Suzy Batkovic will continue to lead the JCU Townsville Fire after signing a new one-year deal.
Earlier today, the future Hall of Famer, who boasts four WNBL championships including back-to-back titles with the Fire, re-committed to the North Queensland powerhouse for 2017/18.
Batkovic joins championship-winning teammates Micaela Cocks, Darcee Garbin and Mia Murray as key signings ahead of next season.
ÒItÕs great to be back in Townsville,Ó Batkovic said.
ÒHaving won back-to-back championships, it was a strange feeling seeing another club lifting the trophy at the end of the season.
ÒWeÕre desperate to return to the winnersÕ circle and with a strong core re-signed, IÕm sure we will be doing all we can to secure another title for Townsville.Ó
Since returning to the Fire, Batkovic has re-written the record books, becoming the first player in WNBL history to claim five MVP awards, while also moving into the top-five in blocks (fourth), rebounds (third) and points (second).
Having re-signed Murray last month and now Batkovic, head coach Claudia Brassard said she was delighted with the commitment shown by the clubÕs leadership group.
ÒWeÕve made no secret of the fact that we wanted our on-court leaders to return and weÕre thrilled that Suzy will be back alongside Mia next seasonÓ Brassard said.
ÒSheÕs one of the most dominant players in WNBL history and sheÕs still at the top of her game.
ÒWith Suzy now squared away, we will focus on the other pieces we believe we need to secure another championship.Ó
Meanwhile, the Fire has also announced that Queensland Country Health Fund has upgraded their partnership and has re-signed with the club for a further two seasons.
As part of the deal, QCHF, in addition to their naming rights partnership of the clubÕs Academy program, will also serve as the Official Player Sponsor of Batkovic.
Established in 1977 as the MIM EmployeesÕ Health Society ,Queensland Country Health Fund is the only health fund based in regional Queensland and has been a long-term supporter of the Fire.
ÒQueensland Country Health Fund is proud to be continuing our support of the JCU Townsville Fire as the Official Health Fund Partner and incredibly excited to be extending that support next season to include our player sponsorship of Suzy Batkovic,Ó Queensland Country Health Fund Manager Ros Miles said.
ÒSuzy is strong part of this community and a great ambassador for active living.ÊWe are proud to have played a part in continuing her relationship with the JCU Townsville Fire and the wider community.Ó