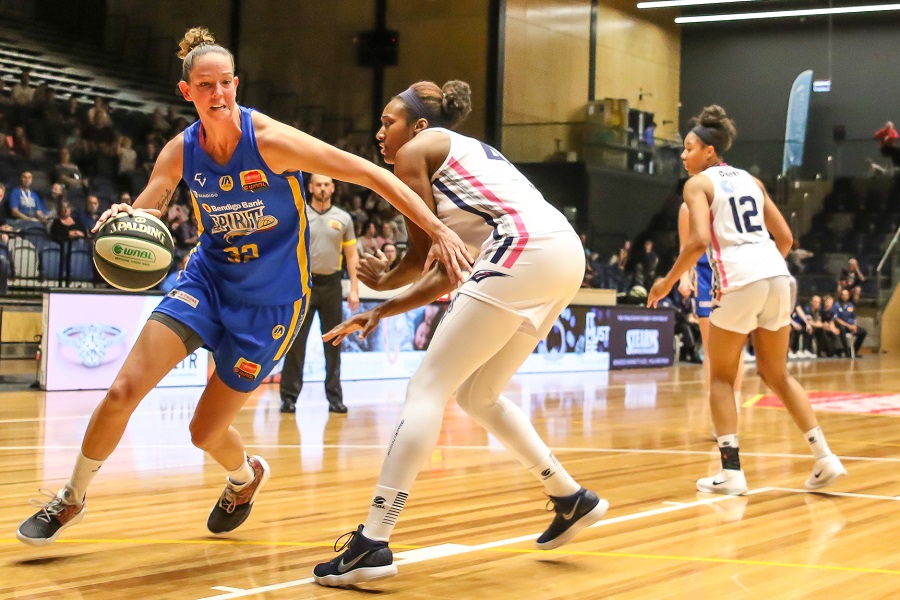 December 13, 2018 | WNBL news
Written by Megan Hustwaite.
Becca Tobin is loving all Australia and the WNBL has to offer.
The 30-year-old centre, who measures in at 195cm, has had a big impact at the Bendigo Bank Spirit where she is averaging 11 points and eight rebounds and has regularly won selection in the WNBL team of the week.
The US import, who played her college career at Arizona State University and has enjoyed professional stints in Italy, Romania, Hungary, Puerto Rico and France, was keen to test herself in the premier league down under.
"I was talking to my agent after playing in Germany last season, I tore my meniscus a year ago this week, and by the time I got back I wanted to keep playing and thought maybe I could come here to Australia for your winter league,'' she told The WNBL Show.
"My agent asked whether I'd thought about going to play WNBL and I was like 'yeah that league is really good and really competitive, if you can find me a team' and then within a week or two she called me up.
"I really enjoyed France because the league was really strong there and every game you had to come out and play. It's the exact same in this league, all the Australians are really strong and the imports are good as well.
"Every night is a battle in the WNBL so you have to come out and play your best basketball."
Tobin battled with UC Capital Marianna Tolo on her return from an ACL injury last round and names the Olympian and Melbourne Boomer and Opal Cayla George as some of her toughest opponents in her maiden WNBL campaign.
"I was watching film before I got to Australia and thought 'wow I've got to bring something else to this league because these bigs are more talented than me!'
"So, I just really try to focus on getting a lot of stops on defence and getting us easy buckets.
"That was really working for me in the beginning of the season but I think teams have figured out what my game plan was so it's a bit harder to get those steals and transition points."
Tobin has enjoyed sightseeing in Sydney and is looking forward to an Aussie Christmas and a visit to the Melbourne Zoo.
Bendigo are away to the Jayco Rangers on Sunday in Round 10 of the Chemist Warehouse WNBL.
Listen to Becca Tobin on The WNBL Show here.
The WNBL Show airs every Tuesday during the Chemist Warehouse WNBL season.