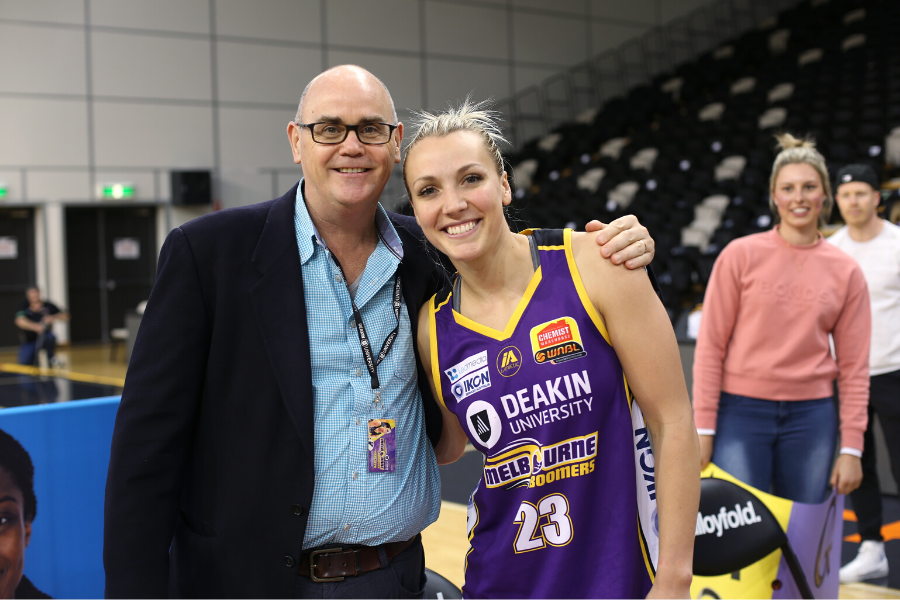 July 21, 2020 | WNBL news
Have you been wondering what's happening behind the scenes for our Chemist Warehouse WNBL clubs the past few months?
We sat down with the Deakin Melbourne Boomers Chair, Tony Hallam, to ask him some questions about how the club has continued with their preparations for the upcoming season amidst the uncertainties of COVID-19.
How has the preparations over at Melbourne been this off season with COVID-19 restrictions in place?
"To some extent, they've been similar to a regular season, but in the context of COVID-19, significantly different in many ways.
"I think the greatest changes for us started in March as this unfolded. We really had to think about all our people who would head off to the WNBA, NBL1, different organisations during the winter, and even those not directly involved with the organisation, like volunteers and so on who we would not have a great deal of contact with directly over the off-season" said Hallam.
The Boomers have 48 people they would consider integral to the inner workings of the club.
Hallam first sat down with Head Coach and Head of Operations, Guy Molloy, plus General Manager, Christy Collier-Hill, and considered how they were going to approach the coming months.
"The first thing we focused on, really centred around communication…it needed to be more consistent; certainly the use of Zoom has really enabled that.
Hallam admits it was vital to get this right considering the uncertainty we are all experiencing at the moment.
"The people in our club who work in operational areas, are having to work with a lot of uncertainty and that's okay. We don't have all the answers but acknowledge that we're working through them."
"That communication also applied to our partners and sponsors, and to our members and fans. It's become a theme for us, to be constantly thinking about communication, then implementing and acknowledging when we don't know what the final resolution is going to be."
What changes have you had to adapt, to make sure you're ready for tip-off in Round One?
"I think we have had to think about the various options for what might happen, starting in March and now being July, through to November when the planned tip-off for the season is.
"By that, I mean in terms of training locations, how the season might unfold in terms of travel, and how the pre-season can work in terms of travel and preparation."
The Boomers have been focussed on flexibility – readiness to be flexible, but also how to be, throughout the whole organisation.
"Given its only early July we haven't settled those plans, but we're thinking through what the various scenarios might be."
You've got both your co-captains returning. Have Cayla George and Maddie Garrick been involved in the planning process for the upcoming season?
"Yeah, they have, they always have been consistently involved with Guy from a team and basketball operations perspective."
Hallam explains the club has introduced sessions with the leadership team, Board and Sub-Committee members and also including Maddie and Cayla.
"Prior to this scenario, Maddie and Cayla had a great involvement as leadership within our club, and that's become more prevalent in this period."
"I think it will be even more important as we go into the season. We really want to hear the player perspective on things and where we can work our way through that."
What has been the biggest change/effect or learning COVID has made on the Boomers off-season?
"I don't think there's one learning that stands out…We found that in the early days we settled on some key principals, the first being to retain our people, the second to communicate with, and care for our people and our partners, then the third was to be sustainable at the end of it all, and we set a time frame for the end being April 2021.
"These principals have been really good signposts for us to reflect on when we have to make decisions, and I am very proud of that we have retained all of our people…we think continuity is a significant value we have."
Hallam is also proud of the support the club has been able to give some of their Partners but also incredibly grateful for the amazing support Partners have shown them.
It has taken a lot of extra time and effort to this point, but Hallam feels the club is making good progress in ensuring security moving forward.
"We're finally making some progress around sustainability, and particularly being able to access some of the government support programs."
The fact that the club has had a membership renewal rate of over 80% is something Hallam is extremely grateful for.
"I did want to shout-out to our members…I want to thank those who have renewed because it's the life-light of a club like the Boomers," he says.
What positive and key learnings have the club taken from the COVID-19 situation?
"I would really like to acknowledge the work of the WNBL Commission. I think the commission, as a group, came together in early April and said we need to operate differently, and that's been recognised through the weekly meetings that have been held to assess the situation and make decisions collaboratively.
"It's been terrific to have some new members actively involved in the committee like; Gerry Ryan, Paul Smith – the new owner of the Sydney Uni Flames and Rob Clement from Basketball WA.
"Working with Basketball Australia and particularly having Jerril Rechter (Basketball Australia CEO), actively involved in the WNBL and committing to that, I think the commission has operated in an effective way and responded to the COVID-19 scenario so far, and that will bode well for what happens in the next six months."
How excited is the club to watch Ezi Magbegor head over to the WNBA?
"On one hand we're very excited, but we're also a little nervous about anyone heading to the United States right now."
Hallam loves that she will be working with a quality organisation, the Seattle Storm, and adds it's a thrill to see her as a teammate playing with WNBA superstars, Breanna Stewart and Sue Bird.
"We are really excited for her because she's worked so hard for this over the many years, and it is only the start of the next phase of her career…But we're more excited that she is going to come back and play for her Melbourne fans.
"There are so many amazing Australian players in the NBA, but they don't necessarily come back home to play until they retire.
"We are excited about her being back in front of her home-town fans in November after having that experience," said Hallam.