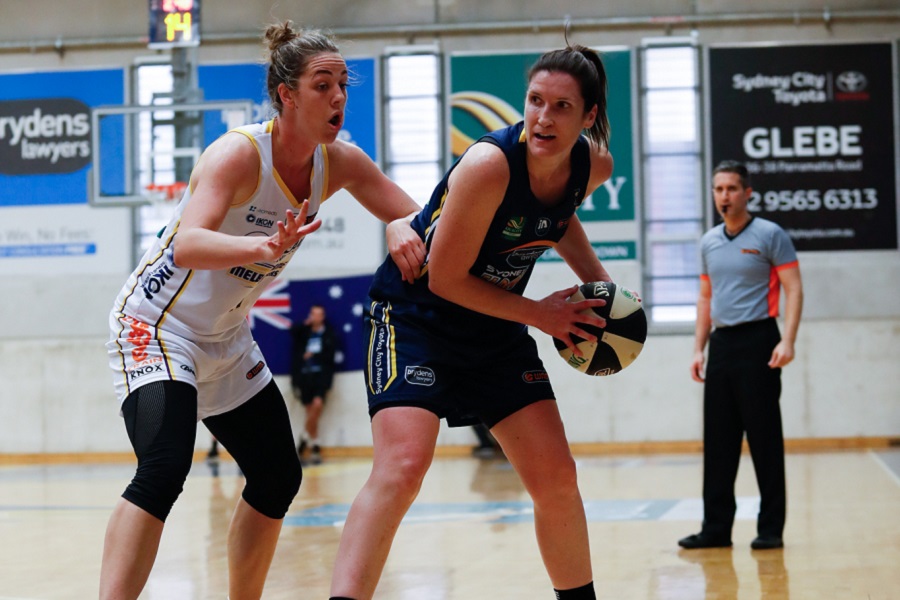 December 14, 2017 | WNBL news
Photo courtesy of Geoff Tripp.
One of the games longest serving patrons chalks up another milestone this weekend with Brydens Sydney Uni Flames' Belinda Snell celebrating her 300th game.
Arriving in the league during the 1998 season, Snell admits she never imagined her WNBL career would last this long and even as recently as a few years ago she did not expect to reach 300–games.
"I was a bit surprised by the milestone," Snell said.
"It is a great honour and I feel very privileged to play in this league for so many years. It's been such an enjoyable experience and I feel very fortunate."
Tracing her career back through 298 games as well as three Championships and four All-Star Five awards, Snell still has memories of her first game although one particular part of it stands out.
"I was stressing about the bodysuit," she said.
"But I remember one of my first games was against a star-studded Flames line-up featuring Michele Timms, Karen Dalton, Robyn Maher, Trish Fallon and I couldn't believe I was playing against such great players.
"Starting at the AIS when I was 17 years old, I spent a couple of seasons there but the goal always was to get out to a WNBL team and I was fortunate enough that Tom Maher signed me up in Sydney.
"I was able to really develop my game under great coaches in Sydney and Alicia Poto was a mentor early on which helped immensely. Playing in the WNBL opened the door up for me to Opals too so I'll always be grateful."
Snell was a member of the historic AIS team that won the Championship in 1998-99 before claiming a second title in 2000-01 with the Sydney Panthers.
She then had to wait another 16 years but clinched her third Championship last season with the Flames but the hunger remains with Sydney Uni fighting for a top-four position as she hits her milestone this weekend.
"We've had some really good patches, shown some really good signs but other times we have crucial breakdowns that have cost us a few games.
"We have little mental lapses so we need to fix that up and hopefully we can sync at the right time otherwise the season will be over."
Doing a bit of everything on court this season, Snell is averaging 12.6 points (second for the Flames), 4.9 rebounds (third) and 4.4 assists (first) per game while maintaining her career shooting numbers of 42% from the field and 38% from the three-point line.
"With Asia [Taylor] out the last few games I've been playing inside and outside a bit more and I'm really trying to focus on rebounds and helping the team out in that regard. I'm just doing whatever Cheryl needs me to do at the moment."
As well as climbing up the all-time list for games played, Snell is also rocketing up the statistical categories.
At the start of Round 11, she sits sixth for points scored, seventh for assists, 14th for rebounds, 16th for blocks, 17th for steals and 18th for games played while she has knocked down 95 more three-pointers than any other player in WNBL history.
However, Snell has not been paying attention to those numbers and has only one focus when she hits the court.
"Someone mentioned it to me after the game about my total assists but I reckon I have a long way to go to catch Kristen [Veal] or Kristi [Harrower].
"It's nice to know I'm in that category but I'm just trying to help Sydney Uni win."