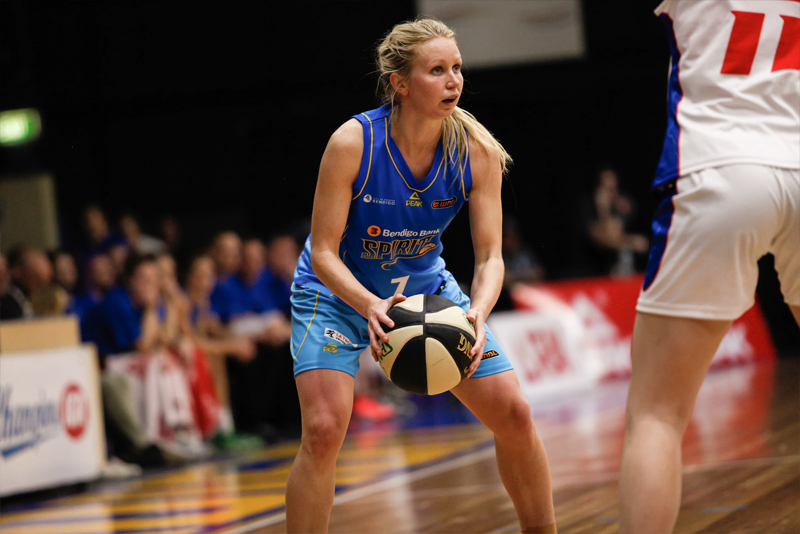 July 13, 2017 | WNBL news
One of the hardest working players on the Bendigo Bank SpiritÕs roster has re-signed for the 2017-18 WNBL season.
Heather Oliver is coming off two of her best WNBL seasons ever, and was quick to sign on for her seventh year with the Spirit.
ÒHeatherÕs work both on and off the court is outstanding,Ó Spirit coach Simon Pritchard said.
ÒYou donÕt have to remind her to dig deep and fight hard. ThatÕs in HeatherÕs DNA.
ÒBetween her work ethic and passion, and the flexibility she gives our team, she is a great asset.
ÒWhile she can bring the ball down the court for us, she is also remarkably strong on the boards. Not a lot of people know, but she often has just as many offensive rebounds as defensive ones.
ÒThat is a great skill to bring to the table.Ó
The 29 year old said she is proud to again be suiting up for the team she loves.
ÒI love The Spirit, the fans, the club and the city, so to be asked to play again is a real honour,Ó she said.
ÒWe were unbeatable at times last year and supporters will like what they see this season.
ÒMake sure you grab a membership atÊwww.bendigospirit.com.auÊso you can be part of the #onespirit team again this year.Ó