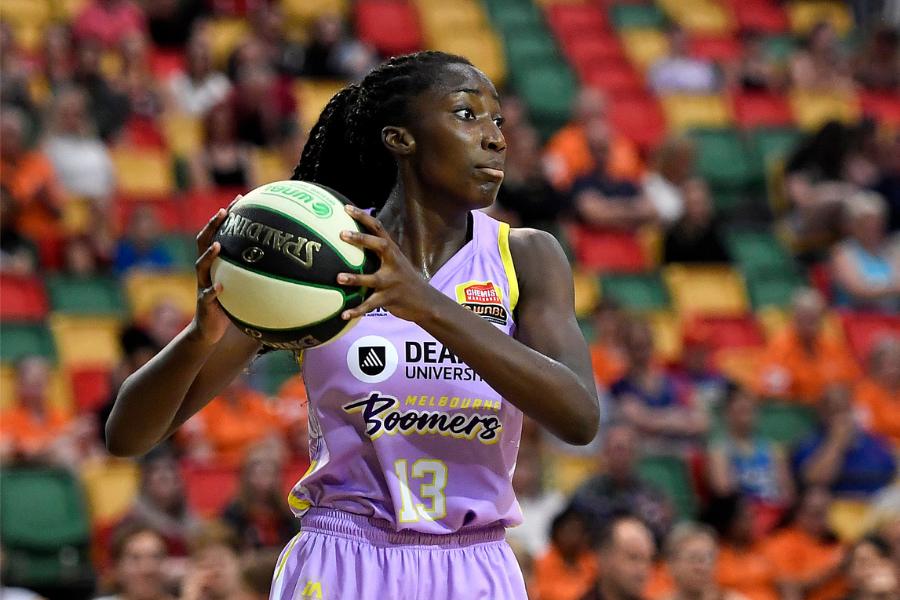 December 18, 2020 | WNBL news
 The Deakin Melbourne Boomers showed their never-say-die attitude and gave themselves a shot at glory with a brilliant fourth quarter fightback, but it wasn't quite to be in the Chemist Warehouse WNBL preliminary final against the JCU Townsville Fire.
With a spot in Sunday's Grand Final against the Jayco Southside Flyers on the line, it was a tight, tense and physical preliminary final with the Boomers and Fire throwing everything at extending their season.
It became a physical grind but the Boomers had plenty of work to do when the Fire took a 63-54 lead with just under five minutes to go.
But the Boomers have shown tremendous fighting spirit this whole season and that was on display the rest of the game leaving nothing out on the Townsville Stadium floor.
The Boomers took things up a level at both ends and over the rest of the game they were able to cause five turnovers from the Fire to get the stops required to make up that deficit.
Ezi Magbegor was possessed as well including two monster blocks and scoring six of the last eight points for Melbourne. The fightback began when Ash Karaitiana scored before Magbegor made the margin five.
Magbegor then delivered a huge block on a driving Shyla Heal before Maddie Garrick was found on the outlet pass for the open layup. Magbegor then scored inside once more after the Boomers forced another shot clock violation to make it a one-point ball game with 40 seconds left.
Heal was fouled and made two to give her 28 points on the night for Townsville but Melbourne still had the last possession.
Magbegor had a look at the three but it didn't fall. Cayla George grabbed the offensive board, though, and Garrick had another look but it wasn't to be and the Fire held on for the 65-62 victory.
It's a tough way to finish the season for the Boomers but everyone involved at Melbourne deserves to be hugely proud.
It was a strong effort to firstly reach the finals, then eliminate the defending champion UC Capitals in Wednesday's semi-final and that stunning fightback in the fourth quarter to have a chance of tying the game at the buzzer.
Magbegor had another monster game with 19 points, nine rebounds and two blocks. She was emotional afterwards given how much it still meant to someone who is fresh off a WNBA championship.
"Heartbreaking is the way to put how we are feeling. After the last couple of years, this was a big game for us and we wanted to get it so much not only for this team but for Guy (Molloy), the Boomers fans and everyone from the last couple of years," Magbegor said.
"It came down to one shot and unfortunately it wasn't able to go down. We had to do it the hard way finishing fourth and we weren't quite able to get it done, but I'm so proud of everyone on this team."
Boomers coach Guy Molloy echoed those sentiments but ever the gracious individual, he paid tribute to the Fire at the same time.
"It's a heartbreaking loss. It would have been great to go one game further but congrats to Townsville," Molloy said.
"I just thought it was such a fiercely contested game and they kept that slight edge through the second half which we were scrambling to catch up. Kudos to them for continuing to execute really well throughout and Sunday's game should be a great one."
Ultimately a limited preparation was the only thing Molloy felt held the Boomers back this season, but he couldn't hide his pride in everyone involved.
"I'm so proud of this team. You can see out in that game tonight that we might lack a little bit of offensive composure and organisation, and I kind of felt like that could be the thing that brings us undone," Molloy said.
"We never really had a pre-season to speak of and it was only when we got to quarantine in Brisbane that we started to organise ourselves. Our lack of organisation at times was probably the thing that prevented us and that was just from a lack of time together.
"At times we needed a bit more finesse about what we did, but other than that I'm very proud of the girls and how hard they competed. It's an awesome team to coach with unbelievable people in it. I feel blessed to coach them."
Chris Pike is a freelance contributor to WNBL.basketball
Deakin Melbourne Boomers – 62 (Magbegor 19, George 15, Madgen 9)
JCU Townsville Fire – 65 (Heal 28, Nicholson 12, Aokuso 10)