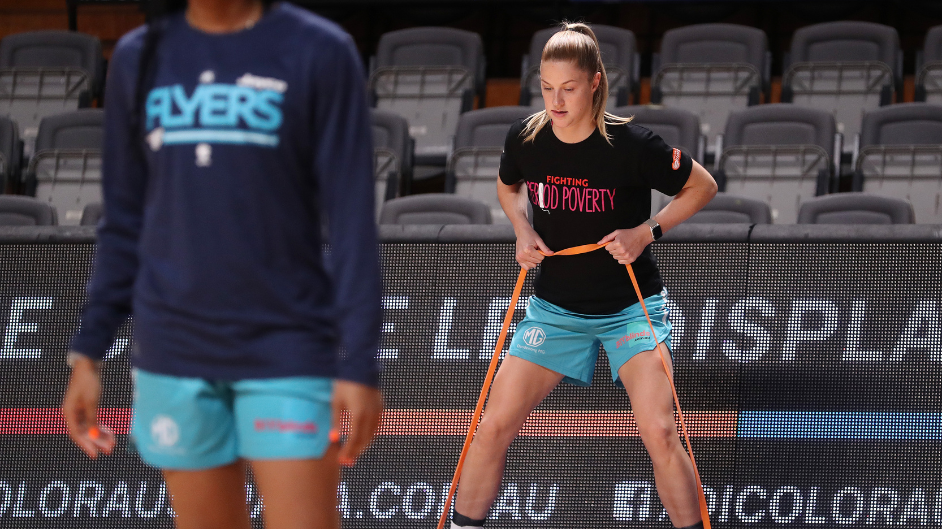 February 22, 2023 | WNBL news
By Daniel Herborn | The Pick and Roll
Back in late 2018, then Melbourne Boomers Captain, Jenna O'Hea started a conversation far bigger than basketball. She took part in what promised to be a stock standard post-game television interview. But instead of lamenting missed shots and blown rotations, O'Hea spoke openly and bravely about the recent suicide of her beloved Uncle Ferg. Tears rolled down her face as she talked about the tragedy's impact on her family.
In the coming days, she looked for ways to do more to help those living with mental health conditions and to raise awareness of the importance of talking about mental health. In January 2019, her efforts culminated in the first WNBL Lifeline Round, which raised $15,000 for the long-running not-for-profit organisation. For all O'Hea achieved as a player and leader in both domestic and international basketball, this may be her most enduring legacy.
This year, Lifeline Round returns to spotlight mental health and suicide prevention. The Southside Flyers raised $20,000 last year and will again lead the way with a fundraising drive, with the team and its sponsors donating money for each assist they make, and providing links for fans to support Lifeline. "We're carrying on (the round) in honour of Jenna, but also to help people break down barriers," says Tracey Browning, General Manager at Southside Flyers.
"(Jenna) was our captain for the first three years in the competition, and she'd been personally affected by it in her family. She became a Lifeline ambassador, and we're carrying on that tradition. It's really important, and the girls feel very strongly about it."
More than one million Australians contact Lifeline, which provides free, 24-hour telephone crisis support, every year. Figures from the organisation underline the alarming prevalence of suicide; 8.6 Australians die by suicide every day, representing more than double the road toll.
"The statistics are overwhelming," says Southside Flyers captain Aimie Rocci. "(Mental ill health) impacts so many people, whether it's directly or family, friends, and communities. Hopefully, the more we talk about it, the more people will reach out for help."
Rocci says the COVID-19 pandemic highlighted the importance of mental health like never before; she points out that calls to Lifeline were up 40% on pre-pandemic numbers. "It was a really hard time for a lot of people," she says. "It shows the importance of (a service) like Lifeline that helps people who are by themselves, to let them know they don't have to go through those times alone."
Browning, a WNBL Life Member who played 282 games before moving into management, says the sport has become far more conscious of the importance of mental health. "When I was playing, it was never spoken about," she says. "People were supportive, but probably weren't equipped with the tools to give help. Nobody ever knew what to say. We've definitely come a long way to normalising those conversations, particularly in the last ten years. We think any little thing we can do to help is important."
In recent years, a number of high-profile basketball players, from Kayla McBride to Kevin Love, and of course O'Hea, have discussed their own experiences living with mental health conditions. In using their platform to discuss mental health, these athletes have helped break down the stigma around these conditions and made the important point that they can impact anyone. While elite basketballers are often seen as being in a privileged position to play sport professionally, the glare of the spotlight and the harshness of public criticism can create their own mental health challenges.
"There needs to be space for (players) to speak up and feel comfortable (talking about mental health) just like you would with an injury," says Rocci. The veteran guard has benefitted from talking to a sports psychologist during the more trying times of her career. She has been out of action with a back injury since December and says being sidelined can be testing. "It's hard when you rely on being out on the court to 'fill up your cup', and when injuries hold you back from doing something you love, it can be a really lonely time, especially in a team sport."
Another difficult time for players can be the transition to retirement. Not only do they face uncertainty about their next chapter, they have to leave a highly structured and close-knit environment that has few parallels in broader society. Browning says the sport has improved in helping players, but it's still a work in progress. "Collectively, as clubs and as a league, we could probably provide a lot more support for people about to retire."
There is a growing body of evidence linking physical activity with improved mental health. This could be a game of social basketball, a casual shootaround or any kind of exercise. "It just takes your mind off whatever is bugging you – you instantly feel better," Browning says of getting active. "If I've had a bad day, I'll come home and go on a long walk or a very slow jog at my age!"
Most importantly, though, Browning, Rocci and the Flyers want to spread the message that anyone living with a mental health condition or experiencing emotional distress has somewhere to turn for help. It's no coincidence that the team has chosen to donate money for every assist they record this round; it's a powerful reminder of the value of helping others, in basketball and in life.
"Our girls feel like they've got a real platform through sport to reach (people) who might otherwise be struggling," says Browning.
"It's something we enjoy doing, but that we also do as a community service. You just don't know who you might reach at the right time."
If you or anyone you know needs help: contact Lifeline on 13 11 14