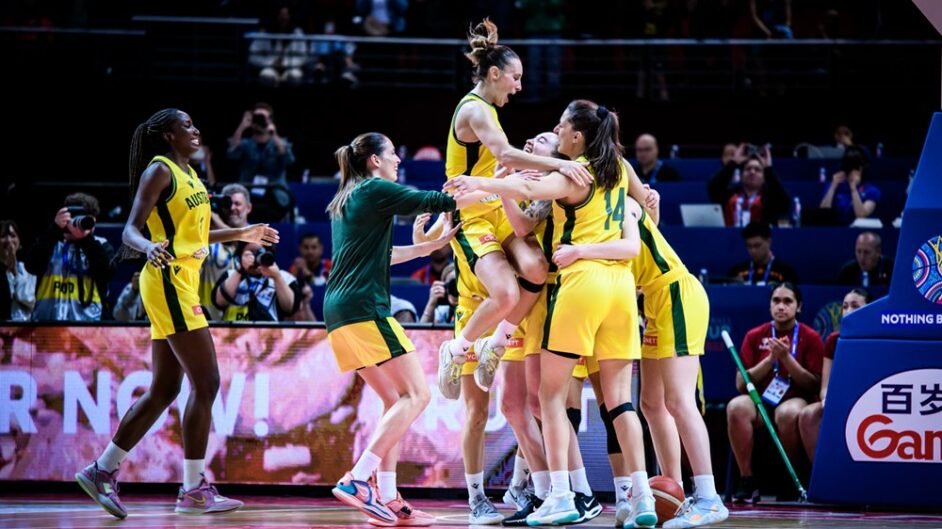 October 7, 2022 | WNBL news
By Hayley Wildes | The Pick and Roll
Off the back of a memorable and inspiring run to FIBA Women's World Cup bronze in Sydney, many of the stars of the Australian Opals will be lighting up arenas across Australia come November when the 2022/23 WNBL season tips off.
The Opals were on a mission in Sydney and played with an undeniable passion and purpose as they harnessed the incredible support of a home crowd to claim a spot on the podium with a dominant 30-point win, 95-65, over Canada in the bronze medal game.
Each and every Opal that took to the floor gave 100% effort on every possession and they'll be doing the same – often against one another – from November 2nd when the Perth Lynx and Melbourne Boomers open the WNBL season in the West.
Eight of the 12 Opals in the bronze medal-winning squad will be suiting up in the WNBL this season, led by FIBA Women's World Cup All-Star Five member, Steph Talbot (Adelaide Lightning).
Talbot's tournament was nothing short of extraordinary as she led the way for Australia on both ends of the court. She will be leading a Lightning side that made the finals last season and will again be looking to make an impact on the competition.
Talbot truly did it all for the Opals, and while her impact went well beyond the box score, she led the team in rebounds per game (6.9) and assists (5.3), highlighting her importance to everything that Australia did.
While Talbot was undoubtedly Australia's MVP for the tournament, Lauren Jackson delivered the moment of the tournament with an extraordinary 30-point performance to help Australia defeat Canada in the bronze medal game. Australia's greatest ever basketball player put on a performance for the ages in her last game wearing the green and gold, but she's not done playing yet, having signed with the Southside Flyers!
Jackson will line-up for the Flyers, a team that will be looking to bounce back from a 5-win and 12-loss season in 2021/22. Alongside Jackson will be Sara Blicavs, who rose to the occasion when the Opals needed her most.
With superstar Bec Allen sidelined due to a rib injury, Blicavs was inserted into the starting line-up halfway through the tournament and delivered exactly what Australia needed; toughness, strong rebounding and an inside presence.
Jackson and Blicavs – alongside Abby Bishop – will be deadly in the frontcourt for Southside and cause plenty of headaches for opposition coaches.
The defending Champion Melbourne Boomers have re-loaded as they set their sights on back-to-back titles and with three Opals on the team, they're going to be hard to stop.
Opals captain Tess Madgen is back for the Boomers, as is 2022 WNBL All-Star Second team member Cayla George. Joining them is reigning WNBL Sixth Woman of the Year, Kristy Wallace, who has made the switch across town from Southside.
Madgen's intensity and desire to do whatever was needed to help the Opals on and off the court was second to none, while George's enthusiasm and work in the paint was crucial to the Opals success. Wallace's defensive tenacity is what she's long been known for, but that went to new heights for Australia and as she locks down a starting role on this Boomers squad, she will be harassing opposing guards all season long.
Speaking of elite defenders, Sami Whitcomb's World Cup campaign was tremendous as she met every defensive assignment head on, all while being Australia's leading scorer for the tournament with 11 points per game.
Whitcomb is a world-class shooter and will be leading the charge for the Lynx, as they look to go one better than last season when they fell agonisingly short of a Championship, going down in three games in the Grand Final Series against the Boomers.
In her Opals debut at a major tournament, the 2022 WNBL MVP Anneli Maley didn't see a lot of court time, but when she did get on the hardwood, she played exactly how we've seen her play for some time now in the WNBL; all gas and no breaks!
Maley is one of the rising stars of Australian basketball and after officially announcing herself last WNBL season, she's back with Bendigo and ready to help lift them towards the post-season. Her MVP season was nothing short of extraordinary as she averaged a remarkable 19.8 points and 15.7 rebounds per game.
The current-day Opals are sure to put on a show in WNBL season 2022/23, but potential future Opals and those just on the precipice are also going to have a huge say in how the season pans out.
The likes of Jade Melbourne (Canberra), Shyla Heal (Sydney Uni), Maddy Rocci (Southside) and Steph Reid (Townsville) all look set to take the next step and if they do, they may just find themselves in Opals squads going forward.
There's absolutely no shortage of star power across the league and fans all over Australia will have the chance to see the very best that Australian basketball has to offer, so sit back and enjoy the show!