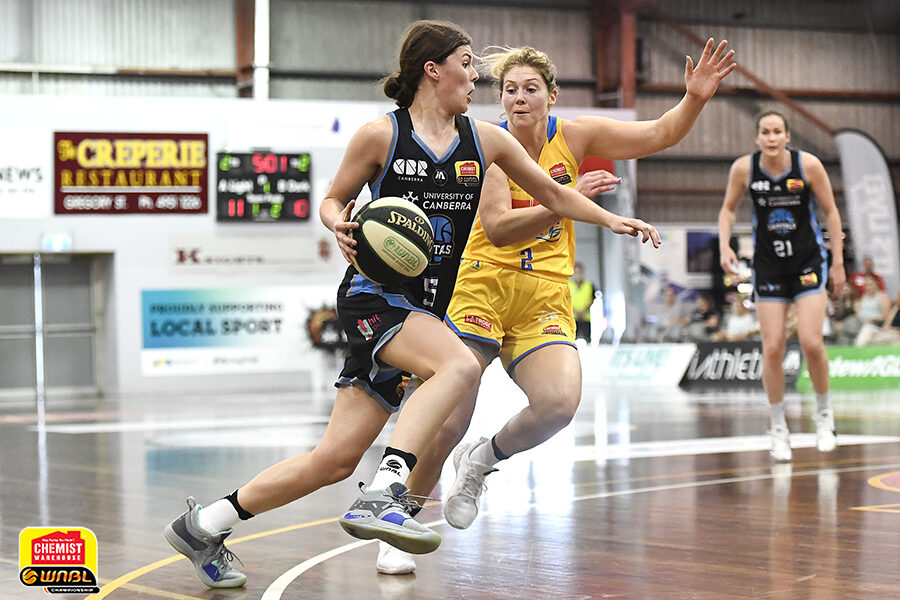 November 16, 2020 | WNBL news
Canberra capped a big 24 hours by notching back-to-back wins as Round 2 of the Chemist Warehouse WNBL tipped off in Mackay.
The UC Capitals defeated Townsville Fire on Sunday night, regained injured trio Kelsey Griffin, Britt Smart and Tahlia Tupea then outgunned the Villawood Properties Bendigo Spirit, 76-56.
In just her third WNBL game, 18-year-old guard Jade Melbourne again turned heads with her skilled, wise-beyond-her-years game and led the Caps scoring with 14 points in 26 minutes court time.
Point guard Maddi Rocci (12 points) continued her solid form, Mikaela Ruef (11 points, 11 rebounds) showed her worth and Keely Froling (9 points, 9 rebounds) flirted with a double-double.
Griffin made a successful return from a back complaint with 8 points, 4 rebounds and 2 assists in her 14 minutes on the floor.
Froling said it was a tough, and hot, night at the office.
"It was a bit rough and scrappy out there but playing so many games it will be like that at times and we were really happy to fight through and get the win,'' she said.
"We were lucky we had all 12 of our players to use tonight so we could rotate through all of those players and get some people some rest."
After conceding 100 points in their opening two defeats, Bendigo was an improved outfit on the defensive end and launched several mini runs at the Caps.
Carley Ernst (15 points, 10 rebounds) registered her double-double midway through the third term, while captain Tessa Lavey combined 13 points with 3 assists and 2 boards.
Mary Goulding made the most of her opportunity in the starting five, grabbing 8 rebounds and scoring 6 points. Amelia Todhunter added 7 of her own with Jennie Rintala (6 points, 6 rebounds) having a say at both ends.
Ernst described her side's effort as improved but said the Spirit needed to find some consistency and continuity.
"Some little things here and there really hurt us again. Teams get up and we fight our way back – we got it to 11 at one stage – then let it go again,'' she said.
"It stems from our lack of getting through plays or quick shots, even myself just knowing what's right and wrong, and of course our defence. They had 40 points within the paint so I think it's getting those extra rotations on the bigs."
Next up, the Caps tackle the Deakin Melbourne Boomers on Wednesday night in a match which promises plenty while the Spirit face fellow winless side Perth Lynx.
Megan Hustwaite is a freelance contributor to WNBL.com.au
UC Capitals 76 (Melbourne 14, Rocci 12, Ruef 11)
Villawood Properties Bendigo Spirit 56 (Ernst 15, Lavey 13, Todhunter 7)