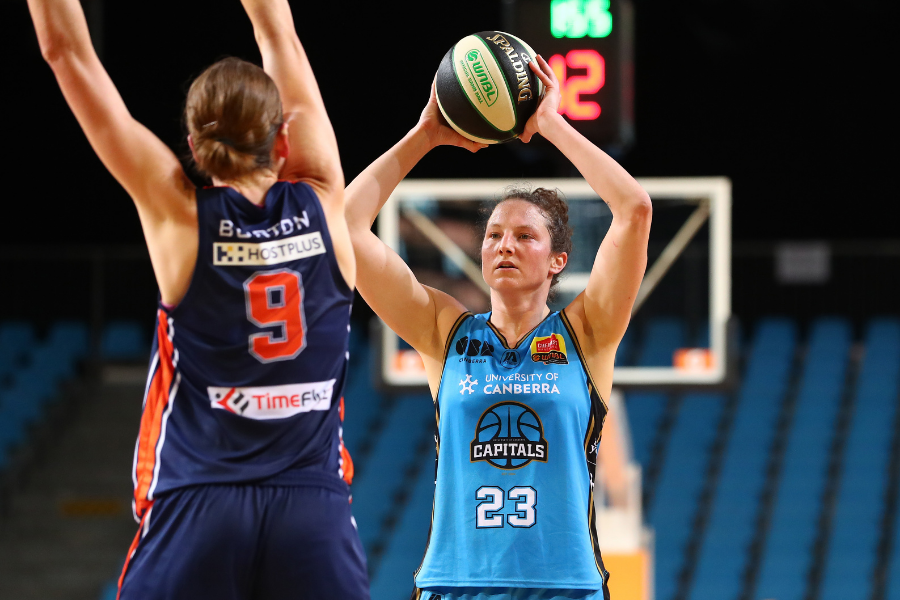 November 22, 2020 | WNBL news
The surging UC Capitals overcame a horrid start to stretch their Chemist Warehouse WNBL winning streak to four with a gritty 68-63 victory over Brydens Sydney Uni Flames in Cairns on Saturday night.
Canberra (4-1) missed their first six field goals attempts and took just over four minutes to make their first shot in open play and trailed by 12 at quarter time.
Sydney (1-4) blew out their seven-point halftime lead to 13 by scoring six unanswered points in the first minute of the third quarter, but the Caps showed their championship mettle from that point.
They lifted their defensive intensity, allowing Sydney just 18 points in the last 19 minutes.
Canberra outscored the Flames 18-4 in the last six minutes of the third quarter, taking the lead for the first time 45 seconds from the end of that term, which they ended with a 7-0 run.
Sydney couldn't get the deficit below three in a tense and hard-fought final quarter.
Forwards Kelsey Griffin and Keely Froling and guard Maddison Rocci were at the forefront of the Canberra fightback.
Rocci accumulated 17 points, five rebounds and five steals, though she did commit eight turnovers.
Opal Griffin came off the bench in her third match back from injury and exerted plenty of influence by contributing 11 points, nine rebounds four assists and four steals.
Workhorse Froling added 15 points and 10 boards plus captain and centre Marianna Tolo supplied 13 points.
"We started a bit rough, so we weren't happy with that, but I think we dug really deep in the end and came out with the win," Froling said.
"We didn't come out defensively how we wanted to so that was a massive focus at halftime, get back on the defence and then the scores are going to come."
Centre Lauren Scherf topped Sydney's scorers with 19, guard Lauren Mansfield added 16 and emerging forward Anneli Maley impressed again, with a haul of 13 points, 12 boards and five steals.
Flames' captain and guard Alison Schwagmeyer-Belger had an unhappy shooting night landing just one of her 10 field goal attempts.
Despite their early shooting woes, Canberra still made eight more field goals, though Sydney stayed in the game by outscoring the Caps 18-6 from the free throw line.
It was a third straight loss for Sydney, who were coming off a three-point defeat by Townsville.
"It's really frustrating we've lost our last couple of games really close," Mansfield said
Both teams play in Cairns again on Monday, with the Caps facing the Jayco Southside Flyers in a clash between two of the in-form sides, while Sydney face Perth.
Adrian Warren is a freelance contributor to WNBL.com.au
UC Capitals 68 (M Rocci1 7, K Froling 15, M Tolo 13)
Brydens Sydney Uni Flames 63 (L Scherf 19, L Mansfield 16, A Maley 13)