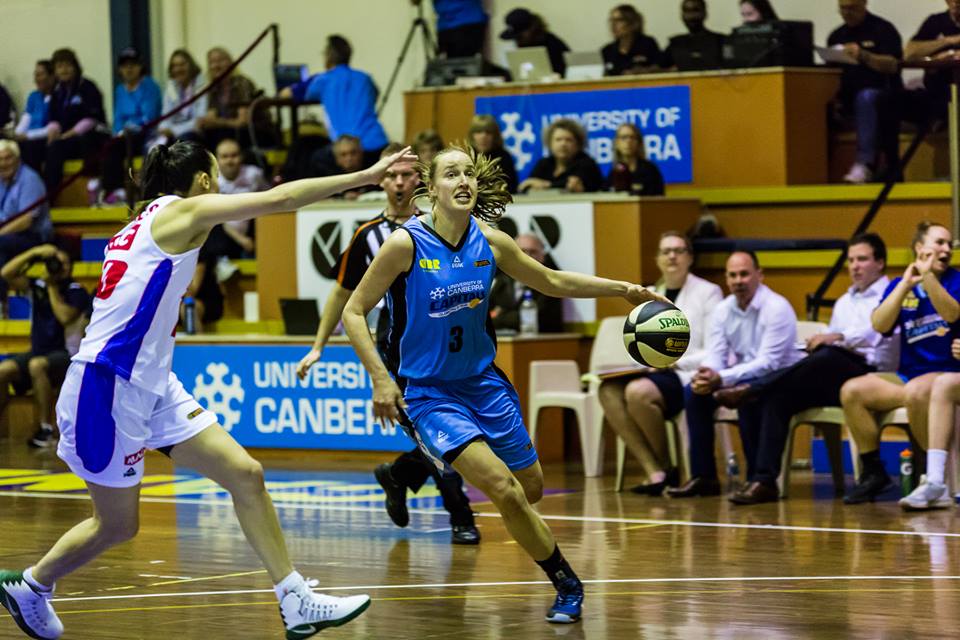 February 4, 2017 | WNBL news
The University of Canberra Capitals have sealed an eight point victory over the Adelaide Lightning at Titanium Security Arena.
After a relatively slow start to the game, the away side hit their form in the second half of the match to eventually win 74 to 66.
The UC Caps struggled to make the most of their chances early in the contest, converting only 37% of field goals in the first quarter.
From that point on the ship began to steady for the UC Capitals, solidifying their defence and becoming more efficient on the attack.
Marianna Tolo continued her recent hot form, scoring a game high 20 points while also totalling nine rebounds, three assists and two steals.
The most impressive stat of the night, came from UC Caps forward, Mikaela Ruef who was playing against her old club. She managed another double-double for the season with 11 points and a staggering 20 rebounds.
Lauren Mansfield also stood out with 18 points, five rebounds and five assists.
For the Lightning, Alex Ciabattoni (17 points, nine rebounds) and Laura Hodges (16 points, six rebounds) were their most dangerous players.
The attention of Paul Goriss and the UC Capitals will now turn to Sunday when they take on the Perth Lynx at the Bendat Basketball Centre, in what will be an enthralling contest.
By Aaron Palazzo
UC Capitals 74:ÊTolo (20 pts, 9 rebs, 3 asts, 2 stls), Mansfield (18 pts, 5 rebs, 5 asts), Ruef (11 points, 20 rebs, 3 asts)
Adelaide Lightning 66:ÊCiabattoni (17 pts, 9 rebs, 2 asts), Hodges (16 pts, 6 rebs, 1 ast), Planeta (10 pts, 2 rebs)