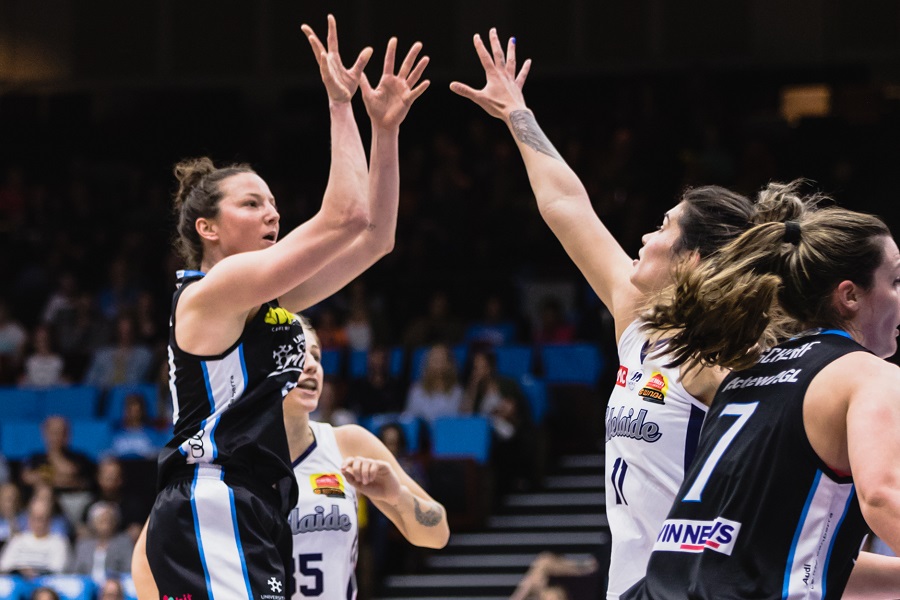 February 9, 2019 | WNBL news
The University of Canberra Capitals have extended their winning streak to 12 with a Game 1 victory over Adelaide Lightning in the 2018/19 Grand Final series, succeeding 88-67.
Nerves seemed to affect the UC Caps early but once they settled, they were able to utilise the size of Kelsey Griffin and Marianna Tolo in the paint before their three-point specialists caught fire to seal the win.
An 8-0 run from the Lightning, including triple's for Nia Coffey (15 points, 11 rebounds) and Steph Blicavs (seven points), kick-started the contest while it took almost three minutes for the Caps to drop their first bucket.
That shot from Kelly Wilson was able to ease the nerves though and the restless 4,200-strong crowd which had packed out the AIS Arena rose to their feet.
They were quietened again by Adelaide's impressive start and with Canberra shooting 3-11 from the field and missing their first three free throws, they found themselves down 4-15.
Marianna Tolo was immune from those troubles though, contributing eight points in the first term at 100% shooting to cut the deficit to seven at quarter-time.
Kelsey Griffin (22 points, 12 rebounds) was scoreless through the opening stanza but that drought did not last long, hitting the first two buckets of the second period for the Caps as they closed within a possession.
A couple of tough finishes from Lauren Nicholson at the other end of the floor kept the home side at bay momentarily but the Caps began to find easy points in the paint for Tolo and Griffin with the penetration of Leilani Mitchell and Kelly Wilson proving deadly.
That sparked a 13-0 run to end the first half and Griffin had 12 points in the second quarter alone, joined in double-figure scoring by Tolo (14 points, seven rebounds, two blocks) and Nurse.
Three-pointers from Nurse (a game-high 23 points) and Mitchell then punctuated the streak as the Caps all of a sudden moved in front by ten points at the main break.
"The second quarter killed us," said Lightning coach Chris Lucas post-game.
"They had seven offensive rebounds and seized the opportunity to keep the pressure on the scoreboard."
The home side got their offensive transition game going in the second half and the penetration of Mitchell (11 points, seven rebounds and eight assists) and Wilson continued to wreak havoc with the Lightning's interior defence.
A miracle one-handed buzzer-beater on three-quarter time from Aimie Clydesdale gave Adelaide a glimmer of hope and Nicholson (21 points) then had a quick five to begin the fourth term as she did everything in her power to pull the Lightning back into the contest.
Wilson (12 points, six assists) immediately answered with a three-pointer for the Caps though, ensuring every starter had reached double-figure scoring and they clinched the victory with four three's in the final term to finish 9-20 beyond the arc overall.
"We expected it to be a tough game," said UC Capitals coach Paul Goriss.
"They came out of the blocks really strong and it took us a little while to get over the nerves.
"But once we got going we were able to focus on running our plays and I couldn't be happier with our defensive effort. That second quarter we were able to go into Tolo as well as hold them to 13 points. That was massive for us."
The series now heads to Adelaide on Wednesday night for Game 2, a must-win for the Lightning in order to force a deciding Game 3 next Saturday.
"This group won't lay down," said Lucas.
"They are disappointed as they should be, we didn't play well and they are a talented team. But we think we can match their talent."
DOWNLOAD HIGHLIGHTS AND PRESS CONFERENCES HERE.
The 2018/19 Chemist Warehouse WNBL Grand Final Series
Game 1
University of Canberra Capitals def. Adelaide Lightning 88-67
Game 2
Adelaide Lightning vs. University of Canberra Capitals
Wednesday, February 13 at 6.30pm ACDT (7.00pm AEDT)
Titanium Security Arena
Live on FOX SPORTS Australia channel 505 and Kayo Sports.
Broadcast live on ABC Grandstand radio.
Game 3 (if necessary)
University of Canberra Capitals vs. Adelaide Lightning
Saturday, February 16 at 5.00pm AEDT (4.30pm ACDT)
AIS Arena
Live on FOX SPORTS Australia channel 507 and Kayo Sports.
Broadcast live on ABC Grandstand radio.