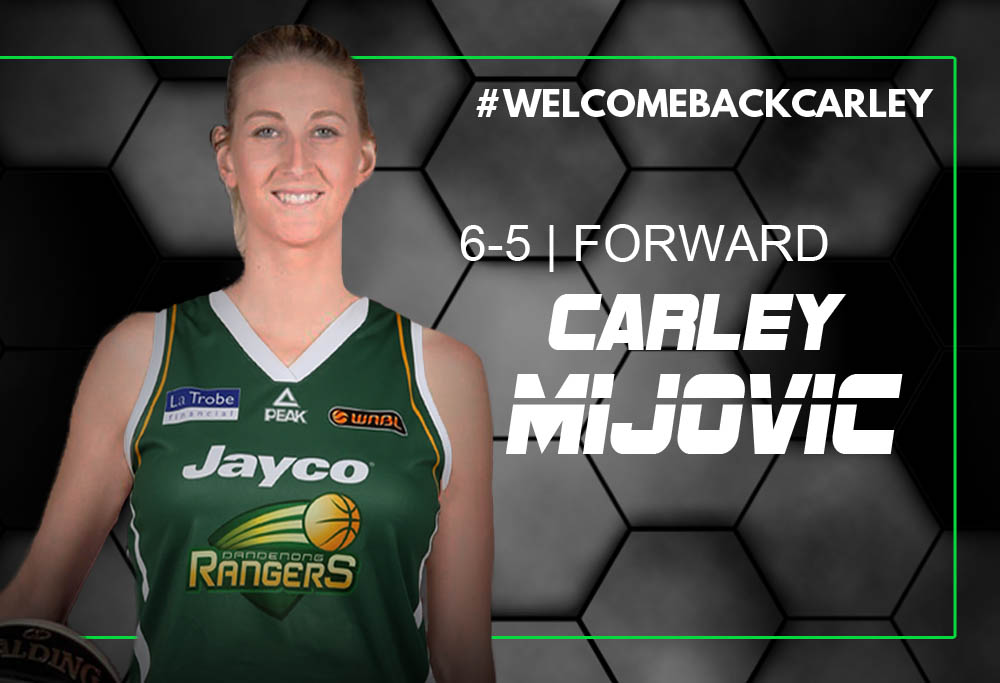 May 9, 2017 | WNBL news
The Dandenong Basketball Association is excited to announce that Carley Mijovic has signed with the Jayco Rangers for the upcoming 2017-18 WNBL Season.
After spending the past four seasons in Canberra, Adelaide & Perth, Carley will return to the courts of Dandenong wearing Rangers green for the first time in over four years, now an established WNBL star.
Head Coach Larissa Anderson stated that she is thrilled to have Carley back with the Jayco Rangers program once again, with her size, skills and deep shooting a perfect fit into the type of team basketball Anderson wants to see on the court.
ÒItÕs really exciting to have Carley back with the Jayco Rangers,Ó said Anderson. ÒShe has become a prominent player in the WNBL at such a young age and yet, has so much more potential. With her athleticism and versatility, Carley will be a fantastic addition to our team. I am really looking forward to working with her.Ó
Coming off arguably her best season to date with career highs in points and rebounds, Carley will provide the Jayco Rangers with length and shooting that is hard to match at her position. She will now no doubt aspire to take her game to an even higher level in WNBL 2017-18, with the 2020 Tokyo Olympics quickly approaching.
But for Carley the return to the Jayco Rangers is mostly about returning home to play in front of her friends and family, with the club she played with as a junior.
ÒIÕm really excited to be back, IÕve been away for a while now so itÕs good to be back home with my family and playing in a Rangers green uniform with my junior club,Ó Mijovic told Dandenong Basektball. ÒLarissa has wanted me to come back for a while now, and her passion for development really won me over.Ó
Carley joins Sara Blicavs as the first two signings for last yearÕs Grand Finalists, with the Jayco Rangers seemingly poised for another deep finals run after making every playoffs for the past eight seasons. In whatÕs shaping up to be a huge WNBL 2017-18 season, Carley like all players in the league is thrilled to have the competition back on TV where it belongs, telling Dandenong Basketball that she and her fellow players are ready to put on a spectacular show.
ÒI think the Foxtel deal is absolutely massive for our league,Ó said Mijovic. ÒSeeing the AFLW & Netball get so much coverage over the past few years was a bit upsetting. But now that weÕre back TV I think the whole league is ready to put on a show for the fans and prove that the WNBL is one the worldÕs premiere competitions.Ó
For all media enquiries and commercial opportunities, please contact Michelle Harrison on 0423 957 986 or via email at michelle.harrison@dandenongbasketball.com.au