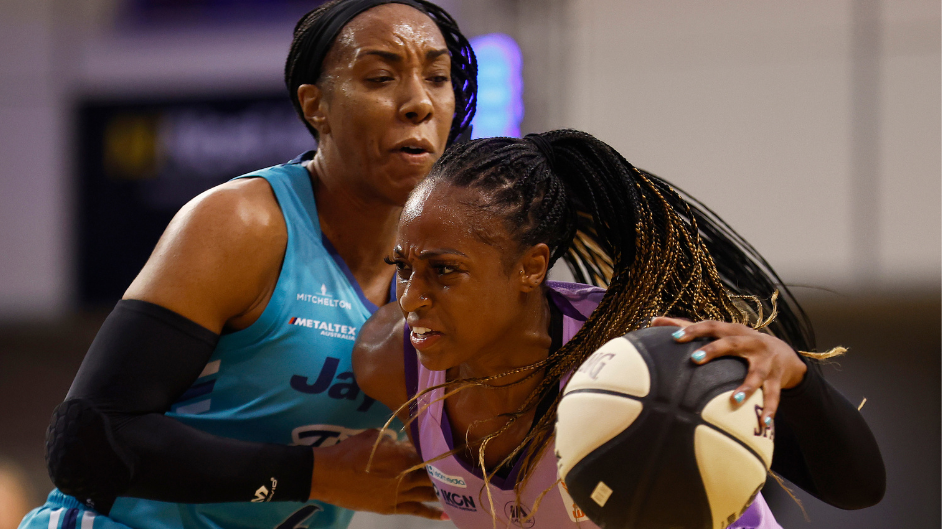 November 25, 2022 | WNBL news
By Hayley Wildes | The Pick and Roll
With no WNBL games this week, teams will be taking stock of where they're at after three rounds of play, and for some it's been happy hunting so far, while others clearly have plenty to work on. It's only early in the season, but teams – and players – are already making major moves and separating themselves from the pack.
That includes the imports throughout the league, with many having made strong starts to their respective seasons, while others are taking slightly longer to adjust to life in the WNBL. With that in mind, let's take a look at how the imports are tracking.
Adelaide Lightning
The Adelaide Lightning may be sitting with a losing record of 1-3, but they have endured a tough draw to start their season and got their first win on the board against Sydney over the weekend.
Despite losing their first three games of the season, they battled extremely hard in each of those outings and look capable of being a finals threat. Their two imports, Kierstan Bell and Jacinta Monroe, both look to be fitting into the Lightning system well and providing coach Nat Hurst with two strong starters.
Bell, 22, is an exciting prospect and after a rookie WNBA season with Las Vegas that ended with a title, but not much playing time, she must be enjoying getting on the court and she's certainly had an impact. Averaging 27 minutes per game, Bell is shooting an impressive 45.5% from deep, which is key to playing alongside Steph Talbot, who will always find teammates on the perimeter.
She had her best game of the season so far in the win over Sydney, as she finished with 22 points (4/7 from three), 6 rebounds, 3 assists and 2 blocks. I can only see her improving as she continues to find her feet in Australia.
Monroe is a seasoned veteran and she's already shown that she just gets to work and will be a reliable option for the Lightning. Shooting just under 60% from the field, Monroe knows that's she effective in the paint and she doesn't stray away from that as proven by her not having taken a three-point attempt this season. Averaging 9 points, 7.3 rebounds and 3 assists per game, Monroe will be an important factor as the Lightning look to chalk up wins.
Bendigo Spirit
Bendigo is the only team in the league without an import, but that hasn't slowed them down at all as they boast an unbeaten 3-0 record and new head coach Kennedy Kereama has the team playing an exciting brand of basketball.
What makes the Spirit an even scarier proposition is the fact that they will welcome back former Opal Tessa Lavey – who's AFLW season with Richmond ended a couple of weeks ago – in Round 4. She will have a huge role to play in the backcourt.
University of Canberra Capitals
With young gun Gemma Potter out for the season with an ACL injury, superstar Jade Melbourne currently missing time with an ankle injury, and Brittany Smart having not suited up in the game over the weekend against Melbourne, Canberra has been hit the hardest by the injury bug and is struggling to compete.
Having said that, their two imports are two fierce competitors and I was especially impressed by their play against the Boomers. Despite another monster loss, both Rae Burrell (15 points and 5 rebounds) and Dekeiya Cohen (16 points and 10 rebounds) continued to battle away and fly the flag for the Capitals – as did 19-year-old Aussie rising star Shanice Swain, who had a real crack.
Clearly missing key personnel, Canberra is going to continue to rely on Burrell and Cohen heavily and through the early part of the season, they look like imports who are willing to fight and not back down from a challenge, no matter the score line.
Melbourne Boomers
The reigning champions are 3-1 and once again look like a very real title threat. With three star Opals on the roster, you might think the imports are not as important to Melbourne as they are to other teams around the league, but that's far from the case.
Tiffany Mitchell has taken her game to the next level in her second season as a Boomer and with Tess Madgen out, she's taken on a playmaking role and showcasing she's more than capable of running the team's offence for large stretches of games.
She's the legitimate do-it-all wing, averaging 23.5 points per game – on a ridiculously efficient 51.6% shooting from field and 50% on triples – as well as 6.3 assists and 4.5 rebounds. The only negative to Mitchell's game so far this season has been her turnovers, as she's coughing up 4.5 per game and at times her drives to the basket are out of control, leading to her being in mid-air with limited options.
There was always going to be a feeling out process for Olivia Nelson-Ododa in the WNBL, and through four games, she's certainly still in that stage. I do believe that she will figure things out and be a key piece for Melbourne.
She started to find her footing in the second half of her rookie WNBA season with the Los Angeles Sparks and showed she's capable of being a real presence on both ends of the court. She can be a real difference maker on the defensive end and if she's able to get that side of her game going, I think her offence will flow from there.
Perth Lynx
Robbi Ryan is Perth's lone import and while she isn't a high-profile player, she's showing encouraging signs of being a strong role player for the Lynx.
Her playmaking will be key for Perth, as any pressure taken off the shoulders of Sami Whitcomb will be very welcome. After throwing away too many turnovers in the first couple of games (4 per game), Ryan has found the right balance in her last two contests as she's cut down on turnovers (1.5) and dished out 4.5 assists per game.
Southside Flyers
Southside has opted with just one import this season, but clearly went with quality over quantity by bringing in Kayla Thornton. It took Thornton no time at all to look comfortable out there as she recorded 21 points and 8 rebounds in Southside's season-opening win over Adelaide and she hasn't looked back since.
Thornton is a beast on both ends of the court with her energy and want to impact games. Whether she's getting going offensively by making moves in the paint or changing games by diving for loose balls or grabbing big rebounds, Thornton is great fit for this loaded Southside team as she doesn't always need the ball in her hands to be a real contributor.
Thornton has been everything coach Cheryl Chambers could've hoped for in an import so far, and I wouldn't be surprised if the Flyers do pull the trigger at some point this season to sign a second import, due to their lack of guard depth. With just three guards on the roster, it's perhaps the biggest question mark surrounding their quest for a title.
Sydney Flames
Sydney is winless at 0-3 and will need to find a better offensive rhythm if they're to trouble either of their next two opponents in Southside or Bendigo.
Jocelyn Willoughby carried much of the offensive load when the Flames took on the Lynx in Round 3, taking exactly a third of all Flames' field goal attempts by shooting 25 times. She did finish with 26 points on 44% shooting, but Sydney is going to need much more from those around her if they're going to compete night in, night out.
Willoughby struggled mightily from the field against Adelaide on the weekend, shooting just 7% (1/14) and as she failed to fire, Sydney couldn't keep up with the Lightning's hot shooting from deep and fell by 20 points, 87-67.
Hannah Sjerven has shown flashes of her potential in the early stages of the season, most notably against Perth when she recorded 10 points, 9 rebounds and 3 steals, but she's struggled to have an impact offensively in most of her minutes on the court.
Townsville Fire
The Fire are off to a hot start to their season and while much of the credit has been given to the Australian backcourt pairing of Lauren Nicholson and Steph Reid (deservedly so), Tianna Hawkins has been an instrumental presence inside.
Through three games, Hawkins looks to be a great compliment big to guards Nicholson and Reid, and as they all play more games together, I can only see their chemistry improving, which is a worrying thought for the rest of the league.
In Townsville's nail-biting win over Adelaide, Hawkins proved to be the game-winner with a game-high 33 points (65% shooting from the field) and 10 rebounds. Averaging 20.7 points, 8.7 rebounds and 2.3 steals per game, Hawkins is making an early case for being one of the premier bigs in the league.
Whilst Townsville would be thrilled with Hawkins, their other import, Karlie Samuelson, has also made a positive impact. As Hawkins led the Fire home against the Lightning, Samuelson also stepped to the fore and delivered from long range – as we all know she can. Finishing with 20 points, Samuelson drained four triples and is shooting a very healthy 50% from deep for the season.