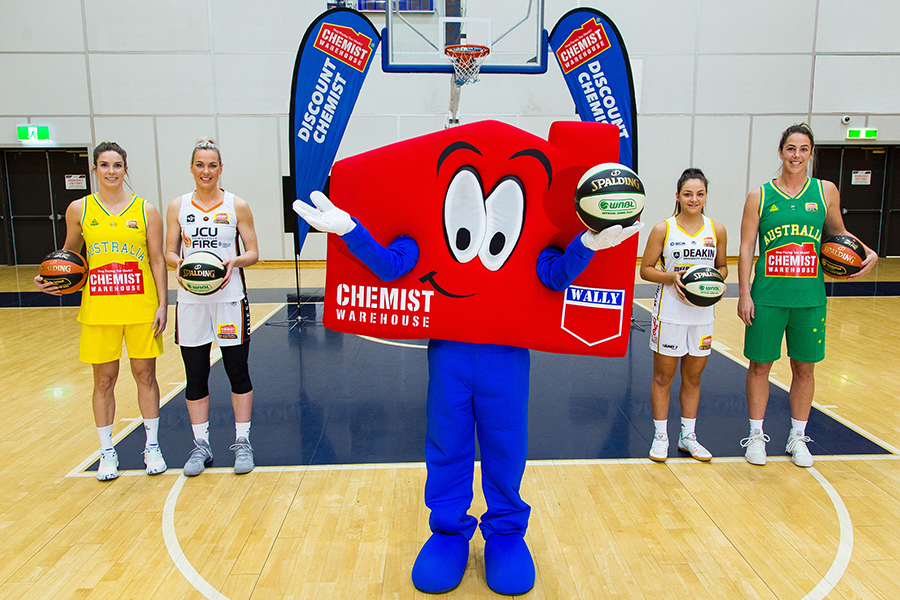 July 11, 2018 | WNBL news
A landmark deal for women's basketball in Australia has seen Chemist Warehouse join Basketball Australia for a three‐year commitment as the women's pathway partner, supporting all seven national women's teams.
Chemist Warehouse will become the naming rights partner of the Australian Opals and the Women's National Basketball League (WNBL) as well as being a major partner of Basketball Australia.
That extends Chemist Warehouse's major partnership to include the Australian national women's wheelchair team (Gliders), Under‐25 women's wheelchair team (Devils), Under‐25 women's national team (Emerging Opals), Under‐19 women's national team (Gems), Under‐17 women's national team (Sapphires) and the women's intellectually impaired team (Pearls).
"The popularity of basketball in Australia has never been higher and the quality of our athletes has never been better so this is a perfect time for Chemist Warehouse to partner with Basketball Australia," said Basketball Australia CEO, Anthony Moore.
"The Chemist Warehouse Australian Opals have the FIBA World Championships coming up in Spain this September and we are looking to add to our three bronze medals as well as a gold medal in 2006 while our Australian Gliders are aiming to return to the podium at the IWBF World Championships in Germany this August."
"In addition, our Australian Sapphires are defending their gold medal at the FIBA Under‐17 World Cup next month and with the Chemist Warehouse WNBL Championship on television thanks to FOX SPORTS Australia, our talented athletes are also now getting the exposure they deserve."
"We couldn't be more excited that Chemist Warehouse are joining the WNBL as our new naming rights partner for the next three years," said Head of WNBL, Sally Phillips.
"We are thrilled to be partnering with a brand that genuinely cares about the future of our league, our clubs and our athletes. Chemist Warehouse's support will ensure that the WNBL can continue to gain momentum and strive forward into an exciting future."
"We are very excited to announce Chemist Warehouse's partnership with the Opals and WNBL as naming rights partner for the next three years," said Chemist Warehouse COO, Mario Tascone.
"We understand this journey will present many opportunities and we're fortunate to be able to assist the Opals and the WNBL in continuing to develop the women's league into one of Australia's premier women's sporting competitions, which is something that is very special to us."