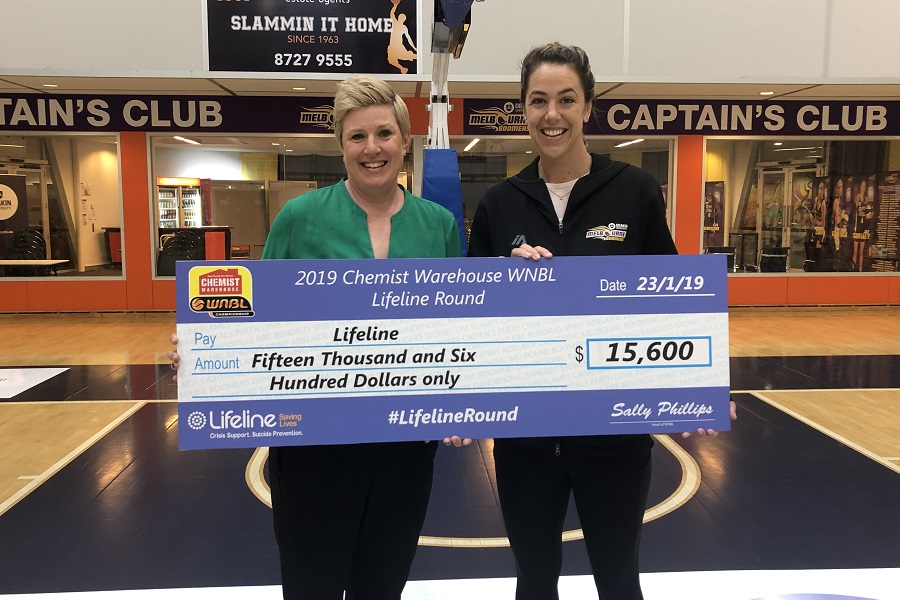 January 23, 2019 | WNBL news
The Chemist Warehouse WNBL is pleased to announce that $15,600 has been donated to Lifeline after a total of 73 three-pointers were made across Round 15.
Lifeline Round was an initiative driven by Jenna O'Hea following the tragic loss of her uncle and the entire league came together to help support the cause.
LISTEN TO THE FULL 20-MINUTE FOX BASKETBALL PODCAST WITH JENNA O'HEA BELOW, OR CLICK HERE TO LISTEN VIA WHOOSHKAA.
"This was a true example of what kind of greatness can be achieved when we all work together," said Head of the Chemist Warehouse WNBL, Sally Phillips.
"Thank you to the clubs for backing Jenna and the league in bringing this themed round to life, we are so grateful."
The @ChemistWhouse WNBL is pleased to announce $15,600 has been donated to @LifelineAust after a total of 73 three-pointers were made across #LifelineRound while $2,750 was donated by fans through the WNBL portal: https://t.co/aodnwwXrhR #WNBL19 pic.twitter.com/kK1yBb71X2

— WNBL (@WNBL) January 23, 2019
During Lifeline Round, the Brydens Sydney Uni Flames led the way with 15 made three's, as Belinda Snell hit six including five in the first quarter.
An impressive 29 three's were made in that game as the JCU Townsville Fire connected on 14 of their own with four coming off the bench from Casey Samuels.
Another stand-out from beyond the arc in Lifeline Round was Maddie Garrick, who drained six triples on her way to a career-high 28 points for the Deakin Melbourne Boomers while Bendigo Bank Spirit's Nat Hurst also drained six for 27 points.
In addition to those club donations, Lifeline set up a special phone number through the week and via that portal, $2,750 was donated by WNBL fans which Lifeline equates to 70 potentially life-saving phone calls.
"Thankyou to everyone that made Lifeline Round happen," said O'Hea.
"I am immensely proud with the reception it received and how everyone got involved to spread the awareness."
Lifeline encourages anyone who is struggling or who is caring for someone who is in emotional distress, to please reach out for support and remember that Lifeline is available 24 hours a day for a confidential chat, just call 13 11 14; or chat to a crisis supporter online at lifeline.org.au from 7 to midnight every night. Find out how these services can help you, a friend or loved one here.