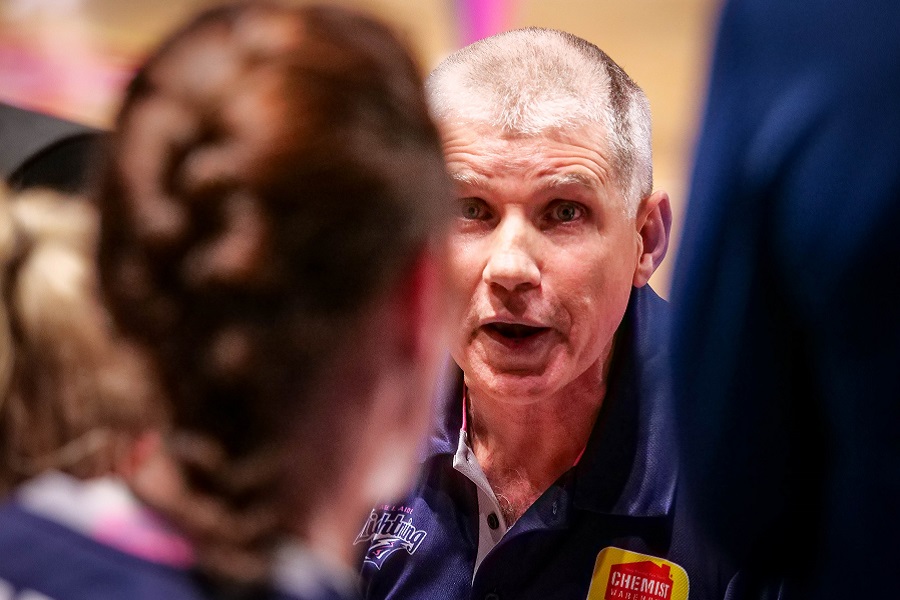 November 2, 2018 | WNBL news
By Liam Ellison.
Adelaide Lightning's Chris Lucas will reach game 250 as a coach on Saturday night, when his team match-up with the Bendigo Bank Spirit.
Lucas has enjoyed a long and highly successful WNBL coaching career, notably leading the JCU Townsville Fire to back-to-back championships in 2014/15 and 2015/16.
Seemingly always finding a way to get his teams to the pointy end of the WNBL season, coach Lucas' successful run dates back to his time with Canberra as an assistant before taking over the reins in Townsville with his teams reaching the Championship game in seven out of eight years.
Lucas still speaks fondly of his time with Townsville.
"The program we made in Townsville, it was a rebuild program but we made the semi's in the first year and then four consecutive grand finals for two championships," he said.
My time working in Canberra with Carrie Graf was special too. Those moments stand out."
In recent years, Lucas has returned to his home of Adelaide to coach the Lightning.
After a slow start, the Lightning are looking like a formidable opponent in 2018/19 and are edging closer to making a return to the Chemist Warehouse WNBL finals.
"That's a dream (making the finals and potentially winning a championship), but when they asked me to rebuild the program two years ago, we had a really low budget.
"We won three games that year, and last year we just missed finals by one game.
"I can quite honestly say I'm pretty excited with this group, we could have a pretty good team. The competition is really strong and that's great for women's basketball. I'm looking forward to the challenge of building the team and hopefully we crack the finals at the end of the season."
Last year Lucas was given a serious health scare upon returning from the World University Games where the Emerging Opals won gold.
"That was obviously a huge shock, I was completely unaware of the tumour.
"It was the worst, a horrible experience. For the next 12-14 days after I was told I had cancer, I was extremely fortunate to be in the two percent of kidney cancer patients and discover that it was a tumour and I was able to get that removed.
"I've worked really hard at my health since, I'm a lot lighter, I've worked really hard at that and I feel like I'm in a good place."
Having been coaching since he was 27, Lucas started by coaching his brother's domestic team.
From there, he began to assist with his club's senior program before becoming a senior coach in 1989 and four years later, Lucas made the move to West Adelaide Basketball Club to coach the senior women.
Lucas' coaching resume is as long as it is impressive, being involved in 14 different junior national programs and a part of eight major tournaments including the 2004 Olympics.
"Going to the Athens Olympics with Jan Stirling was a real highlight, something you can't replace," Lucas said when speaking of his fondest coaching memories.
"Winning the gold medal last year with the Emerging Opals in Taiwan was just an awesome experience. They were such an awesome group of athletes."
Most recently, Lucas was an assistant coach for the Opals in the FIBA World Cup where the team famously won Silver
"It was one of the most enjoyable Opals experiences, it was a great campaign and a well-run tournament," Lucas said.
"We didn't win the gold but we can all see that the team was very successful."
Lucas' passion and desire to coaching runs as deep as ever as he looks to bring the Lightning back to the WNBL playoffs this season.
"It (250 game milestone) made me feel really old. I'm still enjoying it," exclaimed Lucas.
"I'm very grateful to be given the opportunity, I'm still enjoying it and working as hard as I can. Hopefully we can bring some success to Adelaide."