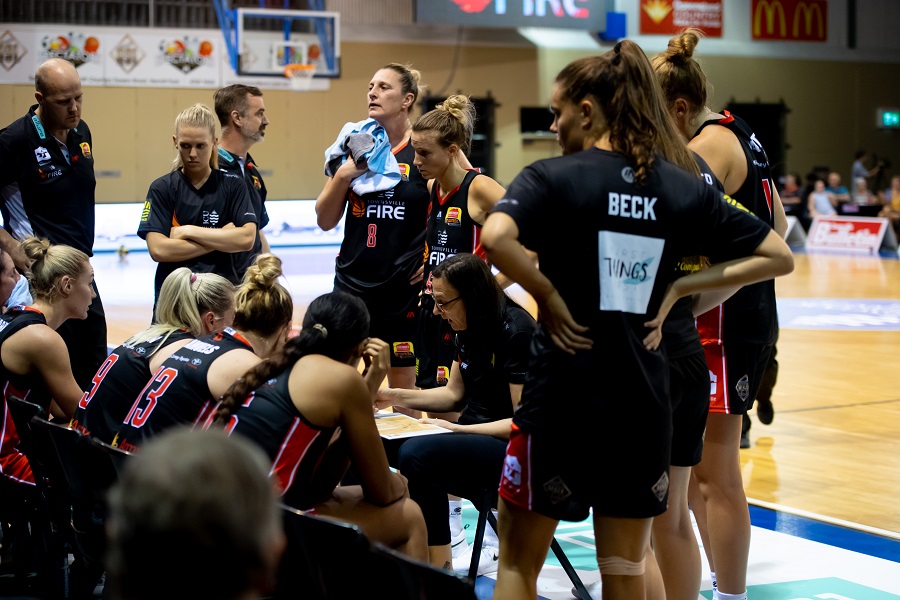 November 15, 2018 | WNBL news
Image via NQ Images.
No need to push the panic button just yet.
That's the message from Claudia Brassard, the reigning WNBL championship coach, following a trio of rare home losses for her Townsville Fire in the early stages of the #WNBL19 campaign.
Things have been unsettled at times for the Fire, who experienced interruptions pre-season and for the most were restricted to half-court training, while Brassard has returned home to take the reins after a well-deserved stint as Australian Gems assistant coach at the FIBA Under-18 Asian Championships in India.
She told The WNBL Show that Townsville, with a 2-4 record, remain a work in progress.
"I don't think we're far off the mark, we haven't been blown out of the water by anybody yet which is good, but still we want to see more wins here at home,'' she said.
"We're normally pretty tough at home and things haven't quite clicked for us but I think there was certainly some improvement in our game at the weekend and in our previous home game. We're probably not exactly where we want to be but I think we're heading in the right direction.
"There's been some pleasing signs. It was always going to take us a bit of time, we did lose four starters, really, so there's a little bit of rebuilding going on."
A shining light has been the valuable minutes and energy of teen talent Zitina Aokuso.
"She ended up with a lot more minutes last round because Suzy (Batkovic) was hurt. She's so strong, she's so athletic and she's tough to stop when she catches it two feet in the pain. She's exciting, I think a lot more mature than she was last year and understood how hard she needs to work at this level and she's making the most of it, I'm really proud of her actually."
The Fire fell to the Melbourne Boomers on their home floor, in their first meeting since last season's Grand Final series, last weekend but get the chance to rebound this Sunday when they travel to play Melbourne.
"It was a really good game, which it always is against them, it was close pretty much the whole game,'' Brassard said.
"I thought we did a great job shutting down some of their Opals stars but then Lindsay Allen had a beauty of a game and she really turned it on in the fourth quarter with 13 points. We had some real shocking defensive breakdowns which led to some easy lay-ups, mind you she's a great player, she had some nice passes in there."
The Fire have a big weekend ahead on the road. First stop is Adelaide on Friday night to face the Lightning.
"They've been a bit up and down. We know Chris (Townsville championship coach Chris Lucas) will love to try and make sure he gets us, we got them once on their home turf. They were firing and shot the ball really well against Dandenong so we've got to make sure we shut them down a bit better,'' Brassard said.
"Suzy's still got some question marks, clearly she wasn't right on Sunday (against the Boomers) she had issues with her neck and to tell you the truth we probably overplayed her, she was in a lot of pain and wasn't performing to her usual high standards.
"We're hopeful that she pulls up OK by Friday but you never know with back and neck issues, especially with that long travel, so that's a bit of a big question mark for us there."
Listen to Claudia Brassard on The WNBL Show here.
The WNBL Show airs every Tuesday during the Chemist Warehouse WNBL season.