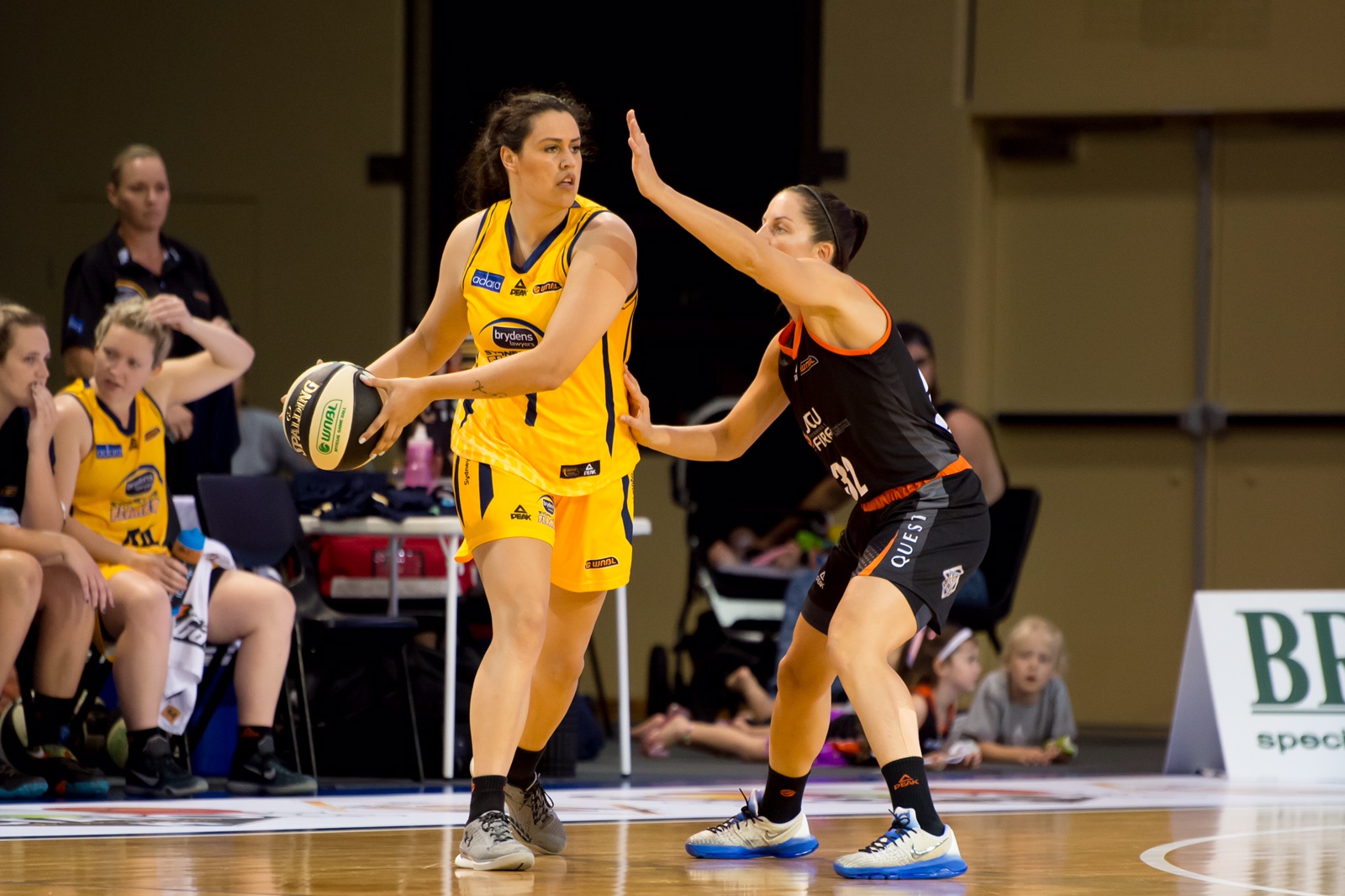 January 28, 2017 | WNBL news
Reigning Rachael Sporn Medallist Micaela Cocks will become just the second player to represent the JCU Townsville Fire in 150 games tomorrow night when she lines up against the Sydney Uni Flames.
Since making her WNBL debut in 2011, Cocks has enjoyed a decorated run with the club, having played finals every year including four consecutive championship campaigns.
The Beijing Olympian was named the Grand Final MVP last season after guiding the Fire to back-to-back titles in the leagueÕs first best-of-three series.
Over the past six seasons, however, Cocks has endeared herself to the Fire faithful with her renowned work-ethic and capacity to influence games at both ends of the floor.
ÒI like that itÕs 150 games for the same club,Ó Cocks said.
ÒIt feels good and I love being in Townsville.
ÒI didnÕt really know where Townsville was when I first (joined the Fire), but I love it up here. ItÕs my favourite kind of weather, I love the sun.
ÒI didnÕt expect to stay here so long, but I havenÕt regretted anything.Ó
Joining Rachael McCully (228) in the 150 club for the Fire Ð current teammate Mia Murray sits third on the clubÕs all-time games list with 141 Ð Cocks has compiled an impressive resume.
The New Zealand captain sits fifth on the clubÕs all-time points list and third for assists, while also claiming two Denis Russel Commitment to Excellence Awards, two PlayersÕ Player Awards and a CoachÕs Award in five completed seasons.
ÒItÕs a big game coming up against Sydney,Ó Cocks said.
ÒEvery game has been very close, weÕve had an overtime game against them, and IÕm actually really excited for it.
ÒThroughout the season weÕve had games of brilliance and then horrible games. We need to fix that now.
ÒWe canÕt afford that at this time of the year if we want to make finals.Ó
The Fire host the Flames from 7pm on Saturday night at Townsville Stadium.
Click here to pre-purchase tickets to Micaela CocksÕ 150th WNBL game.
ÊJCU Townsville Fire Games
Rachael McCully (228)
Micaela Cocks (149*)
Mia Murray (141*)
Tania Baxter (131)
Aneka Davis (122)
Suzy Batkovic (119*)
Cherie Gallagher (119)
Claudia Brassard (106)
Rohanee Cox (103)
Jennifer Crouse (90)*Denotes still playing for the Fire.