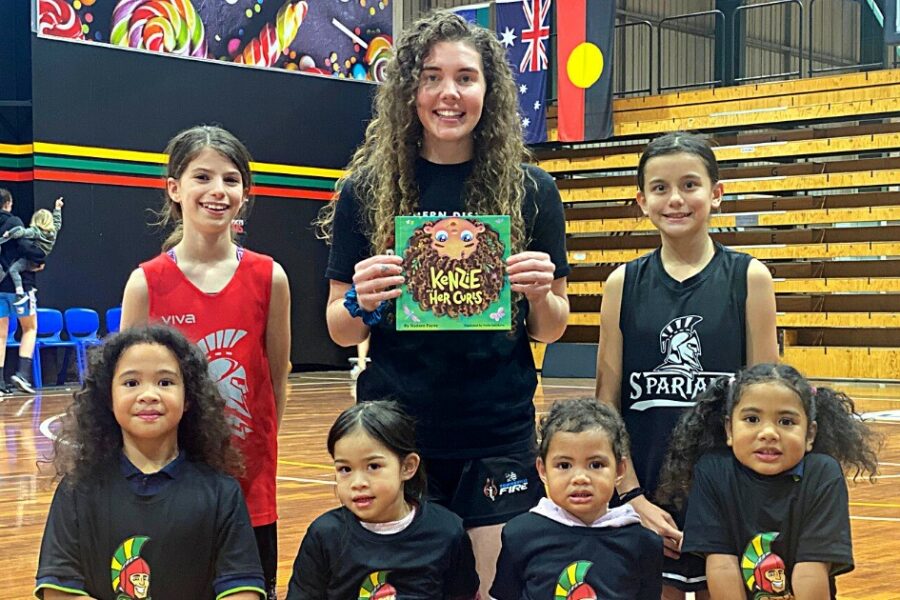 September 5, 2022 | WNBL news
By Brooke Fankhauser
Inspired by her experiences growing up with curly hair, Nadeen Payne has released her first children's book, 'Kenzie and Her Curls'.
The book centres around Kenzie, who struggles with her misbehaving curls to begin with, but grows to love them as she goes on an adventure meeting new friends with curls of all different types and colours.
Payne saw that there was a lack of representation in children's literature for characters with curly hair and thought, "this is a really good opportunity for me to write something that I'm really passionate about, and help kids see themselves in a book and know that their curly hair is beautiful.
"I don't remember seeing a lot of people with curly hair growing up, especially in the media. It was generally people with white skin and blonde or brown straight hair. Which made me feel like to be beautiful I needed to look like those people. Representation is so important, so I wanted to create a story that could inspire children from all backgrounds to love and embrace the features that make them different."
Learning to love her own hair was a journey, and it was through basketball that Payne was able to meet women who helped her start to love her curls.
"It was actually a couple of my teammates, one of them was Nigerian, one of them was African American and the other was Canadian and African American. They all had beautiful hair too. It was those three girls that really helped me and I'll always be thankful for them."
Payne played with Townsville Fire in the 21/22 WNBL season and just wrapped up a great season for the Southern Districts Spartans in the NBL1 North where she averaged 21 points and seven rebounds per game. The Spartans are now gearing up for the inaugural NBL1 National Finals where they are set to compete as the Wildcard Conference entry.
"I've got a lot of pictures from kids sending in themselves with my book. It's really surreal and makes me quite emotional knowing I've reached these kids and hopefully have had a small impact in their journey to loving themselves and their natural hair," said Payne.
'Kenzie and Her Curls' is available now and can be purchased via the website.
You can also follow Kenzie and Her Curls on Instagram and Facebook.