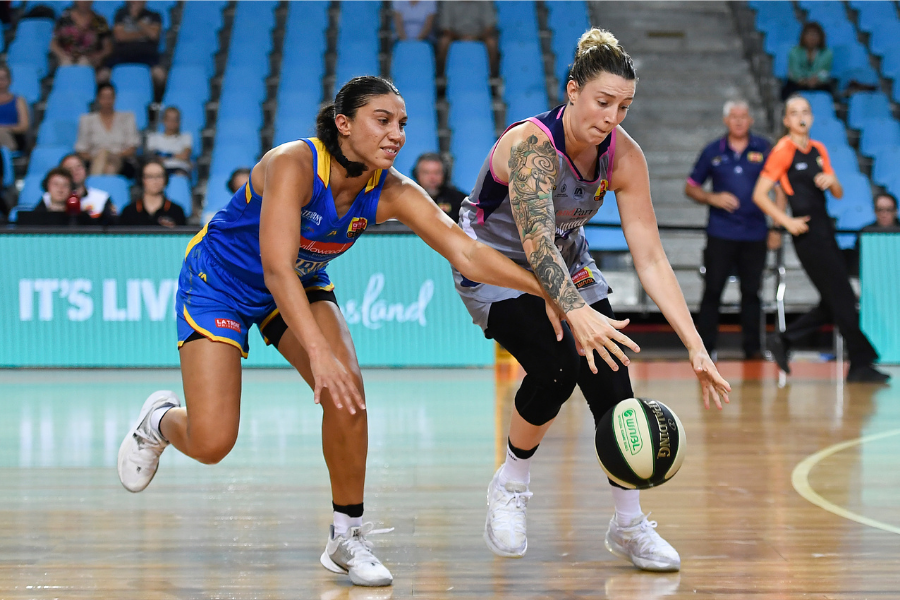 December 9, 2020 | WNBL news
The Adelaide Lightning withstood a dynamic Carley Ernst onslaught and the tenacity of Tessa Lavey to get back to winning in the Chemist Warehouse WNBL and beat the Villawood Properties Bendigo Spirit 69-59 at Cairns Pop-Up Arena on Wednesday night.
The Spirit were on the hunt of their first win of the 2020 WNBL season and it was right on the cards early with Ernst simply unstoppable both under the basket and outside the arc.
Averaging 14.4 points and 7.2 rebounds a game, she produced 17 points and seven boards alone in the opening period with the Spirit going on a 14-0 run and to lead by as much as 12.
They still led by nine midway through the second but then Adelaide knuckled down and took over.
The Lightning got back to within a point by half-time, took the lead to start the second half and then closed the third quarter with an 8-0 run to set the tone for the eventual 10-point win to snap a four-game losing run and improve to 5-6.
While Ernst and Lavey couldn't have offered more for the Spirit, the Lightning got a lot more contributors and that told the longer the game went. They turned the pressure up too forcing the Spirit into 14 turnovers from which they scored 17 points.
All five starters from Adelaide scored in double-figures with Steph Talbot delivering 15 points, six rebounds and three steals while point guard Alex Wilson had 14 points and four steals.
Abigail Wehrung was lively again with 12 points and three assists while Chelsea Brook contributed 11 points and five rebounds, and Marena Whittle had a tremendous all-round game with 10 points, five boards, three assists and two steals.
Wehrung has been a bright spark for the Lightning this season and was happy with the win.
"Obviously we knew they would come out to get their first win and we didn't start well so to put it together in the second half, and shut down Carley who was unreal in the first half, was a good effort," she said.
"We needed to play like we did in the second half for the first half, and if we did it would have been a different game but it was good to get the win."
Ernst had 17 and seven in the first quarter and 23 and seven by half-time on her way to 32 points and 15 rebounds for the game.
"The shots were dropping for me tonight but still we've lost again and it feels crap to lose once again," she said.
"We got off to a really good start and I'm proud of the girls for how they played, but the score doesn't really show how hard we fought.
"Credit to us and we haven't won yet, but we fight right to the end no matter the score. We don't stop and our bench is absolutely amazing with nobody getting down. We played a really good game tonight."
Lavey fought valiantly too with 17 points, six rebounds and five rebounds but no other Spirit player scored more than four points.
After Adelaide scored the game's first basket through Whittle, Ernst and the Spirt caught fire in stunning fashion. She nailed two three-pointers and then took it inside for 12 points from a 14-0 run which turned into a 23-12 lead after one.
Adelaide opened up with a seven-point run in the second period and then after a Lavey three for Bendigo, controlled the rest of the half and two threes from Wilson helped them close the deficit to one by the break.
Ernst and Lavey did enough to keep the Spirit close enough if good enough, but Adelaide had all the answers and once Whittle collected a steal and delivered the outlet pass to Talbot with five minutes to go, the lead was and the Lightning got to enjoy winning again.
Adelaide remains an outside finals hope if they win their remaining games against JCU Townsville Fire on Friday and Brydens Sydney Uni Flames on Sunday. Bendigo has one more chance at a win against the Deakin Melbourne Boomers on Friday.
Chris Pike is a freelance contributor to WNBL.basketball
Adelaide Lightning – 69 (Talbot 15, Wilson 14, Wehrung 12)
Villawood Properties Bendigo Spirit – 59 (Ernst 32, Lavey 17, Froling 4)