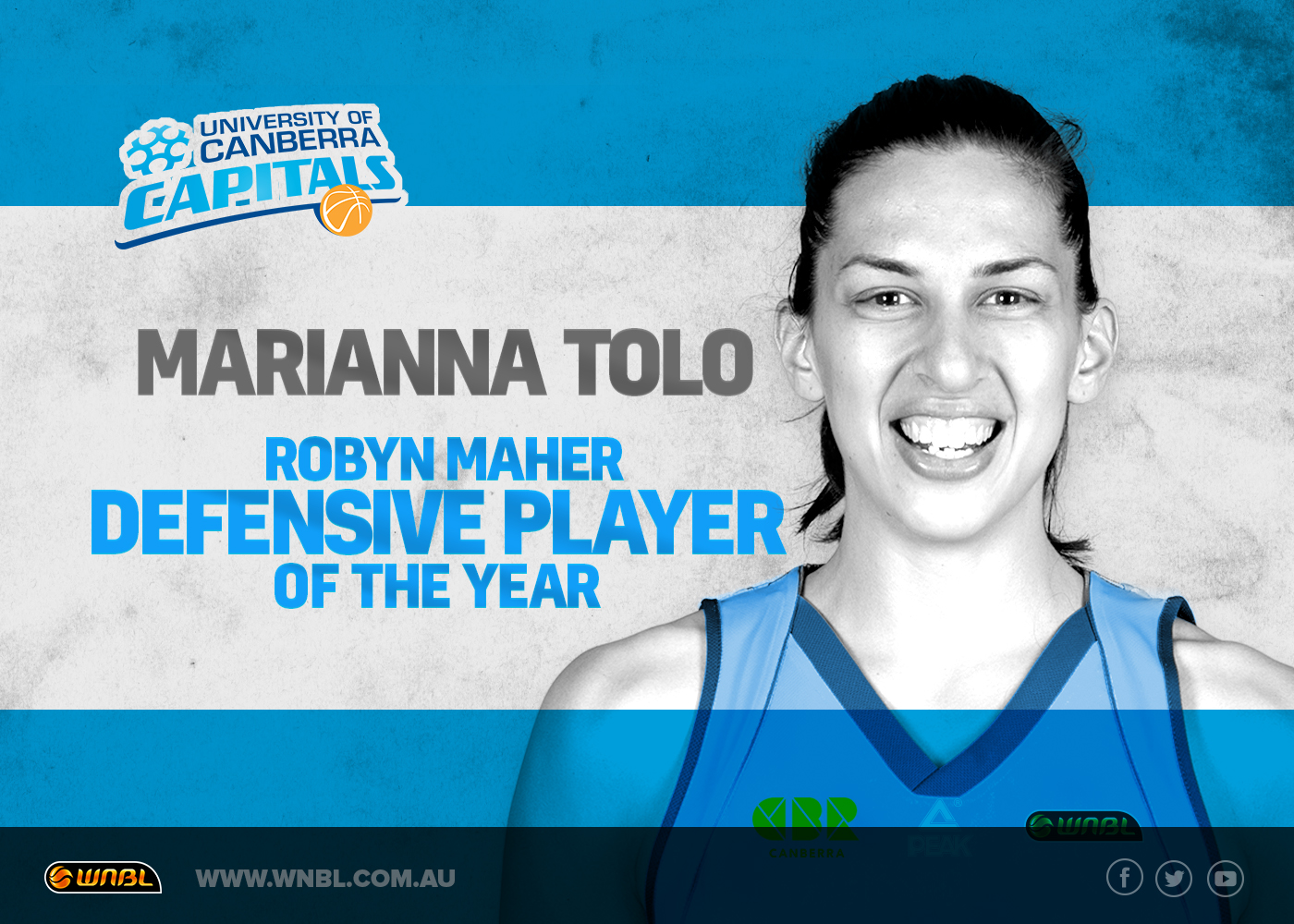 February 28, 2017 | WNBL news
The 2016/17 Robyn Maher Defensive Player of the Year award is recognition of the hard work University of Canberra CapitalsÕ Marianna Tolo has put in to that area of her game.
The centre led the competition in blocks at the end of the regular season with a total of 58, her 5.5 defensive rebounds per game placed her fourth in the league while 23 total steals placed her third for the Caps but Tolo admits her game was not always defensive orientated.
ÒI pride myself on my defence and it is something I have not always been the best at,Ó Tolo said.
ÒBut I have improved over the years and this award is great to take away from the season.Ó
Tolo edged out Leilani Mitchell (Sydney Uni Flames) to secure the Defensive Player of the Year award as nominated by the WNBL coaches and captains with Nayo Raincock-Ekunwe (Bendigo Spirit), Amelia Todhunter (Dandenong Rangers) and Natasha Cloud (Townsville Fire) rounding out the top five.
Having spent time in France, the WNBA and WNBL, Tolo credits her time with Bourges Basket from 2013-15 as the turning-point in her defensive capabilities.
ÒBourges were a very defensive orientated team. We played one game and I was matched up against a girl from the States who just killed me offensively.
ÒEver since then I started to really knuckle down defensively and IÕve really made an effort and a conscious decision to be the best defender I can be.Ó
Tolo helped the Caps to give up just 72 points per game through the season, second best in the competition, while they held their opponents to 44% shooting inside the arc and 41% overall.
She teamed up with Mikaela Ruef to become one of the strongest front court pairings in the league with both players finishing in the top three for rebounds per game.
ÒMikaela is really strong, a great offensive rebounder and just a go-getter. She wants to be involved and create opportunities so itÕs been great to play alongside her.Ó
One of the biggest recruits in 2016/17, Tolo returned home to help pull the Caps out of the WNBL basement with their 13 victories equal to the combined wins they had tallied in the previous two seasons.
While they missed the playoffs for a sixth consecutive season, Tolo believes the most successful club in the WNBLÕs history is back on track.
ÒI loved being back home, especially with this group of girls in Canberra.
ÒHearing from girls like Carly Wilson, Abbey Wehrung and Alice Coddington who have been here for the last few years when it has been a bit of a struggle, to hear them say how exciting this season was and how much they enjoyed it again was great.
ÒCarly said she fell in love with basketball again, that makes me feel happy and proud to be a part of the team. ThereÕs a lot to take away from this season.Ó
The top three vote-getters for the 2016/17 Robyn Maher Defensive PlayerÊof the Year award:
1. Marianna Tolo (University of Canberra Capitals)
2. Leilani Mitchell (Brydens Sydney Uni Flames)
3. Nayo Raincock-Ekunwe (Bendigo Bank Spirit)
Media Contact:
Sally Phillips
Head of WNBL
0425 768 462