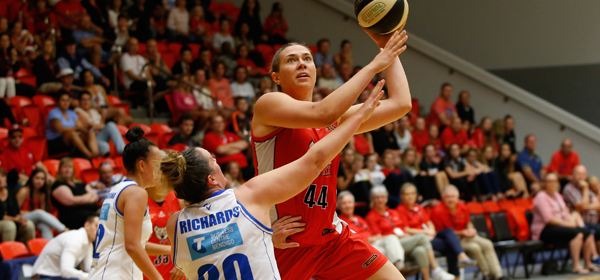 January 8, 2017 | WNBL news
The Perth Lynx have delivered their best win of the season, defeating the Bendigo Spirit 108-67.
After a disappointing result last week, Lynx head coach Andy Stewart challenged his group to respond, and they did so in stunning fashion, scoring the franchises highest ever score en route to a 41 point victory.
Ruth Hamblin delivered the best game of her WNBL career, scoring 21 points to go with eight rebounds, five blocks, three steals and three assists, while Sami Whitcomb continued her free-scoring ways against Bendigo, knocking down five threes on her way to 34 points.
ÒThatÕs our potential, we can play that well,Ó said Stewart after the win.
ÒThatÕs our best win of the season.Ó
ÒWe had a whole bunch of people very committed to the same game plan, we were relentless, and thatÕs what we have the ability to do.Ó
The Lynx held Bendigo to just 31 per cent shooting, while also scoring the highest total ever conceded by the Spirit, thanks to several fantastic defensive efforts and a willingness to push the pace.
ÒIt was everything Ð the help defence, the stealing, the trapping, covering up if someone got loose.Ó
ÒI loved it.Ó
After starting on a 7-0 run, the Lynx never looked back, pushing the lead as high as 48 points thanks to some dominance on the interior.
Perth outscored their visitors 52-30 in the paint, and scored 31 points from forced turnovers.
ÒThat was nice to watch everybody work so hard.Ó
ÒWeÕve struggled to get there, but the real positive side now is that weÕre there.Ó
With the win, the Lynx improve to 10-6, but are still firmly locked in a battle for the top four.
They next play on Saturday 21 January, looking to get revenge against the Sydney Flames.
Perth Lynx 108 Ð (Sami Whitcomb 34, Ruth Hamblin 21, Carley Mijovic 11)
Bendigo Spirit 67 Ð (Nayo Raincock-Ekunwe 17, Blake Dietrick 16, Ashleigh Karaitiana 10)