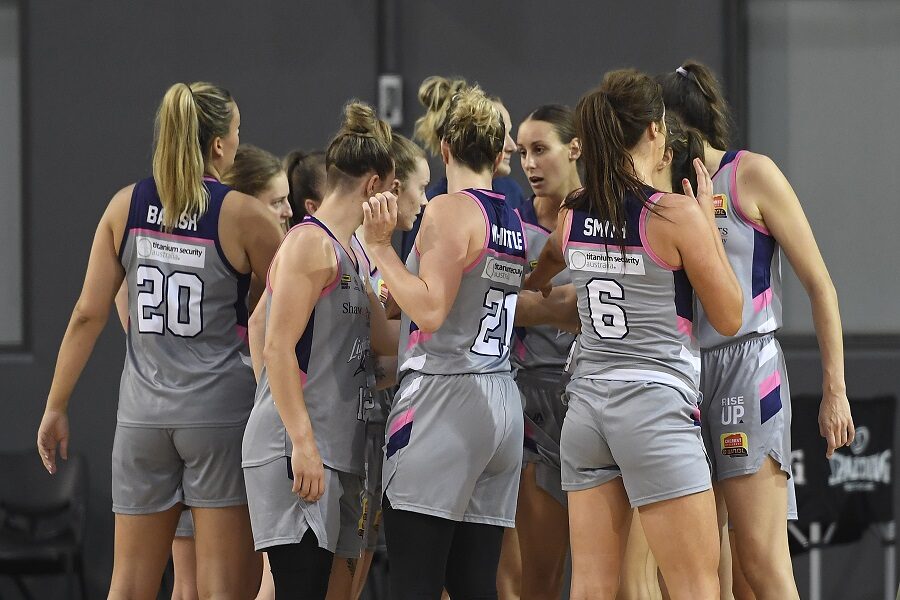 December 9, 2020 | WNBL news
One of the Adelaide Lightning or Villawood Properties Bendigo Spirit will be excited at the prospect of a win in the Chemist Warehouse WNBL on Wednesday with the Lightning especially trying to not use fatigue as an excuse.
The Spirit are yet to win a game this WNBL season but their last up showing on Sunday had some encouraging signs especially in the patch of basketball they produced either side of half-time.
While it ended up with an eight-point loss to the Brydens Sydney Uni Flames, they will take heart from that and would be feeling hopeful their run of losses could end at 11 against a Lightning team now on their own five-match losing skid.
Adelaide has slipped from finals contention after losing in Cairns on Monday night to the Melbourne Boomers by 21 points.
They now have no rest backing up at Cairns Pop-Up Arena on Wednesday trying to shake off the fatigue that is now unavoidable given their schedule caused by having to go back into hotel quarantine for almost a week.
The Lightning were 2-0 prior to that and have won just once since and are currently on a five-game losing run meaning they have fallen from the finals hunt. There's still a lot to gain from this last round even if it's jampacked with four games and travelling between Townsville and Cairns.
Chelsea Brook has without doubt been one of the shining lights for the Lightning this season. While feeling the effects of the schedule, neither she nor her Adelaide teammates are using at as an excuse and are focused on bouncing back against Bendigo.
"They are playing dangerously and are hanging around with teams even though they haven't won a game yet. They are dangerous and we have to fix how we come out and get on the front foot early, and not be dictated to by them," Brook said.
"Obviously we started off really well and we don't like to try and use that excuse, but it's hard for it not to be a reason when we were stuck sitting back watching and now have a lot of close games to close the season.
"It did stop our momentum a little bit and you could tell that with the first game we played back, but we dug ourselves in a hole in some of those games since. We now just need to keep fighting and building for next year now too.
"We travelled yesterday after playing Sunday and now we play again tomorrow, then travel on our day off and play the next day and then travel again. It's hard not to say fatigue is there and that it somewhat of a factor."
Bendigo has shown some good signs throughout the season too despite being winless with Demi Skinner, Mary Goulding, Amelia Todhunter, Jennie Rintala, Paige Price, Piper Dunlop and Cassidy McLean all impressing at times.
One player already a proven star is Tessa Lavey and in the bigger picture, she is just happy to be playing this WNBL season and is comfortable with the fact the Spirit are improving.
"With everything going on in the world I think we are pretty lucky so it's easy to get up and about for a game. We are lucky enough as athletes to be paid to play a game that we love, so I try to remind the girls that we are lucky to be here and playing," Lavey said.
"We definitely are getting better every game as a team too. We are young with a lot of new girls to playing in the WNBL but we are improving. That's the goal to come out of this whole experience as better people and players, and team."
Chris Pike is a freelance contributor to WNBL.basketball
Broadcast Details
Adelaide Lightning v Villawood Properties Bendigo Spirit
Played at Cairns Pop-up Arena
Wednesday 9 December 2020
7.05pm AEST / 8.05pm AEDT
LIVE on Kayo