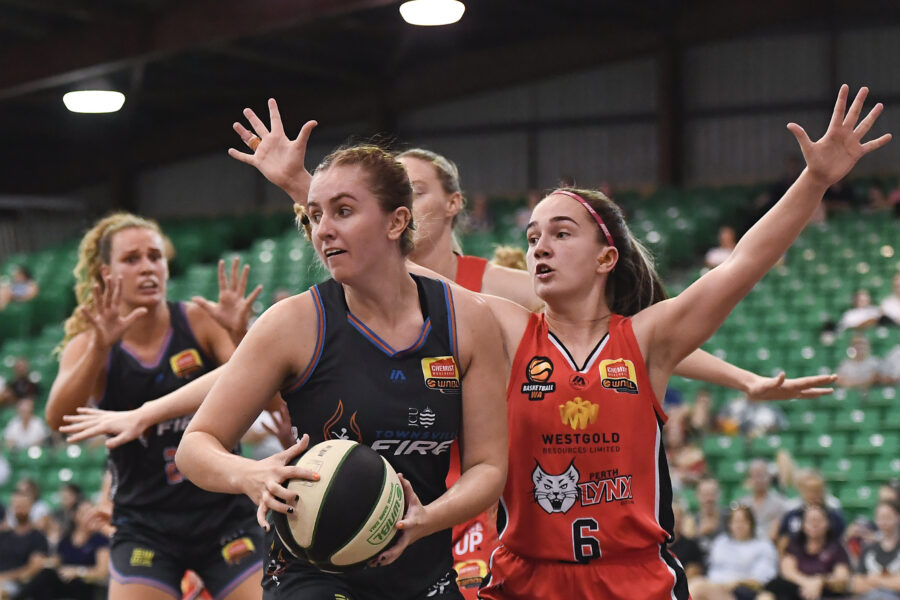 December 4, 2020 | WNBL news
Finals aspirant JCU Townsville Fire can expect a far stiffer challenge on Friday from a Perth Lynx side they defeated on the opening night of the Chemist Warehouse WNBL season.
The Fire cruised to a 73-48 win on the opening night of the season in Mackay, where Perth shot a miserable 27 per cent from the field.
Bar a couple of blowout losses to the formidable Opals-packed Jayco Southside Flyers. Perth (2-7) been very competitive in their other games, but it's that opening night shocker that remains uppermost in the mind of Lynx coach Ryan Petrik heading into Friday's rematch at Townsville Stadium.
"That one stays in the memory bank better than the other ones just because of how bad we were and how rusty we were and how out of sorts we were," Petrik said.
Townsville (6-3) are in the top four and all their losses have been against the competition front runners, the Flyers (twice) and two-time defending champions UC Capitals.
With a finals spot within reach, Townsville won't be taking Perth lightly and are expecting to face a better side than the one they played last time.
"A lot of the teams as the season has gone on have found their feet more and are playing good basketball so they (Lynx) will be a little bit of a different team I would assume to when we played them in that first game," Fire forward Nadeen Payne said.
"They are a super talented team and you've seen they've competed with Canberra, with a couple of the really stronger teams and like a lot of teams they've just gained momentum the more they've continued to play."
Well-travelled veteran Payne played for Perth last season but pointed out the Lynx roster had changed considerably since then.
Although guards Shyla Heal and Lauren Nicholson have provided plenty of offensive spark, Petrik is also wary of a frontcourt unit which includes three-point threat Payne, Zitina Aokuso and Megan McKay.
"Zitina is starting to play well again coming off injury and Megan has been a good pickup for them and obviously we know Nadeen pretty well after being in Perth last year," Petrik said.
"They've got stars all over the court and playing in their own backyard they are a formidable line-up for sure."
Payne said Townsville coach Shannon Seebohm had assembled a really tough team for opposing clubs to guard.
"A lot of people think we are flying under the radar, but Lauren and Shyla are so great at creating, Z (Aokuso) and Megan are so good at sealing, getting position," Payne said.
Petrik said Perth would have their healthiest team for the season on Friday, with forward Alex Ciabattoni's ankle niggle coming good.
Adrian Warren is a freelance contributor to WNBL.basketball
Broadcast Details
JCU Townsville Fire vs Perth Lynx
Friday 4 December 2020
7.00pm AEST/8.00pm AEDT
Live on Kayo