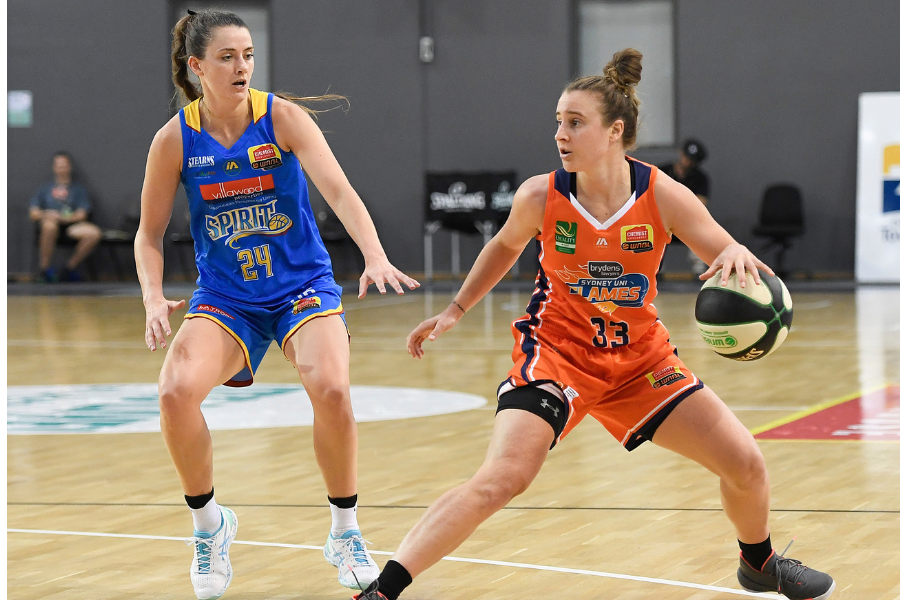 November 24, 2020 | WNBL news
Finals chasing JCU Townsville Fire are intent on continuing to build on their growing momentum as they end a run of Chemist Warehouse WNBL games on their home court.
Tuesday's clash with Villawood Properties Bendigo Spirit at Townsville Stadium signals the end of a hectic period of five games in eight days for the Fire at their home venue.
They've won three of the first four and back-to-back victories have propelled them into the top four with a 4-2 record.
Townsville recognise the importance of beating Bendigo for the second time in a week before heading to Cairns, where they will play Jayco Southside Flyers and Brydens Sydney Uni Flames on successive days.
"Every game is important no matter what part of the season we are in now, to really make use of that home court that we do have, going into the Cairns road trip," Townsville guard Kate Gaze said.
"We're playing now 13 games instead of 14, it really does put an emphasis on getting wins and getting them done early and getting yourself in a great position for the home stretch."
Much of the focus on the Fire this season has been on the brand-new high scoring backcourt combination of Shyla Heal and Lauren Nicholson.
While that duo again headed Townsville's scoring effort in Saturday's 91-81 win over Spirit, there was also significant support from their frontcourt
Zitina Aokuso poured in 21 points and Megan McKay added 11 points and 14 rebounds.
"Zitina and Meg are getting better each game and working well together," Gaze said.
"We are getting better, both everyone and individually, every game."
Bendigo (0-5) have shown distinct signs of improvement after losing their first two matches by 42 and 37, conceding 102 and 100 in those games.
Each loss after the first has been by a smaller margin and they scored a season-high 81 points in their last game against Townsville.
"We did a lot of good things in that game and they certainly got on fire in the third," Bendigo coach Tracy York said.
"We've got to be quicker to close down shooters, but then also to manage that change of flow of the game when it happens."
York said her youthful squad were on a very quick learning curve with little time to work on things between games.
"We don't get the week in between games like we would in a normal season to work on things so the learning and the adjustments need to be made pretty quickly and that's what they are trying to do," York said.
"All the games seem to be pretty physical, so we need to match that as well."
Adrian Warren is a freelance contributor to WNBL.basketball
Broadcast Details
Villawood Properties Bendigo Spirit vs JCU Townsville Fire
Tuesday 24 November 2020
7.00pm AEST/8.00PM AEDT
Live on Kayo