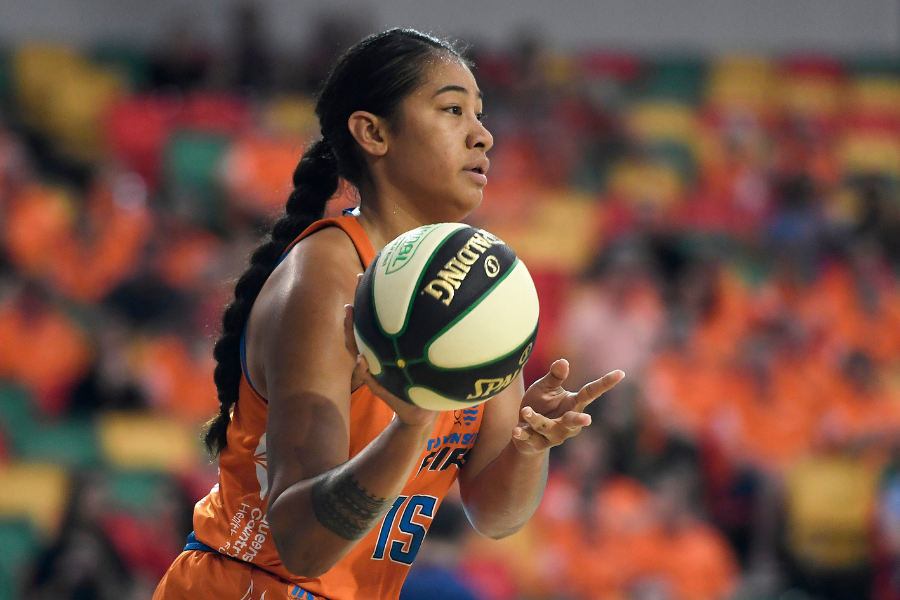 November 17, 2020 | WNBL news
The JCU Townsville Fire made their supporters sweat as they withstood several comebacks from the Brydens Sydney Uni Flames to squeeze out an 81-78 win in front of their home crowd on Tuesday.
Playing the first of five straight games at Townsville Stadium, the Fire led for majority of the game and extended to double digit leads in three of the four quarters.
Townsville looked to have finally broken clear when they surged to an 11-point advantage with just over four and a half minutes to go.
But guard Alison Schwagmeyer-Belger orchestrated one final Sydney surge.
She produced a number of clutch plays and cut the deficit to one with a three-point bomb seven seconds from the end.
Shyla Heal made two free throws to push the lead to three, and the Fire's fans were able to celebrate after Schwagmeyer-Belger missed with a potential game-tying three-pointer.
The win sees Fire improve to 2-1 and the Flames dropped to 1-3.
Sydney had 10 more field goal attempts but was guilty of missing several close-range opportunities.
They were made to pay by a more efficient Townsville side, roared on by a big home crowd.
The Flames had the game high scorer in Lauren Scherf with 25, Schwagmeyer-Belger contributed 23 and energetic forward Anneli Maley double-doubled with 10 points and a match-high 14 rebounds.
After relying heavily on Heal and Lauren Nicholson in their first two games, Townsville got a much bigger spread of contributors.
Nicholson supplied 17 points, Heal 15, forward Nadeen Payne 14, Stephanie Reid 11 and Courtney Woods 10.
"The way we toughed it out was really great," Fire stalwart Mia Murray said.
"We've got a young group and showed a lot of composure down the stretch."
Payne provided the early spark, scoring 11 in the first quarter which ended with Townsville up by seven.
Each team had a dominant run during the second quarter, with Townsville leading by four at half and three-quarter time.
"We need to be able to finish and put scoreboard pressure on and we missed three or four free throws down the track," Flames coach Katrina Hibbert said.
"The intensity that we had at the end of the game to get back into it is what we need to maintain for four quarters."
Both teams are scheduled to play again at Townsville Stadium on Thursday, 18 November.
Adrian Warren is a freelance contributor to WNBL.com.au
JCU Townsville Fire 81 (L Nicholson 17,  S Heal 15,  N Payne 14)
Brydens Sydney Uni Flames 78 (L Scherf 25, A Schwagmeyer-Belger 23, A Maley 10)