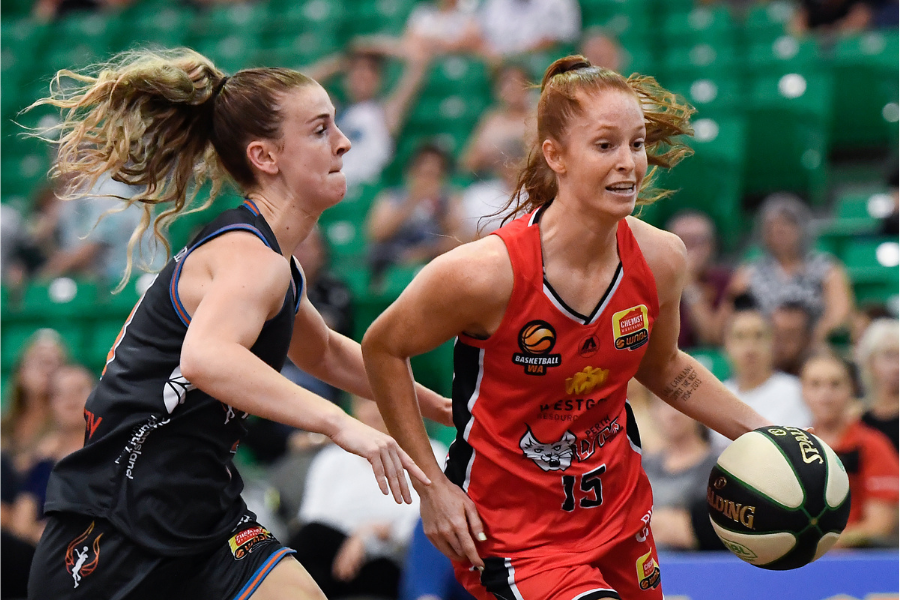 November 11, 2020 | WNBL news
The JCU Townsville Fire got rolling late in the first quarter and then blew the Perth Lynx away to start the second half, to open the 2020 Chemist Warehouse WNBL season in style with a 73-48 victory in Mackay on Wednesday night.
With Shyla Heal leading the way for an impressive backcourt and then Nadeen Payne dominant inside against her team of a season ago, the Fire made the perfect start to the new WNBL season which will see it played over six weeks in Queensland's Far North.
Despite just five wins in the 2019-20 season, and losing their last four matches, Townsville put together a particularly impressive opening night performance that was on the back finishing the first quarter on a 19-3 run, and opening the second half with the first eight points.
From there the Fire cruised to the 25-point victory and it was the back court that caught much of the attention with Lauren Nicholson delivering 16 points and four rebounds, Heal 15 points and four boards and Courtney Woods six points.
Payne played her first game against the Lynx she was with last season and was a dominant force with 10 points and 12 rebounds while West Australian product Megan McKay had nine points and eight boards.
Zitina Aokuso made a strong return too with eight points and seven rebounds in what was an impressive all-round showing from Townsville who finished with seven extra rebounds than Perth, 42 points in the paint to 24 and 19 points to six off turnovers.
Heal was especially impressive for the Fire in her second WNBL season and she's hoping for big things personally and for her new team.
"During the whole Corona situation, I just took the time to work out with my dad (Shane) the whole time," Heal said.
"We were working out every day and I think it was a real blessing in disguise. I really want to do well this season and for us to make the top four for sure."
The Lynx would have been frustrated by their shooting performance in particular. The tone was set by making 1/7 from the foul line in the first quarter and they went 4/13 from the charity stripe for the night while hitting just 27 per cent from the floor overall and 6/25 from beyond the arc.
Darcee Garbin didn't get the result she hoped against her former team she won two championships with, but she still led the Lynx with 12 points and six rebounds.
Katie Ebzery also had nine points and Jessie Edwards six points and five rebounds with late signing Emma Clarke impressing with six points and four boards. Alex Sharp battled hard for 11 rebounds and Ash Isenbarger pulled in six.
Kayla Steindl was frank about the Lynx's performance post-match.
"Obviously it was a bad game for us. We didn't play what we've been working on the last six weeks and we were all out of sorts. It wasn't a great game," Steindl said.
"We just weren't ourselves but the good thing about this year is that it's a quick turnaround and we won't have too much time to dwell on that. We'll go back and pick through the film, see where we messed up and we have lots to fix but a few days to sort it out."
The Fire look to keep the momentum going against the UC Capitals on Sunday while the Lynx play the Adelaide Lightning earlier in the day to start another Mackay double.
Chris Pike is a freelance contributor to WNBL.com.au
JCU Townsville Fire – 73 (Nicholson 16, Heal 15, Payne 10)
Perth Lynx – 48 (Garbin 12, Ebzery 9, Clarke 6, Edwards 6)