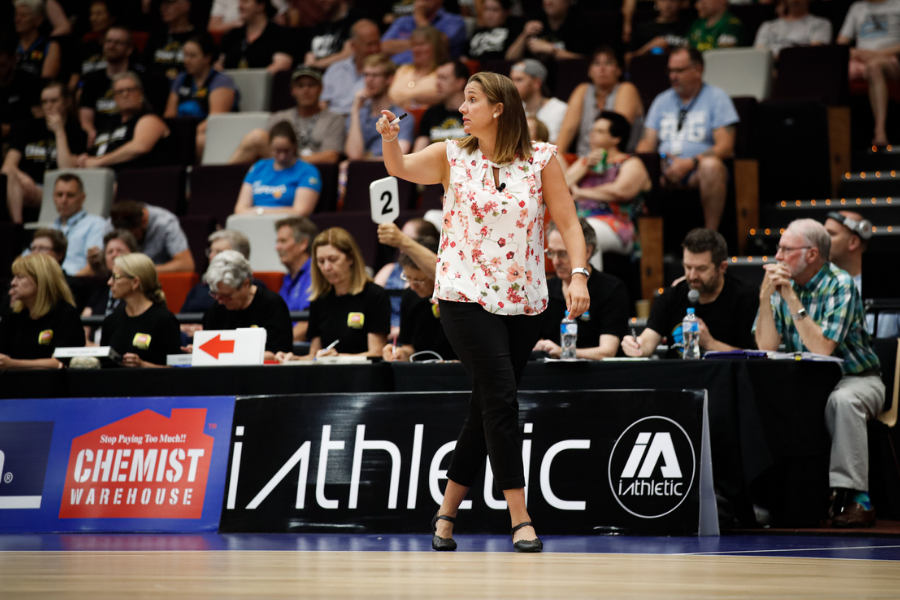 September 12, 2020 | WNBL news
It's the brink of a new dawn for the Brydens Sydney Uni Flames. Following a change of ownership to Total Sport and Entertainment (TSE), who also own NBL franchise the Sydney Kings, Head Coach Katrina Hibbert is excited for the 2020-21 Chemist Warehouse WNBL season, and to see her new roster take to the court.
Coming off a WNBL20 campaign which saw the Flames finish sixth, Hibbert has reworked her roster following injuries, retirements and the relocation of last season's MVP, Alice Kunek, who signed a contract to play over in Europe.
"It was very much a matter of seeing who we ended up with after quite a few injuries last season. Colleen Planeta did her ACL and we also lost Sarah Graham who retired after our final game," stated Hibbert.
"So, it was about trying to find the balance between the next tier of emerging Opals and youth to play with a group of experienced, mature players to bring leadership and who have already established themselves in the League.
"With good reason we waited for Free Agency a little bit longer than usual, which added a small amount of stress but fortunately everybody was in the same boat. From there we put together a depth chart to determine the athletes we wanted to target for our program going forward."
With these changes in mind, the Flames began building their roster around their only signed WNBL20 player, Lauren Sherf.
Sherf will be tipping off the second year of a two-year contract with the NSW side after an inspiring 2019-20 campaign where she averaged 8.3 points per game (PPG) and 8 rebounds per game (RPG).
"We knew we had Lauren Sherf so we wanted to build around our 6'5 post," explains Hibbert.
"When I originally signed Lauren, I said this was a two-year opportunity for her to step out from being the backup into establishing herself as a leading post within the WNBL, and she took great strides last season.
"With no imports this year, there's a really great opportunity for her to continue developing her versatility and finishing around the rim, which she has been doing. I'm really looking forward to seeing her step up and to dominate for us."
The Flames have also scored well with WNBL20's Sixth Woman of the Year, Alison Schwagmeyer. Prior to beginning her career with the League in 2017, Schwagmeyer played various stints in the Perth State Basketball League aswell as competing in Romania and Spain.
"She has worked so hard to get to where she is today, and I respect her work ethic, energy and enthusiasm. I know she's going to bring great leadership.
"I've been keeping in touch with her in the off-season, and she has been working extremely hard. I think we really hit the jackpot signing her; every time we played against Perth she was a point of difference. She will be one of our leaders, is a great competitor and I believe she can have an MVP season."
Hibbert is also excited to introduce Funda Nakkasoglu to her side. Nakkasoglu, who plays in the Turkish National Women's team, has most recently been playing in the Turkish Women's Basketball League for Galatasaray S.K.
"She's going to surprise everyone. She's very well skilled as a point guard and she shoots the ball exceptionally well. She went through a great junior program at Bulleen, when there was Tom Maher and Michele Timms, so, she's been well coached with excellent fundamentals and IQ.
"What excited me about her is that she's excellent at coming off on-balls and facilitating. She can knock down the three from range and she reads and understands the game exceptionally well.
"Then also defensively she's high IQ, excellent at navigating screens, she's the full package."
With prolonged travel and State restrictions due to COVID-19, the Flames are all in full pre-season mode and training hard, despite not all being in the same stadium.
"We currently have the four Victorian-based: Funda [Nakkasoglu], Kiera [Rowe], Anneli [Maley] and Lauren [Sherf] on court together in Melbourne. It's been a good opportunity for them to get to know each other and build a part of the culture that we're looking for.
"Alison Schwagmeyer's been in America, but she's booked on a flight to come out mid-September. We've been having to work hard to secure her and her husband visas and flights to get into the country," explains Hibbert.
"Nat Burton's been in Western Australia, working out and staying fit at home after playing in Europe for a couple of seasons. Then our last interstate athlete is Lauren Mansfield, and she's been in Queensland playing in the Queensland Basketball League.
"Then the three remaining: Carly Boag, Shanae [Greaves], and Maddie O'Hehir are in Sydney, so we've been doing individuals two to three times a week with those girls. All three are also competing in the Waratah League.
"We're quite lucky that they're all able to continue their fitness and develop their skillsets during this time," concluded Hibbert.
Check out the Brydens Sydney Uni Flames' 2020-21 WNBL Roster at the Free Agency Tracker.