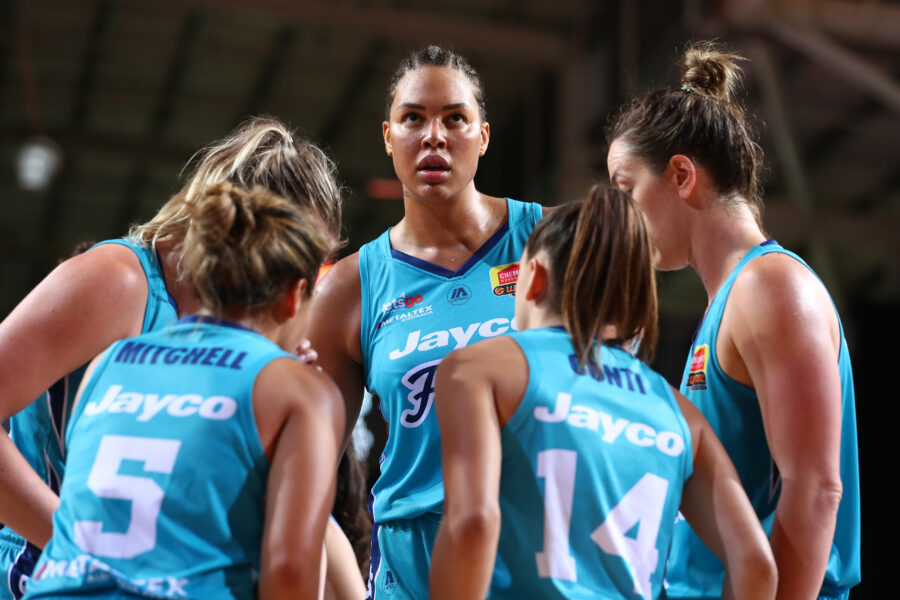 November 29, 2020 | WNBL news
They combined for 46-point wins over finals contending opponents in the Chemist Warehouse WNBL on Saturday and now the Adelaide Lightning and Jayco Southside Flyers bring that hot form into a tantalising match up in Cairns on Sunday.
The Flyers and Lightning both started their double-header WNBL weekends impressively at the Cairns Pop-Up Arena on Saturday with Southside beating the Townsville Fire 94-70 before the Adelaide Lightning won 75-53 over the Sydney Uni Flames.
Their superstars were on song too with the league's leading scorers Liz Cambage (26 points, nine rebounds, three assists) and Steph Talbot (30 points, 12 rebounds, three assists) leading the way.
But the most impressive thing about both performances was the number of strong contributors both teams had. That all points towards an enthralling match up back in Cairns on Sunday in their first meeting of the season.
There's plenty at stake too as the jostling for spots at the pointy end of the table now heats up with Southside coming into the game with a 6-2 record while the Lightning are 4-1.
The Lightning will look to Louella Tomlinson to take the battle inside up to Cambage while plenty of focus for the Flyers will be going into trying to find a way to quell the influence of Talbot who is producing 23.8 points and 11.0 rebounds a game.
Neither team is a one star show though. Cambage is getting great support from Bec Cole, Sara Blicavs, Jenna O'Hea, Leilani Mitchell, Rachel Jarry, Aimie Clydesdale and Steph Blicavs.
Talbot is finding great contributions from Ally Wilson, Abigaill Wehrung, Chelsea Brook and Marena Whittle too.
Add in the fact that both teams were two of the semi finalists from last year with the motivation to try to turn that into a championship for this 2020 season and everything is pointing to a contest to savour.
Tenacious point guard Monique Conti is another player bringing great energy for the Flyers. She is looking forward to getting their first look against the Lightning for the 2020 season.
"We haven't played them yet so this will be our first hit out against them and they do have lots of scoring power, and great talent across the board," Conti said.
"We'll have to try and shut down their main players and the rest will do all the talking, but they are very talented and skilled. We just have to try and get on top of them early as well.
"Recovery now is pretty much key so we'll need lots of sleep as well as ice baths and time in the pool to prepare for the quick turnaround."
Talbot could very well be in career-best form and be leading the MVP race given what she's producing for the Lightning so far this season, but she gives plenty of credit for that to her teammates including Ally Wilson.
But now with a short turnaround, it's all about recovery ahead of taking on the Flyers on Sunday.
"I'm really enjoying this group of girls, they're really fun to play with and they are just really good at getting me the ball at where I'm good at using it," Talbot said.
"I grew up playing with Ally and we always had a good bond on the court, and we've come back together and it's been like we never stopped playing together.
"It's going to be a big game now. We'll get back, do some recovery and come back here at midday tomorrow ready for that."
Chris Pike is a freelance contributor to WNBL.basketball
Broadcast Details
Adelaide Lightning vs Jayco Southside Flyers
Played at Cairns Pop-up Arena
Sunday 29 November 2020
12.05pm AEST / 1.05pm AEDT
LIVE on Kayo, Fox Sports