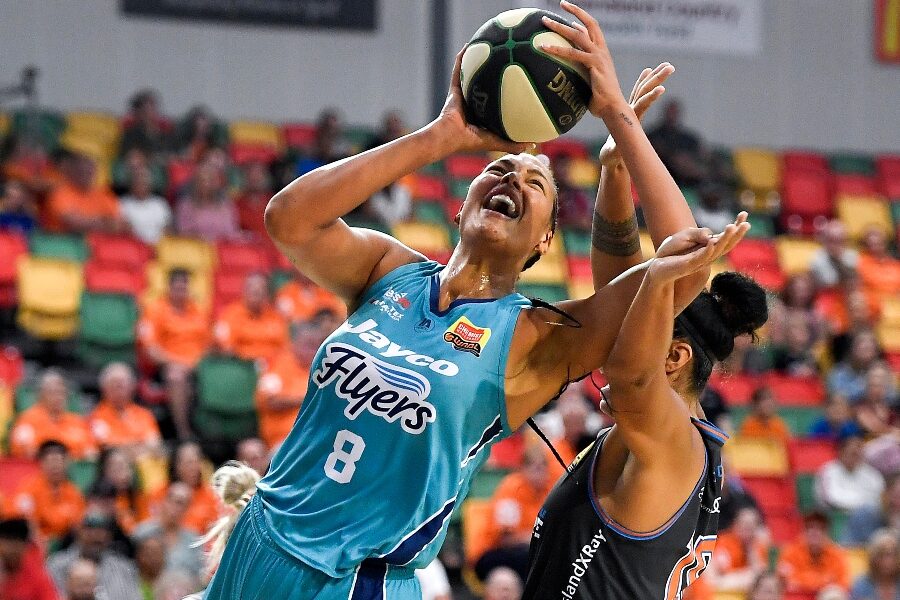 December 16, 2020 | WNBL news
The Jayco Southside Flyers capitalised on an extraordinary first quarter shooting performance and the inside dominance of Liz Cambage to book the first place in the 2020 Chemist Warehouse WNBL grand final with a 106-93 victory over JCU Townsville Fire on Wednesday.
Looking for a fourth title and their first in nine seasons, minor premiers Southside reached the 100 point mark for the eighth time in 14 games in the semi-final at Townsville Stadium.
The Flyers made their first ten field goal attempts and racked up 41 points by quarter time, having shot an incredible 80 per cent from the field and six of their eight-three pointers.
Centre Cambage scored just two of the Flyers first 24 points, but her towering inside presence ensured Southside stayed in front after an initially shellshocked Townsville fought back. Cambage bagged 31 points at 68 per cent from the field and dominated the boards, pulling down 18 rebounds.
Southside head directly into Sunday's season decider when they will face the winner of Friday's preliminary final at Townsville Stadium between the Fire and Deakin Melbourne Boomers.
Down by as much as 19 in the second quarter, Townsville got to within five in the third and eight in the last but paid a big price for their early lack of defensive pressure and intensity.
Star guards Lauren Nicholson and Shyla Heal again carried the bulk of the offensive workload for the Fire, each tallying a personal season-best 30 points, with Zitina Aokuso's 11 providing Townsville's only double-digit contribution. Teenager Heal again underlined her enormous potentials adding seven assets and four steals in a poised performance in a big game.
Early on, Bec Cole and Leilani Mitchell provided the Flyers offensive ammunition with the former making her first seven field goal shots. Cole scored 22 and Mitchell 19, with the latter adding ten assists and four steals.
"That was a tough one tonight, I'm pretty wrecked after that, so I'm happy we've got a couple of days off," Cambage said.
"We'll have tomorrow off, we'll work hard on Friday and then rest day on Saturday and then get it on Sunday."
Trailing by 16 at quarter time, Townsville finally knuckled down on defence and a 13-2 run in their favour got the margin back to eight by halftime. The gap narrowed to five before the Flyers reasserted themselves to lead by 12 at three-quarter time. The Fire got it down to eight in the last, but never seriously threatened to reel in the Flyers.
Nicholson extracted some positives from the loss but lamented the slow start.
"The girls did a good job of fighting back especially in the last half and I think we can take away some positives and be ready for Melbourne on Friday," Nicholson said.
"We need to have a better start, we need to lock in defensively in the first quarter, that really let us down tonight."
Adrian Warren is a freelance contributor to WNBL.basketball

BOX SCORE
Jayco Southside Flyers 106 (E Cambage 31, B Cole 22, L Mitchell 19)
JCU Townsville Fire 93 (L Nicholson 30, S Heal 30, Z Aokuso 11)